Sunday night's MTV Video Music Awards had nothing to compete with last year's twerk-filled performance by Miley Cyrus, but it still left us with some unanswered questions — and a move by Ms. Cyrus was right at the top again.
Who was the young man who accepted Miley Cyrus' award?
Cyrus teased before the show that she had something completely different planned to attract attention this year. And so she did. This time, she drew attention to the cause of youth homelessness, sending a nervous young man identified only as Jesse to the stage in her place. With shaking hands, he read a statement about the plight of homeless young people, noting that he himself was one.

According to the New York Times, Jesse, who isn't giving out his last name, is 22 and originally from Oregon. Cyrus met him just Tuesday, on a visit to My Friend's Place, a youth homeless center in Hollywood.
"I've survived in shelters all over (Los Angeles)," he said in his acceptance speech. "I've cleaned your hotel rooms, I've been an extra in your movies, I've been an extra in your life." He encouraged viewers to go to Cyrus' Facebook page to learn more about the cause.
On Facebook, Cyrus said she was starting her campaign by raising funds for My Friend's Place, and hopes to expand beyond that one shelter. Donating to the cause will make fans eligible to win a trip to see Cyrus perform on Sept. 28 in Rio de Janeiro, Brazil, and spend time with her backstage.
Cyrus paid to put Jesse up at the BLVD Hotel & Spa in Studio City, California the weekend of the VMAs, bought the clothes he wore onstage, and rode with him to the ceremony in her SUV, the Times reported, adding that the two planned a meal at In-N-Out Burger afterwards.
"I'm here with the chillest, coolest dude in the world," Cyrus told her older half-sister, Brandi Cyrus, on the red carpet before the show, dropping hints about the acceptance speech to come. "I have something up my sleeveless sleeve," she joked. "He's got it under his suit jacket."
What happened with Nicki Minaj's dress?
In the night's opening medley, the "Anaconda" singer first performed in a jungle grass-style green bikini, but then changed clothes a little too quickly. When she returned to join Ariana Grande and Jessie J. for "Bang Bang," she was wearing a short black dress, and clutching it closed, seemingly afraid to dance too much for fear it would fling open.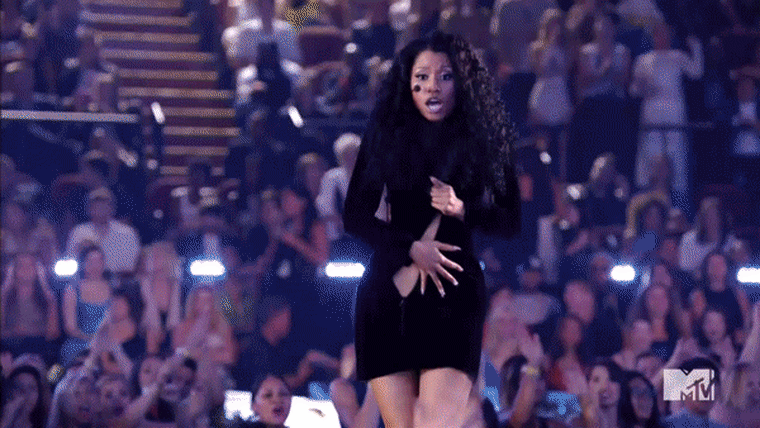 Twitter buzzed about whether the dress-clamping was intentional, and Minaj later admitted that the costume change went a little too quickly, leaving her exposed when she returned to the stage.
Related story: Queen Bey, pop princesses rule the night at VMAs
"It felt amazing to open the show, and we ran out of time getting the dress zipped up," the AP quoted Minaj as saying.
What was with Taylor Swift joking about a snakebite?
During her onstage performance, Taylor Swift joked that she wasn't jumping off a piece of scenery because, "people are getting bit by snakes, it's dangerous." That part wasn't really a joke.

Related story: Which star's style rocked the red carpet?
During a Friday rehearsal for Nicki Minaj's "Anaconda" performance, a Dumeril's boa constrictor named Rocky did bite one of Minaj's backup dancers who was wearing it around her shoulders, The Wrap reported. Dumeril's boas are not venomous, but any bite can cause infection, The dancer was treated on-site and taken to the hospital.
"(The bite) is in no way life-threatening, but scary," Chris Velvin, director of production safety for Viacom Media Networks, told The Wrap. "We wanted her to start getting treatment as soon as possible."
Related story: Taylor Swift embraces the leggy leotard look
Why were some viewers upset at the Kardashians?
During the awards show, hip-hop artist Common, presenting the award for best hip-hop video, asked the crowd for a moment of silence to honor the events surrounding the shooting of Michael Brown in Ferguson, Missouri.

The moment was brief, but perhaps not brief enough for some. When MTV cameras showed Kim Kardashian and her half-sisters Kylie and Kendall Jenner, all three appeared to be looking at their smartphones.
Twitter users did not appreciate the sisters seeming distracted. It wasn't the first time awards-show attendees had been caught inattentive at a serious moment. A similar angry reaction occurred at the 2012 Grammys. As Glen Campbell, who had recently revealed he had Alzheimer's disease, finished a performance, many gave the country legend a standing ovation, but cameras caught two women remaining seated and texting.
Follow Gael Fashingbauer Cooper on Google+.