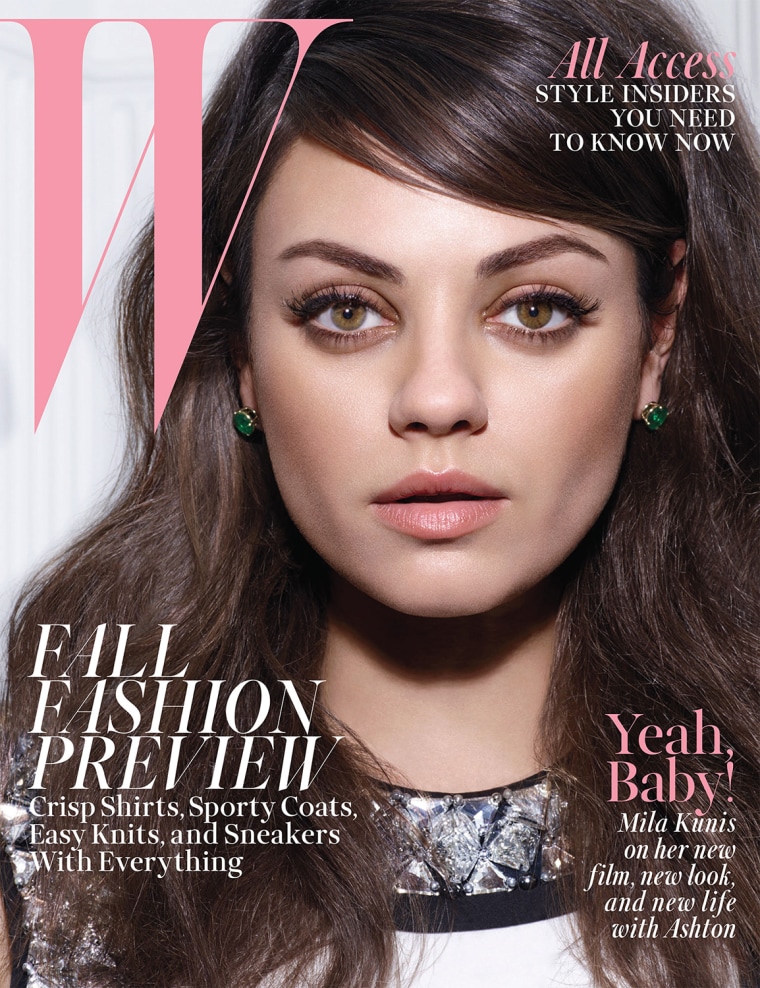 "We all get movie-star crushes," Mila Kunis told the August issue of W magazine. "I'm marrying mine." The actress is not only marrying her former "That '70s Show" boyfriend, actor Ashton Kutcher, she's expecting their first child. And for as public as their relationship is, they're also on the private side, with the magazine noting that Kunis rarely uses Kutcher's name in an attempt to keep their private life private.
But she does open up somewhat in the interview. Study the seven factoids below and you'll be all prepped for a Mila Kunis category on Trivial Pursuit.
Sign up to have top entertainment news sent directly to your inbox.
Sorry about that prom thing, Ashton
Having a shared TV and real history makes for some fun memories. Kunis said her first real kiss was with Kutcher on the show, and they went to the prom together in one episode. "Although I do think that in that episode I went home with someone else," she said. "We don't talk about that part."
Want to woo Kunis with food?
She drools over the flannel cakes (sweet, delicate pancakes) at Hollywood's Musso & Frank Grill, and has even had the batter shipped to her when filming in Boston.
Playtime perks
Kunis' first acting job was in a Barbie commercial, and she was sold on the career when she was allowed to keep the doll. "I thought, 'You get toys in this job!'" she said.
Sorry, Seventies
After playing Jackie Burkhart for eight seasons, Kunis became sick of the fashions of the era. "You will never see me in bell-bottoms ever again," she said.

Don't even ask, 'Dancing With the Stars'
The bloody 2010 film "Black Swan" ruined ballet for the actress, who'd never danced before throwing herself into the role of a conniving ballerina. "I will never dance again," she said. "It was the hardest thing I've done."

Here comes the blase bride
"I never wanted to get married. From the age of 12, I prepared my parents for no marriage," she told W. Even now that she's changed her mind, she still has low-key dreams. "Now my theory on weddings is: Don't invite anyone," she said. "Do it privately and secretly."

Motherhood, here she comes
Kunis is taking a year off from acting to be a full-time mother, she says. "To me, this job has always been a hobby that turned into a great profession, but I don't eat and breathe acting," she said, admitting that after a year off, she might find herself itching to get back to work.

Follow Gael Fashingbauer Cooper on Google+.