When Mila Kunis and Kate McKinnon stopped by the "The Ellen DeGeneres Show" on Wednesday, they opened up about a subject near and dear to both their hearts, "The Bachelor."
The actresses, who co-star in the upcoming comedy "The Spy Who Dumped Me," used the opportunity to process their feelings about the popular ABC reality show's controversial two-part season finale.
"(Kate) had a theory that she thinks it was set up," Kunis, 34, said of the shocking finale — in which Arie Luyendyk Jr. dumped first choice Becca Kufrin for runner-up Lauren Burnham.
"I spoke to Chris (Harrison) about it, the host, and it was not set up,"assured Kunis, who last year appeared on "The Bachelorette" with hubby Ashton Kutcher.
The conversation inspired "Saturday Night Live" star McKinnon, 34, — who called the finale "an atomic explosion" — to impersonate a tearful camera person forced to follow Kufrin around during her heartbreak.
"So these guys are there and they're like, 'What's going on?'" she said sadly while hoisting an imaginary camera over her shoulder. "And they're following to the bathroom and they're going and they're crying for Becca."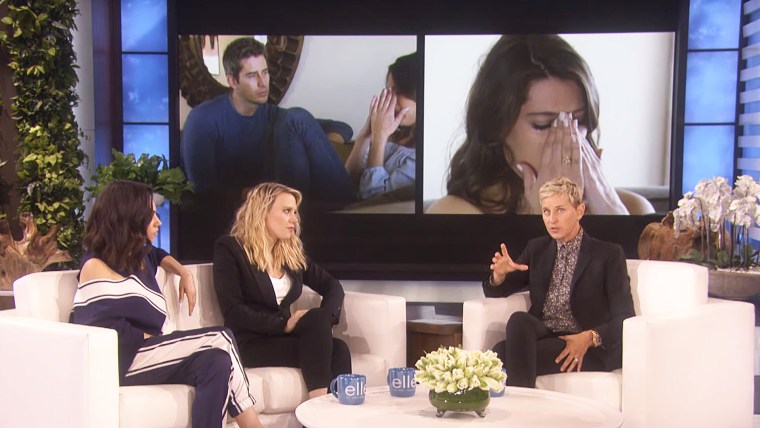 Mom of two Kunis also opened up about how "incredibly different" her daughter, Wyatt, 3, and son, Dmitri, 15 months, are.
"My boy's like a sloth. He's wonderful, and I love him — because one day he'll probably watch this and be like, 'Why did you say that? — but the truth is, women are smarter than men," she said. "And I have this evident from my two different humans that I created."
"Girls are just on it and boys are like, 'Dum da-dum da-dum da-dum," she said, waving her head cluelessly."They're just more like little linebackers going through life, and like … Neanderthal-ish."
Watch the three funny ladies chat in the video above!