Mike Wallace is a legendary figure in broadcast journalism. Now, after 60 years of reporting on important events around the world, he shares his personal stories about the incredible range of celebrities, newsmakers, criminals, and world leaders who have subjected themselves to his unique brand of questioning in "Between You and Me: A Memoir." Wallace was invited on the "Today" show to discuss the book. Here's an excerpt.
In making the jump from a local program to the showcase of a coast-to-coast broadcast, Ted Yates and I were determined to maintain the candid, sometimes combative style we'd introduced on Night Beat. But that proved easier said than done. Part of the problem was that we'd lost the element of surprise we'd enjoyed when Night Beat burst on the scene the previous fall. Our reputation had preceded us to ABC, and more than a few of our prospective interviewees were wary of being grilled on network television by a guy who had been described by one captious critic as "Mike Malice" and by another as "The Terrible Torquemada of the TV Inquisition." This meant we had to work that much harder to find the kind of characters who might interest a national audience. But I'm happy to say that during our first few months at ABC, we were able to book a diverse gallery of guests for The Mike Wallace Interview, ranging from the highbrow (Philip Wylie, Margaret Sanger, and Frank Lloyd Wright) to the lowbrow, a group that included a mobster (Mickey Cohen), a stripper (Lili St. Cyr), and a pair of Hollywood sirens (Jayne Mansfield and Zsa Zsa Gabor).
Still, there were problems to confront. It didn't take us long to discover that in moving up to a network broadcast, we'd ventured into terrain far more treacherous than what we'd been accustomed to at Channel 5. Now that we were playing to a national audience, the stakes were higher, and there were times when we ran into the kind of dicey situations that provoke threats of libel suits.
One such dustup occurred when I interviewed the muckraking Washington columnist Drew Pearson. In those days, almost all the media power was in print, and no one was more powerful than the syndicated columnists. While many Washington columnists saw themselves as pundits and preferred to pontificate instead of investigate, Pearson was a journalistic throwback to the old school. He specialized in finding skeletons in Beltway closets, and he found enough of them to make him the most feared reporter in Washington. To go along with his zeal for exposure, Pearson had a reputation for shooting from the hip. At least two presidents — Franklin D. Roosevelt and Harry Truman — had publicly accused him of being a chronic liar, but when it came to that particular allegation, nothing came close to matching the extravagance of a Tennessee senator named Kenneth McKellar. In a speech on the Senate floor, McKellar denounced Pearson as "an ignorant liar, a pusillanimous liar, a peewee liar, a liar during his manhood, a liar by profession, a liar in the daytime and a liar in the nighttime."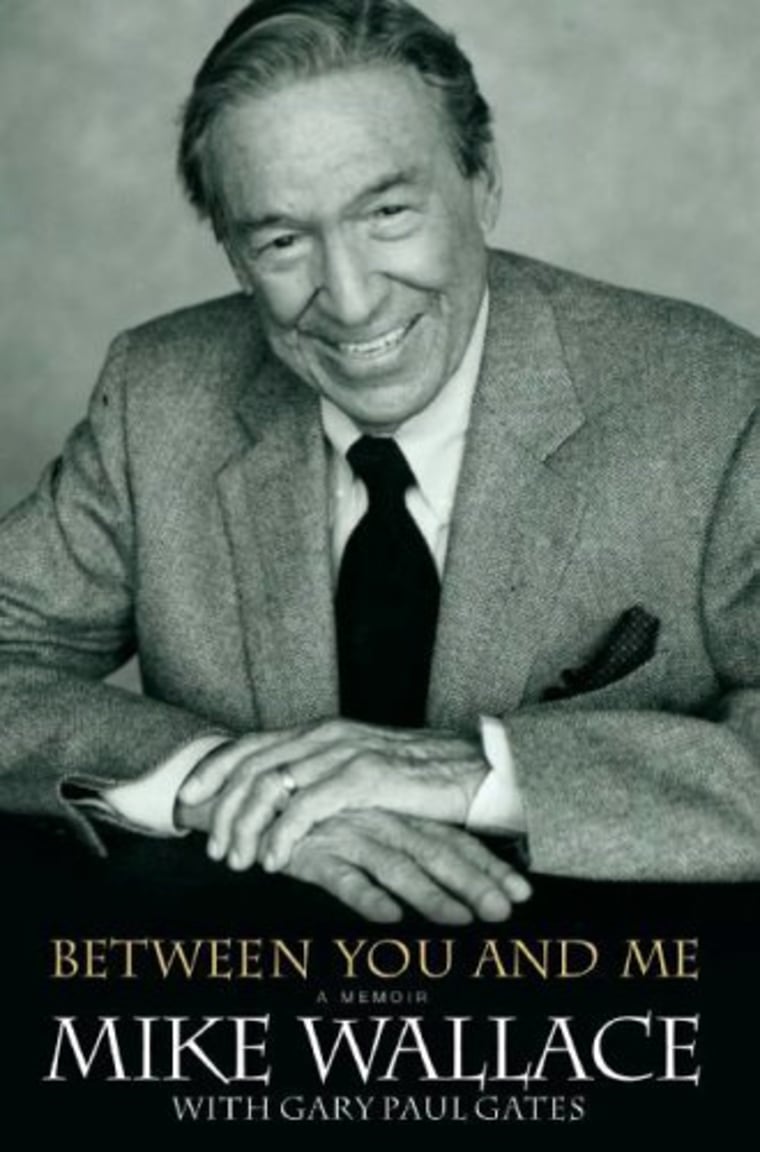 In our interview, I naturally asked Pearson if any of those pungent adjectives accurately described him, and he naturally denied that he was any kind of liar. We then talked about politics and the next presidential election. The two of us shared the conventional wisdom that Richard Nixon was the probable Republican nominee, and when we turned our attention to who was likely to oppose him in the general election, I noted that "the Democratic glamour boy would seem to be Senator Jack Kennedy."
Although I didn't know the senator from Massachusetts well, I felt a certain kinship with him because we shared a common background. As boys growing up in the Boston suburb of Brookline, Jack Kennedy and I had lived in the same neighborhood. Let me digress a moment here to elaborate on that connection.
Over the years I've often described the Brookline of my youth as "an O'Connor and Goldberg town," and our two families exemplified that. I was the fourth and last child of Frank and Zina Wallace, both of whom were Jewish immigrants who came to America from the shtetls of Tsarist Russia in the late nineteenth century, some four decades after Kennedy's forebears emigrated from Ireland. My father eventually became a successful insurance broker, and by the time I was born in 1918, our family was settled in Brookline, which had become a haven for upwardly mobile Jews and Catholics who were still not welcome in the snootier sections around Boston, a city then notorious for its class-conscious snobbery. Rather than storm the social citadels erected by the haughty Brahmins and other Yankee Protestants, the families of immigrants from Ireland and Italy and Eastern Europe chose to converge on communities that were more tolerant, and none was more attractive in those days than the upscale suburb of Brookline.
Joseph and Rose Kennedy moved to Brookline shortly after they were married in 1914, and began raising their large family just a block or so away from our home on Osborne Road. Jack Kennedy was one year older than I was, and we attended the same neighborhood school. More often than not, when I've told people that Kennedy and I went to the same elementary school and that its name was Edward Devotion, they've assumed it was a Catholic school, which reveals how little they know about Brookline's glorious history.
Edward Devotion was an early hero in the American Revolution. On the night Paul Revere made his legendary ride through Boston and neighboring towns, his friend and fellow patriot Devotion mounted his horse and went on a similar gallop to sound the alarm that the British were coming. The course he followed took him through Brookline. I suppose the main reason why Devotion's ride of warning has been so overshadowed is because many years later, when Longfellow sat down to write his famous ballad, Revere happened to be the horseman he chose to immortalize.
At a social function a few years ago, I was approached by Robert Kraft, the enterprising owner of the New England Patriots, the first team to win three Super Bowls in the twenty-first century. Since I hardly knew him, I wasn't aware he was from Brookline and was surprised to hear him say that he, too, had grown up in my old neighborhood and was a pupil at Edward Devotion, although his time there came long after Kennedy's and mine. He then asked if I'd been back there in recent years. I said I had not, and he told me it was worth a visit because the school had chosen to honor three of its most famous graduates — Kraft, Kennedy, and me — by putting our pictures on a wall near the main entrance.
"My picture is on top," Kraft declared with some relish, "because of the three of us, I had the best grades. Then comes your picture, because you had the second-best. Then below you is Kennedy's picture."
I thanked him for sharing this bit of hometown lore, and proceeded to suggest that it was probably the only time in his life that John F. Kennedy finished third and last in anything.
Even though Jack Kennedy and I were about the same age and lived in the same neighborhood and attended the same elementary school, our paths seldom crossed during the years he lived in Brookline. I'm sure that in time, I would have gotten to know him better if he hadn't moved away. After Joseph Kennedy made his fortune as an investment banker and in other enterprises, he began to set his sights on greener pastures, and in 1927, when Jack was ten and I was nine, the Kennedys relocated to Riverdale, then a posh and exclusive section of New York City.
From there, Jack Kennedy went on to his impressive achievements, which included heroism in the Pacific during World War II, then election to Congress in 1946 and to the Senate six years later. His political star then rose so rapidly that by 1957 he was on the short list of Democratic contenders for the White House. Which brings me back to my interview with Drew Pearson in December of that year. My reference to Kennedy as his party's "glamour boy" led to a question about the senator and his controversial father.
WALLACE: In your column on October twenty-seventh, you wrote that Senator Kennedy's — and I quote — "millionaire McCarthyite father, crusty old Joseph P. Kennedy, is spending a fortune on a publicity machine to make Jack's name well known. No candidate in history has ever had so much money spent on a public relations advance buildup." Unquote. What significance do you see in this, aside from the fact that Joe Kennedy would like to see Jack Kennedy president of the United States?
PEARSON: I don't know what significance other than the fact that I don't think we should have a synthetic public relations buildup for any job of that kind. Now, Jack Kennedy's a fine young man, a very personable fellow. But he isn't as good as the public relations campaign makes him out to be. He's the only man in history that I know who won a Pulitzer Prize for a book that was ghostwritten for him, which indicates the kind of a public relations buildup he has had.WALLACE: Who wrote the book for him?PEARSON: I don't recall at the present moment.WALLACE: You know for a fact, Drew?PEARSON: Yes, I do.WALLACE: That the book "Profiles in Courage" was written for Senator Kennedy?PEARSON: I do.WALLACE: By somebody else?PEARSON: I do.WALLACE: And he, Kennedy, accepted a Pulitzer Prize for it?PEARSON: He did.WALLACE: And he has never acknowledged the fact?PEARSON: No, he has not.
Kennedy's office called the next day and asked for a copy of the transcript. A day or so later, a meeting — to which I was not invited — was held in the executive suite of my boss, Oliver Treyz, the president of ABC Television. Among those present were Bobby Kennedy and the esteemed Washington lawyer Clark Clifford, whose honor roll of prestigious clients included the Kennedy family. Their purpose in setting up the meeting with Treyz was to get an on-air apology from Pearson and/or me for what had been said in our broadcast about the authorship of "Profiles in Courage."
In the meantime, I'd urged Pearson to specify who had ghostwritten the book. After checking with his sources, he called to tell me it was written by a member of the senator's staff, a young man named Ted Sorensen. A few years later, Sorensen would acquire a certain derivative glory as one of President Kennedy's top advisers and his primary speechwriter, but in 1957 he was unknown to the general public. In the preface to "Profiles in Courage," Kennedy credited Sorensen for "his invaluable assistance in the assembly and preparation" of the material on which the book was based, and that was the extent of his acknowledgment. Pearson refused to make the desired apology and so did I, but the network brass failed to back us up. Faced with the threat of a libel suit, Treyz chose to deliver the apology himself, and to make the capitulation complete, he agreed to let Clifford write it for him. So, prior to our next broadcast, the president of the ABC television network appeared on-camera and read the mea culpa composed by Kennedy's lawyer. Among other things, Treyz said, "We deeply regret this error and feel that it does a grave injustice to a distinguished public servant and author."
I was incensed that my employers had caved in to the Kennedys. The way I saw it, the ABC apology was a humiliating insult to Pearson, who, for all his reputation as a loose cannon, was a seasoned journalist and no stranger to litigation; through the years he had weathered more than a few libel suits with no serious damage to his career. As for the Kennedys, I believed they were bluffing.
There is a postscript to this episode. In the spring of 1991, I interviewed Clark Clifford on 60 Minutes. He was eighty-four years old and in the deep twilight of his long and extraordinary career. In his prime, Clifford had been one of the most influential advisers ever to move through the corridors of power in Washington, and when I talked to him that spring, he'd just written his autobiography, "Counsel to the President." Most of the interview focused on his very close relationship with three of our most dynamic Democratic presidents: Harry Truman, John F. Kennedy, and Lyndon Johnson. But what the viewers of 60 Minutes did not see that evening was the part of our conversation dealing with the 1957 Drew Pearson controversy. Thirty-four years later, Clifford revealed to me just how angry the Kennedys had been:
"My phone rang, and it was Senator Kennedy. He said, 'I must see you at once.' He then came to my office and said, 'I've written a book, as you know, "Profiles in Courage." Drew Pearson said I didn't write the book, and it's terribly upsetting to me.' About that time, the phone rang for Senator Kennedy. It was his father. He listened to him awhile and then said, 'Father, I'll put Clark on.' I get on the phone. He said, 'This is Ambassador Kennedy.' I said, 'Yes, Mr. Ambassador.' He said, 'Sue the bastards for fifty million dollars.' "
As he recalled that brusque order, Clifford let out a hearty laugh. He then said he assured the former ambassador that "we are going to look into it," but the senior Kennedy's only response to that was to repeat his previous command: "Sue the bastards for fifty million dollars."
Even after I heard that story, I was not convinced that if push had come to shove, the Kennedys would have sued us. In the context of the elaborate preparations he was making to run for president, the last thing the senator and those close to him would have wanted was a highly publicized court fight over the question of who had written "Profiles in Courage."
Whatever the case, the Kennedy camp stuck to its guns. A few weeks after my interview with Pearson, the senator invited me to his office on Capitol Hill, where he showed me his notes for the book and insisted that Pearson had it all wrong. Over the years, Sorensen has been steadfast in his assertion that he was not the author of "Profiles in Courage." But his disavowal has not gone unchallenged. In a 1980 book called "Jack: The Struggles of John F. Kennedy," the historian Herbert Parmet detailed his thorough investigation of the creative process that produced "Profiles in Courage" and came to the conclusion that it was essentially ghostwritten. "The research, tentative drafts and organization were left to the collective labors of others," Parmet wrote, "and the literary craftsmanship was clearly the work of Ted Sorensen."
Excerpted from "Between You and Me: A Memoir," by Mike Wallace and Gary Paul Gates. Copyright © 2005 by Mike Wallace. Published by Hyperion Books. All rights reserved. No part of this excerpt can be used without permission of the publisher.