Michelle Obama, who turns 50 on Friday, has found plenty of ways to have fun promoting the causes close to her heart over the years. Mingling with the Muppets and challenging Jimmy Fallon to a potato sack race have been all in a day's work for the first lady, as she leads the fight against childhood obesity and champions more support for military families. In honor of her milestone birthday, we've rounded up our favorite Michelle Obama pop culture moments:
Meeting the Muppets
The first lady has been the driving force behind the White House's largest-ever vegetable garden, and she took her green thumb to the cement sidewalks of "Sesame Street," showing Elmo, Big Bird and a trio of kids how to plant seeds and grow their own fresh veggies. And, in an only-on-Sesame-Street twist, even the presumably about-to-be-eaten vegetables came to life and cheered on their eventual consumption.
Physical fitness challenge vs. Jimmy Fallon
The late-night talk-show host almost didn't get past White House security when he tried to flash his NBC employee ID bound to a Dave & Buster's gift card. Fallon then strutted his stuff in a scarily tight spandex workout suit, but finally changed to something more suitable to take on the famously fit first lady in an amusing run of contests. Obama beat him in pushups and dodgeball, Fallon took the lead in hula hooping and tug-o-war, but it was the potato sack race that decided things in the first lady's favor. An overzealous Fallon tried to reach for the finish line too early and ended up a mashed potato.

'iCarly' appearance
In 2012, Obama appeared on the Nickelodeon comedy "iCarly" to promote a favorite cause of hers, support for America's military families. Teen star Nathan Kress praised the first lady's line delivery and sense of humor, but she earned the most attention for participating in one of the show's silly Random Dances.
Right to bare arms
More than any previous first lady, Michelle Obama is known for being health-conscious and physically fit. She doesn't just talk the talk when it comes to advising young Americans to move, she walks the walk — and lifts the weights. Her well-toned arms, often on display in sleeveless dresses, have become a national obsession, and every time she shows them off, health and fitness magazines scramble to advise readers on how to get the same look. (Answer? Work out a LOT.)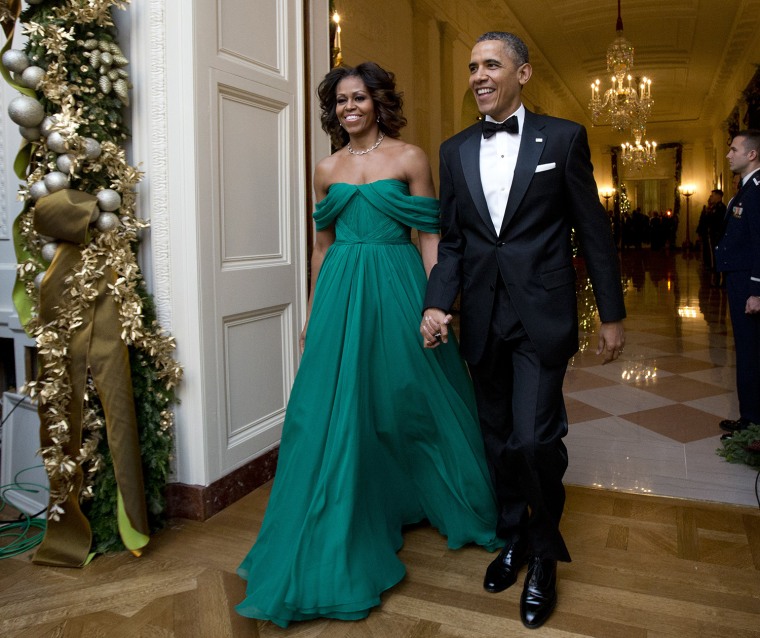 'Evolution of Mom Dancing'
Moms can get a bad rap — "mom jeans" are dubbed uncool, and "mom dancing" is considered an embarrassment. But the first lady, a mom of two, was in on the joke when she helped Fallon display the "Evolution of Mom Dancing" in a video that quickly went viral. Fallon, dressed as a mom himself, boogied with Obama through all kinds of dance styles, including the "Pulp Fiction," the "Out of Sync Electric Slide," and the "Just the Hands Part of 'Single Ladies.'" Fallon finally threw in the towel when he couldn't "Dougie," and Obama proved that when it comes to cutting a rug, mother knows best.

Oscar appearance
She wasn't in the running for a gold statuette, but the first lady glittered in stylish silver at the 2013 Academy Awards when she announced "Argo" as the winner for best picture, live from the White House. Before cracking open the famous envelope, she praised arts in America, saying "every day, through engagement in the arts, our children learn to open their imagination, to dream just a little bigger and to strive every day to reach those dreams."