/ Source: The Associated Press
Michael Kors stirred things up at New York Fashion Week, adding some adobe spice to his Southwest-themed spring collection, which included gauchos, camouflage and an "O'Keeffe jacket."
Kors also scored the biggest stars so far on the front row at his show on Wednesday: Michael Douglas and his wife, Catherine Zeta-Jones, who wore a vintage beaded top and carried a black Kors handbag.
The emerging seasonal trends, such as tiered skirts, metallics, vests, washed fabrics and higher waists, were certainly represented on the runway, but there was more of an effortless chic at Kors — maybe it was the models' strategically windblown hair.
Kors explained in his notes that his inspiration was "the optimism of an endless horizon and blue skies ahead."
A washed cotton safari shirt was the perfect contrast to an olive crushed metallic duchesse bustle skirt, and that same stiff metallic fabric updated a black sweetheart-neck strapless gown, also bustled.
"He took a Madame X silhouette and did something new with it," said Sally Singer, Vogue's fashion news director. "There were lots of pieces that can be worn by all sorts of women across this country. He showed a range of strengths: a jersey gown with a touch of lace, that black metallic gown with texture and crunch. He can do a great bikini and do a great eyelet so that a full skirt doesn't look too immature."
Singer said Kors has found his niche but he no longer pushes the boundaries of fashion.
"I love that he can do easy, cozy clothing that is impeccably chic," added Suze Yalof Schwartz, Glamour's executive fashion editor at large. "His girl is on vacation — always on vacation. ... Michael lets you fantasize that you're in those clothes and in those great places."
Her favorite piece was a hemp suede shift with brass hand-embroidered sunbursts. "It was so fresh. I also liked the white suits. We're seeing a lot of suits this season."
Other noteworthy looks were an olive jersey dress with a suede collar dotted with grommets and a long ecru-colored cashmere cardigan over an embroidered cotton batiste slip dress. And one would believe that any of his tanned, blond, long-legged models would throw on the camouflage-print miniskirt and a chunky loose-weave turtleneck sweater on a Sunday afternoon, looking relaxed yet pulled together.
Fun, wearable fashions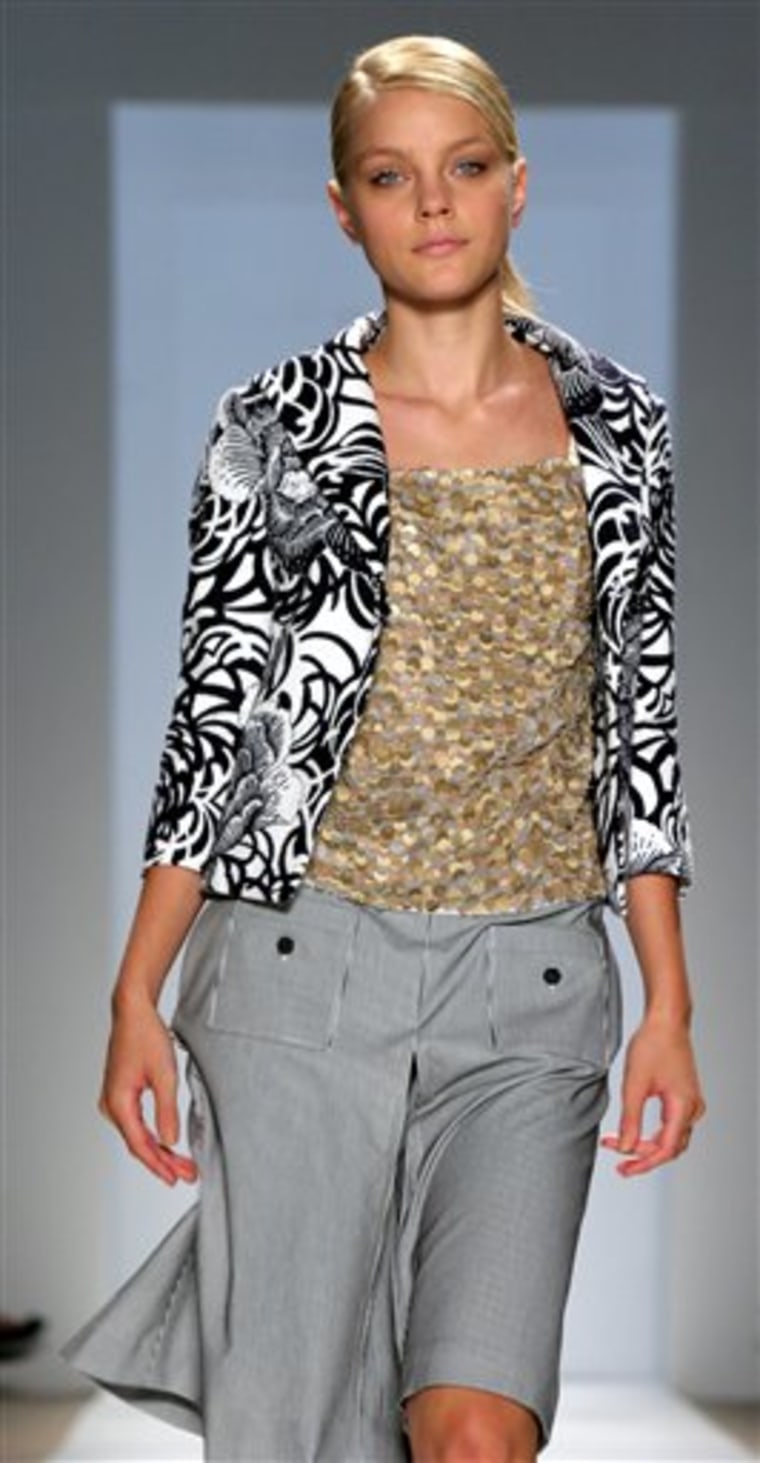 The overall look at Peter Som was for a young uptown girl, but this collection was more wearable and not as overdone as it has been in the past, said Vogue's Singer.
Som took the editors, stylists and retailers in the audience at Wednesday's show on a bit of a journey, combining nautical styles with vintagelike touches and Japanese-style floral prints.
"His print sense is very good," Singer said, noting that it was gutsy to mix the florals and stripes. "It paid off. It was fresh and fun."
Som's pants were a sailor style, with a row of buttons on the front waistband and a lace-up V in the back. They looked best when paired with a white embroidered linen blouse, a lace handkerchief top and a leather sequin tank.
"Peter's high-waisted sailor trousers will work on more people than some of the other high pants we've seen because of the buttons and shape of the leg," Singer noted.
He ended his show with evening looks. A strapless navy linen gown with oversized chrysanthemums along the hem and a high-neck Chantilly lace dress over a gray slip were among the best.
Carmen Marc Valvo offered a collection of black-tie outfits, almost entirely in black and white.
The vibe was sexy '60s suburbanite, with the models wearing thick black headbands in their perfectly coifed hair. But a black-and-pearl polka dot sequined strapless gown was very of the moment as was a tank top made of Tahitian pearls and 18-karat gold.
Amid the mod black-and-white parade, there also was a knife-pleat cocktail dress in a citrus print silk chiffon worn with a beaded black cardigan that captured the spirit of the Rat Pack days in Las Vegas that Valvo was referencing.