Meryl Streep and Don Gummer's relationship has been a staple in Hollywood for decades.
Streep married Gummer in September 1978 after less than a year of knowing one another.
Over the course of their marriage, the couple welcomed four children together: Henry Wolfe Gummer, 43, Mary "Mamie" Gummer, 40, Grace Gummer, 37, and Louisa Jacobson Gummer, 32.
Streep has seldom discussed her marriage in interviews, but opened up to the Sydney Morning Herald about her longtime marriage to Gummer and his supportive nature toward her career, despite his own success as a professional sculptor.
She told the outlet Gummer was "always happy to look after the children" so that she would feel "not as guilty" when she spent time away from her family to pursue her career.
Read on to learn more about the decades-long relationship between Meryl Streep and Don Gummer.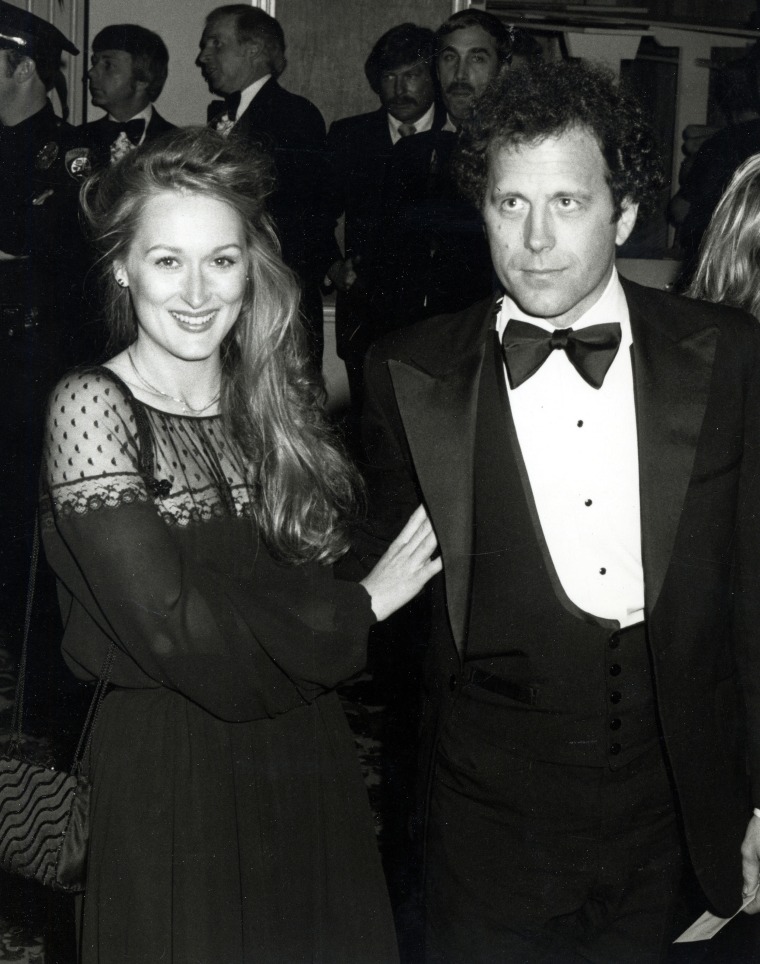 1978: Meryl Streep meets Don Gummer
Streep and Gummer met through her brother, Harry Streep III, after her boyfriend John Cazale died of lung cancer in March 1978.
This period of her life was explored in Michael Shulman's biography of the actor, "Her Again: Becoming Meryl Streep."
In an excerpt shared by People in March 2016, Shulman wrote that after Cazale's death, Streep went to stay with a friend in Canada and upon her return, she was kicked out of the loft that she shared with the late actor. While she was packing up the loft, her brother and his friend, Gummer, came to help.
People reported that after she moved from their apartment, she sublet a loft in SoHo from Gummer as he was going to take an extended vacation in Pakistan. They corresponded through letters while Gummer was gone. However, his trip was cut short when he had a motorcycle accident and returned to New York City to recover.
September 1978: Meryl Streep marries Don Gummer
Streep and Gummer wed less than a year after meeting.
The couple tied the knot in September 1978 and got married in Streep's parents' garden at their home.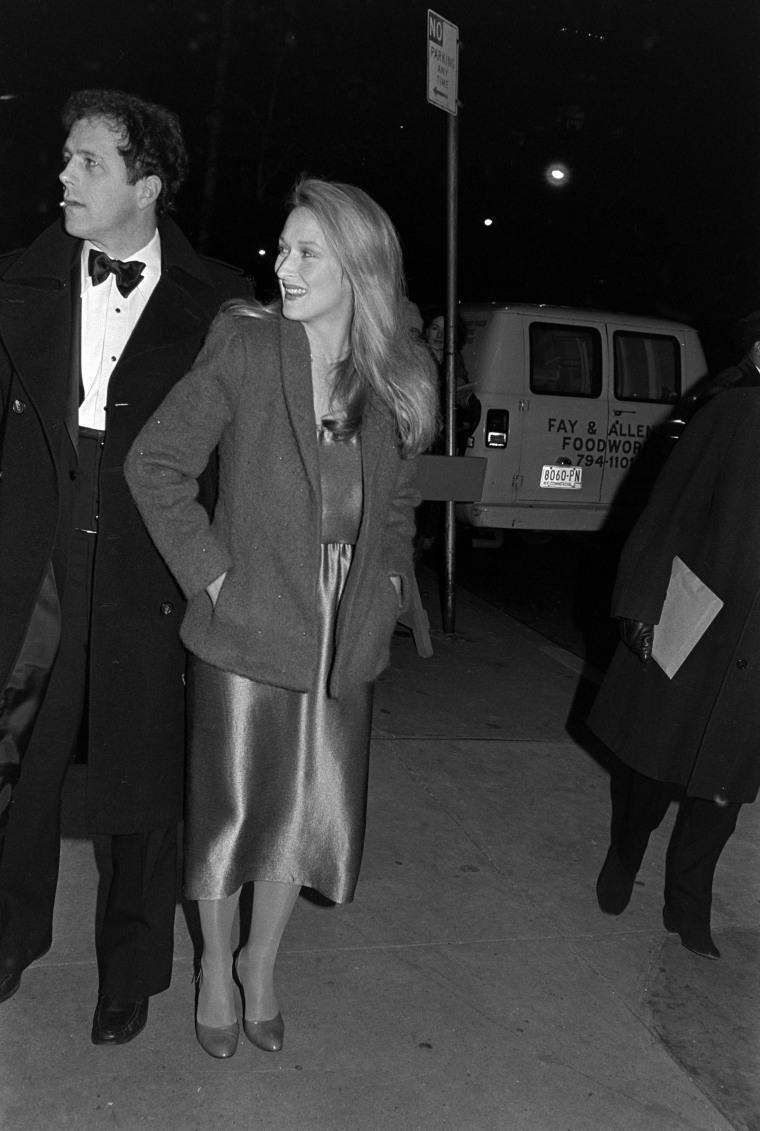 December 1979: Meryl Streep and Don Gummer attend "Kramer vs. Kramer" premiere
Over the course of their decades-long marriage, Gummer has shown support for his wife. They've attended numerous premiers, award shows, and events together and as a family.
In one of the couple's earlier public appearances, Streep and Gummer attended the New York City premiere of "Kramer vs. Kramer," which featured Streep alongside Dustin Hoffman and Justin Henry.
Streep ultimately won the Oscar — her first — in 1980 for best supporting actress for her role as Joanna Kramer in the film.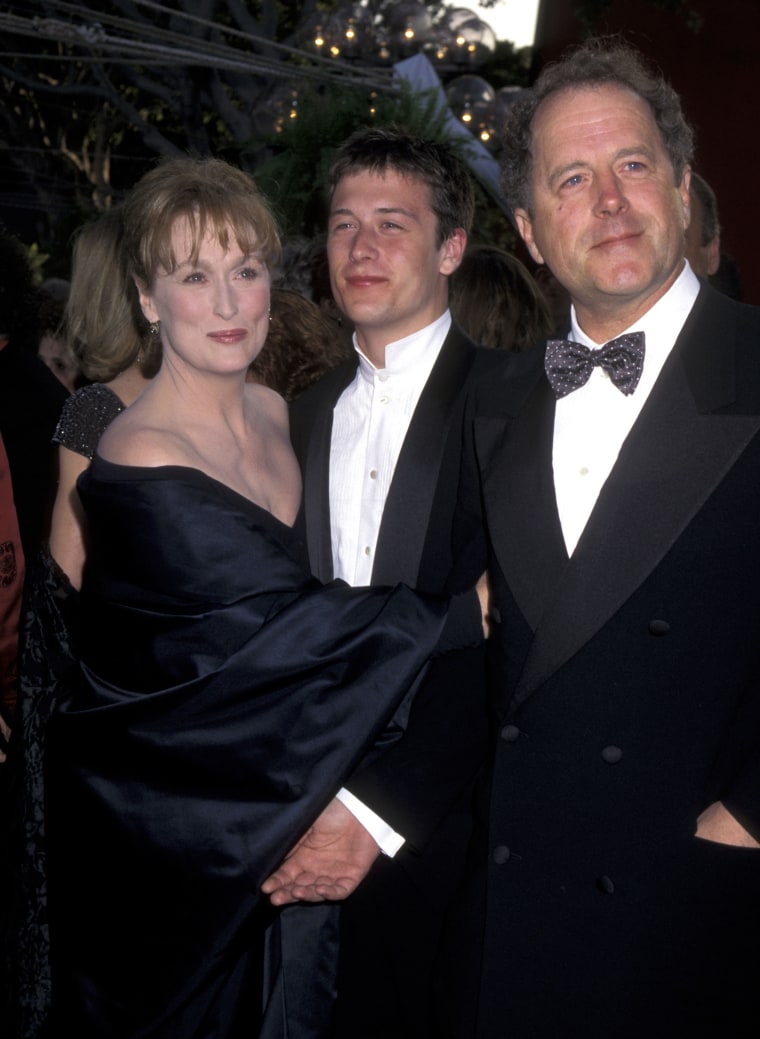 November 1979: Meryl Streep and Don Gummer welcome first child
Streep and Gummer welcomed their first child, son Henry Wolfe Gummer, Nov. 13, 1979.
While Henry's younger sisters all pursued a career in acting, he paved his own path and is a musician. Henry was in the band Bravo Silva and also released several solo albums, with songs featured on the soundtracks for "Julie & Julia" and "Ricki and the Flash."
Henry has been married to his wife, Tamryn, since 2019, as reported by People. The couple share two children: daughter Ida June and son Quinn William.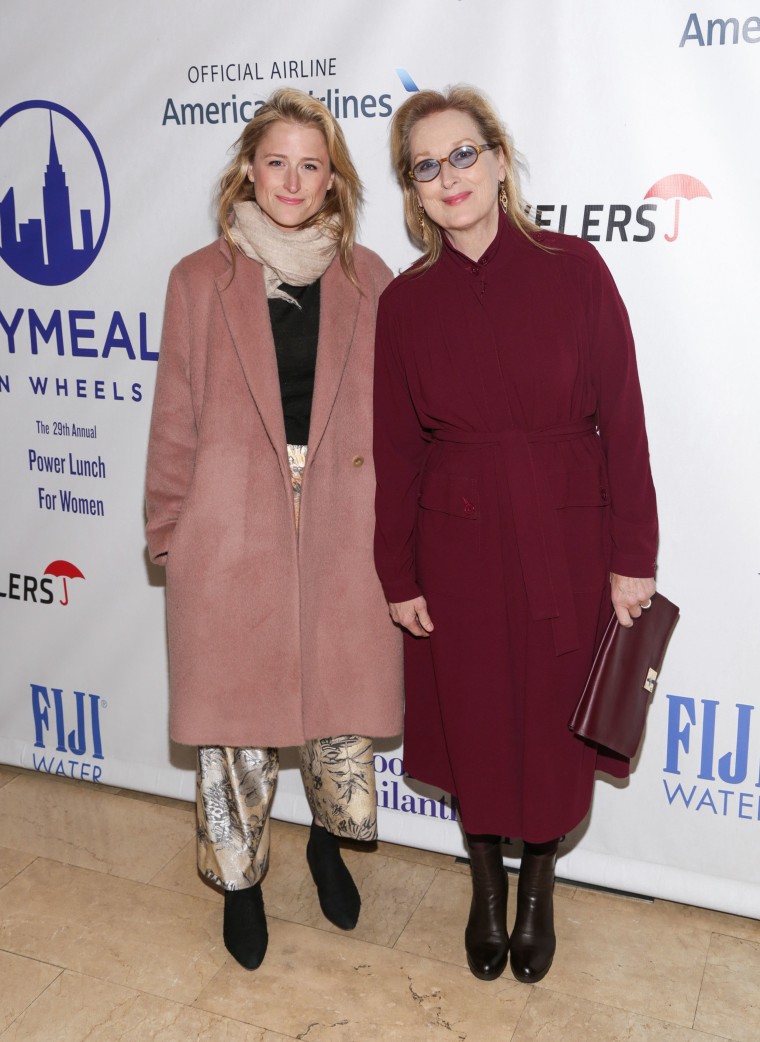 August 1983: Meryl Streep and Don Gummer welcome second child
Streep and Gummer welcomed their second child, daughter Mary Willa "Mamie" Gummer, on Aug. 3, 1983.
Mamie is an actor and has appeared in several roles across movies and television over the years. She starred as the titular role in "Emily Owens, M.D." and had a recurring role on "The Good Wife" and "The Good Fight." Mamie also appeared in several movies alongside her mom, including "Heartburn" and "Ricki and the Flash."
She was married to Ben Walker from 2011 to 2013, but ultimately got remarried in 2019 to Mehar Sethi. The couple welcomed a son in February 2019, People reported, making Streep a first time grandmother.
Streep spoke to Interview magazine in March 2019 about becoming a grandma for the first time after she was asked whether she was working on a new project.
"I've been working like mad for quite a while, so I'm getting ready for my first grandchild," she said. "My daughter's having a baby in February, so I'm going to go out and ruin her life. I specialize in unsolicited advice."
June 1985: Meryl Streep and Don Gummer relocate to Connecticut
Streep and Gummer relocated their growing family to Salisbury, Connecticut in June 1985, according to the New York Times.
Reflecting on this period of her life, Streep told the Sydney Morning Herald in June 2019 that the 25-year period she lived in Connecticut was one of the "happiest times" of her entire life.
"It was my oasis — I had so much pleasure in watching over my children, being as much of a confidante as possible, and enjoying everything that came with helping them grow into independent young people," she explained to the outlet.
After her youngest child moved out of the house, the couple relocated to New York City's Tribeca neighborhood in Manhattan.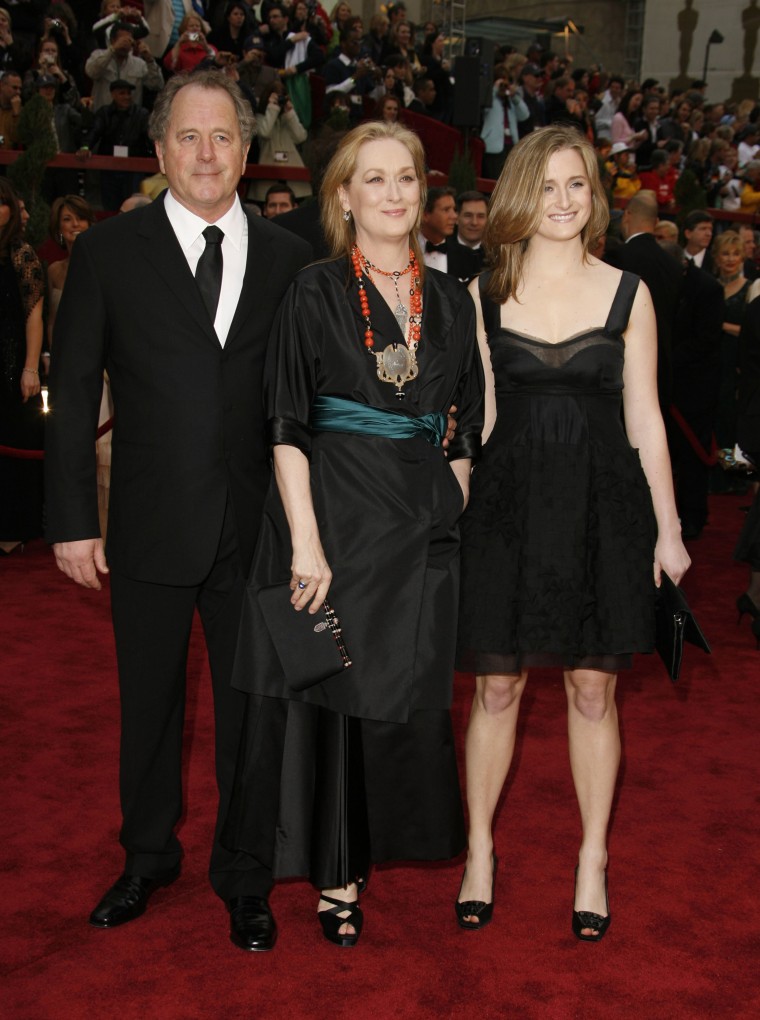 May 1986: Meryl Streep and Don Gummer welcome third child
Streep and Gummer welcomed their third child, daughter Grace Gummer, May 9, 1986.
Grace also became an actor, holding roles on Broadway as well as in film and television. She made her Broadway debut in 2011 for her role in "Arcadia" in March 2011, according to Playbill. Grace has also appeared in TV shows including "The Newsroom," "American Horror Story: Freak Show," and "Mr. Robot" as well as movies such as "Frances Ha" and "The Homesman."
She was previously married to musician Tay Strathairn from 2019 to 2020. Grace married music producer Mark Ronson in 2021.
People reported that the couple welcomed their first child together — a daughter — in early 2023.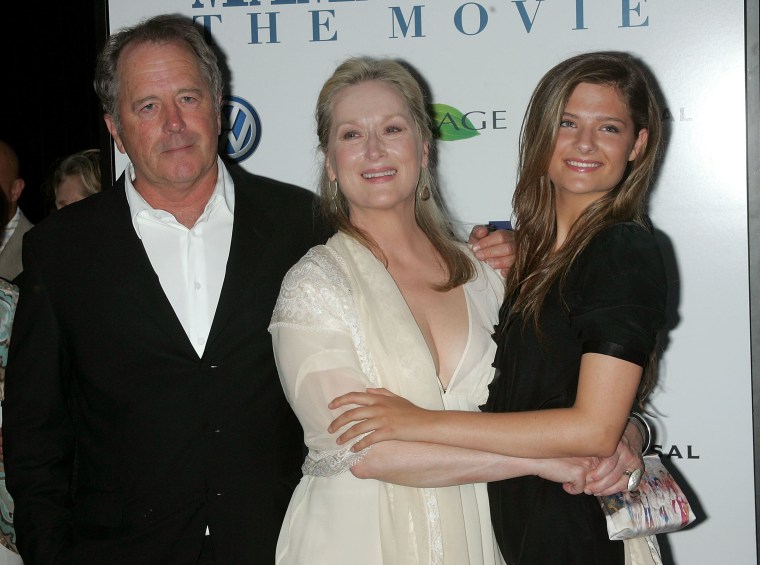 June 1991: Meryl Streep and Don Gummer welcome fourth child
Streep and Gummer welcomed their fourth child, daughter Louisa Jacobson Gummer, on June 12, 1991.
Louisa, who goes professionally by Louisa Jacobson, is also an actor. She is best known for her role as Marian Brook in "The Gilded Age."
During a March 2022 appearance on "Jimmy Kimmel Live!" Louisa revealed that despite her mother being a beloved actor in Hollywood, she still has the tendency to get on her daughter's nerves.
One example she shared with host Jimmy Kimmel is that her mom still calls her by the nickname "Pickle."
"Even today, she was like, 'All right, Pickle, is the car coming for you?' She's like, 'Do you have everything you need? Is someone coming to pick you up from the theater?'" Louisa said, imitating her mom.
Louisa said that her mom also has another habit — imitating people's accents.
"If she starts to speak to someone who has an accent, she'll just start doing the accent," Louisa said.
2002: Meryl Streep makes rare comments about marriage to Vogue
Streep has seldom made comments about her relationship publicly over the decades.
However, when asked by Vogue in 2002 what the secret was for her long marriage, she replied, "Goodwill and willingness to bend—and to shut up every once in a while."
"There's no road map on how to raise a family: It's always an enormous negotiation," she added. "But I have a holistic need to work and to have huge ties of love in my life. I can't imagine eschewing one for the other."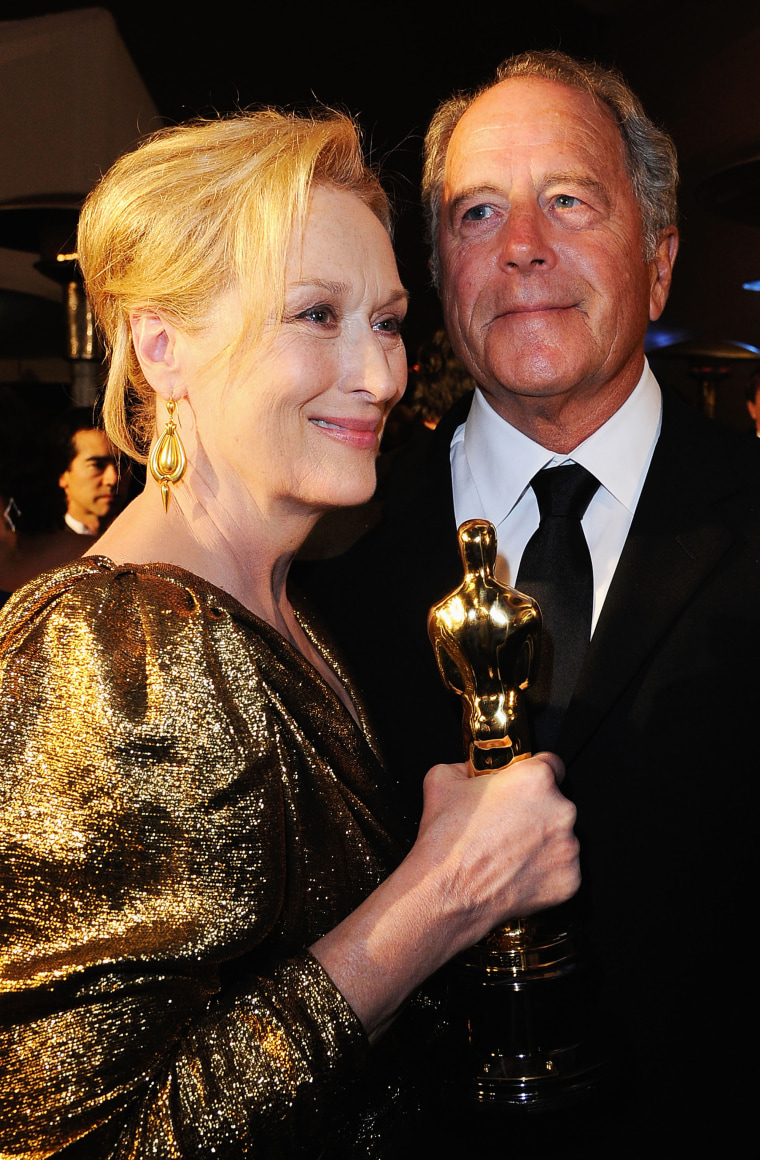 February 2012: Meryl Streep thanks Don Gummer in Oscars acceptance speech
At the 84th Academy Awards in February 2012, Streep was awarded her third Oscar for her role in "The Iron Lady." 
After a brief joke about her winning the award, Streep kicked off her acceptance speech with an emotional tribute to her husband.
"First, I'm going to thank Don because when you thank your husband at the end of the speech, they play them out with the music and I want him to know that everything I value most in our lives, you've given me," she said.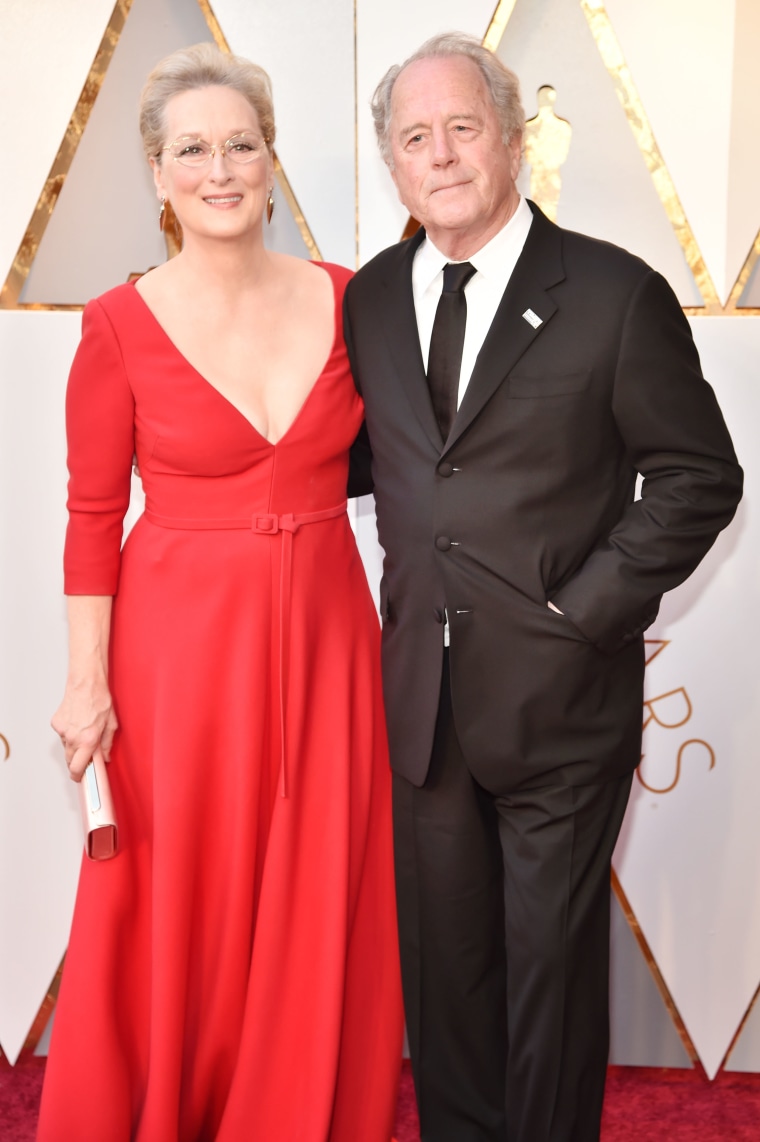 March 2018: Meryl Streep and Don Gummer attend the Oscars together
Streep and Gummer, though photographed on several occasions over the years, made what appeared to be their final public appearance together at the 90th Academy Awards in March 2018.
June 2019: Meryl Streep says Don Gummer was a "very involved" father
More than one year after their last public appearance together, Streep shared the juxtaposition between the couple's roles as parents with the Sydney Morning Herald, explaining that Streep often served as the "bad cop" while Gummer played "good cop."
"Teamwork is everything," she explained. "My husband Don was … very involved. He was a little more relaxed when it comes to raising kids. I was more of a tiger mom."