Meryl Streep is speaking out in support of diversity at the Berlin International Film Festival, but a comment about understanding films from other countries — "We're all Africans really," she said — is getting most of the attention.
Streep's remark came after an Egyptian reporter asked the actress, who is serving as the festival's jury president, if she understood films that were submitted from North Africa and Arab countries, the Associated Press reports.
"There is a film that is representing Tunisia and the Arab world and Africa in the main competition," the reporter said. "How do you see this part of the world, and is it easy for you to understand that culture, and are you following any Arab movies?"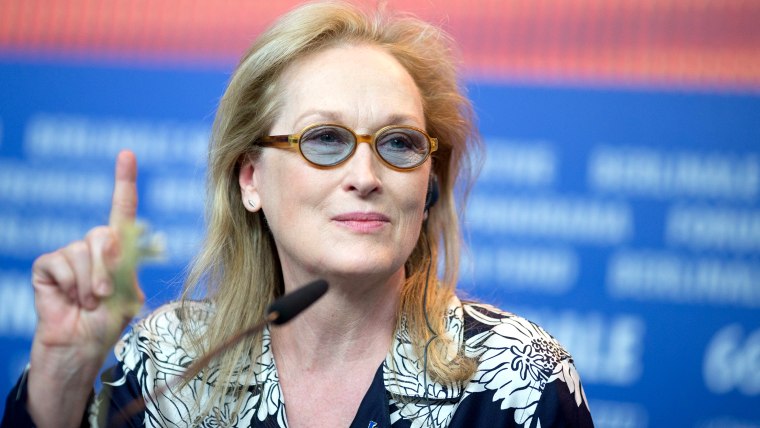 "Yes, in fact I've just seen a film called Theeb, which I loved," Streep said. I saw Timbuktu recently, but I don't know very much about the Middle East, and yet I've played a lot of different people from a lot of different cultures. The thing that I've noticed is that there is a core of humanity that travels right through every culture. And, after all, we're all from Africa originally; we're all Berliners, we're all Africans, really."
The Berlinale jury, which awards the prestigious Golden Bear prize, is comprised of seven white people: actor Lars Eidinger, British film critic Nick James, French photographer Brigitte Lacombe, British actor Clive Owen, Italian actress Alba Rohrwacher and Polish director Malgorzata Szumowska.
RELATED: George Clooney says Oscars' lack of diversity 'moving in the wrong direction
Streep praised the representation of women on the panel.
"This jury is evidence that at least women are included and in fact dominate this jury, and that's an unusual situation in bodies of people who make decisions," Streep said."So I think the Berlinale is ahead of the game."
Streep's awkward answer comes at a time when diversity is a touchy subject in Hollywood.
WATCH: Lupita Nyong'o says #OscarsSoWhite shows desire for a 'diversity of stories'
The 2016 Academy Awards have been mired in controversy over a lack of diversity among its acting nominees, prompting the hashtag #OscarsSoWhite.
It's even lead to a boycott of the ceremony from some black actors and filmmakers in Hollywood, including Spike Lee, who received an honorary Oscar in November.