Updated 9:30 a.m. ET: "Dancing With the Stars" pro Tony Dovolani finally has his first mirror ball trophy! The hoofer and celeb partner Melissa Rycroft defeated Olympic gold medalist Shawn Johnson and "General Hospital" star Kelly Monaco on Tuesday to win the competition's first all-star season.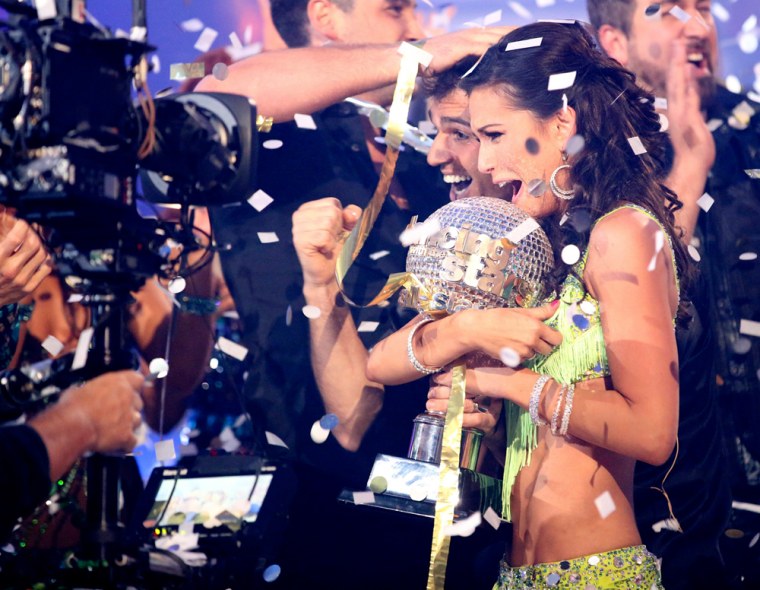 This is also Melissa's first mirror ball trophy. When she competed in season eight, she finished in third place, with Shawn as that season's champ. Melissa had kicked off the all-star season with a prediction that she wouldn't last past the fourth week, but as the season progressed, she continued to improve and win fan votes. 
"My mind went blank for a minute," Rycroft told reporters after the show as to what she was thinking when host Tom Bergeron called her name as the winner.
"When we were standing there with Shawn and Derek I assumed it'd be them. After I realized it was our names, I said, 'Oh, my God! How did this just happen?'"
Rycroft's "Life Is a Highway" instant samba on finale night sealed her victory, which is based on the judges' scores and viewer votes. The judges -- who failed to call her out on two slips, but did note a flawed interpretation of the music -- gave her a score of 28.5 for the performance and praised her moves.
"You've been my greatest pleasure to watch," head judge Len Goodman said. 
But no doubt, Melissa's likable pro played a sizable role in her victory. Tony has been a fan favorite with his patience, nice-guy attitude and positive demeanor. Of all the pros on the show, he has perhaps been paired with the most contestants who lacked the ballroom skills to go far (Kate Gosselin and Martina Navratilova, to name two), and was often eliminated early in the competition. And in his 14th season, he finally got his mirror ball.
"This has been a long time coming for Tony," Bergeron noted as the winners celebrated.
The victory was especially sweet for Dovolani and not just because he'd been arguably paired with some, ahem, shall we say "challenging" partners over the years.
"I've paid my dues," Dovolani nodded. "But it was worth the entire 14 seasons to get somebody like Melissa. It was worth this unbelievable moment. All the stars have to align sometimes and tonight they did."
The pro dancer had much to celebrate. "It's my wife's and my 13th (wedding) anniversary," he shared. "Also, it's been 100 years of independence for (my native) Albania. This is an incredible moment! I share this with all our fans."
The couple had few expectations given that they started out competing against numerous past winners in terms of both stars and pros.
"We thought we'd go home in week one," Dovolani exclaimed.
"We were going to try to hold our own and maybe leave with some sort of impression," Rycroft mused. "We never thought we'd be champions or be the last ones standing. I wish we hadn't underestimated ourselves but at the same time it makes us more proud of what we've accomplished."
It was almost more of the pro's win than Melissa's. When the pair were announced as the newest champs, fellow pros Maks and Val Chmerkovskiy hoisted Tony onto their shoulders as the cameras zoomed in on him pumping his fists in the air, leaving Melissa out of the picture until pro Derek Hough finally got her up and back into the frame.
Though Tony and Melissa appeared poised to win after their two perfect scores on Monday, Shawn and Kelly gave them some tough competition in the insta-dance round.
The "General Hospital" actress nearly nailed her energetic jive with great twirls and kicks. The judges dinged them for a little lack of precision, and gave her and Val matching 9.5s for a two-night total of 87.5 out of 90. And when she was eliminated in third place, the actress gave big props to her partner.
"This guy is the most incredible man, and he's the most talented dancer out there," she said. "He taught somebody who has no idea how to stand on both of her feet and talk at the same time how to dance gracefully."
As for Shawn, she added one more perfect score to her ballroom history with the instant cha-cha-cha to finish in second place with a total of 87 points. Derek, who has hinted that this may very well be his last season on "Dancing," said after their final performance, "After doing the show for so long, you try to find new ways to make it special. (Shawn) made it more than special regardless of the result."
-- TODAY contributor Michael Maloney provided additional reporting.
Did the right celeb win? What did you think of the finale show overall? Share your thoughts on our Facebook page! 
Related content:
More in The Clicker: