Funny couple!
Melissa McCarthy and her husband, actor Ben Falcone, crack each other up as much as they crack up movie audiences, so it's no surprise their Friday visit to "The Ellen DeGeneres Show" erupted into fits of laughter.
The hilarious Hollywood pair, who tied the knot in 2005, struck comedy gold as they shared a few of their wacky relationship secrets with the host.
The "Spy" star, 46, giggled when DeGeneres wondered if there's anything Falcone, 43, does that irritates her.
"What if I said something horrible?" she asked.
"And I storm off!" Falcone interjected.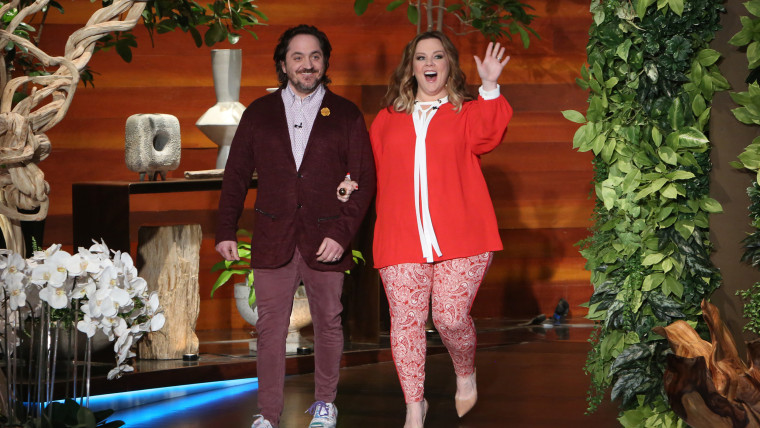 The frequent "Saturday Night Live" guest star said she actually gets a kick out of "certain very weird things" her hubby does.
Like?
"Ben — lovingly —is a bit of a super hypochondriac, maybe germaphobe, and we have seven or eight blood pressure cuffs in our home," said McCarthy.
"One isn't enough," Falcone insisted. "What if it isn't working right?"
McCarthy shared that her other half "gives himself white coat" syndrome because he takes his blood pressure all the time.
RELATED: Melissa McCarthy is taking 'notes' on Sean Spicer briefings for her next 'SNL' appearance
"I see him getting flushed," she said, and then imitated herself chastising him. "'If you weren't taking your blood pressure, you wouldn't be spiking right now! So, it's like, you're doing it to yourself.' And he's like, 'I'm going for the other cuff!'"
McCarthy also imitated the couple's daughters, Vivian, 9, and Georgette, 7, mocking dad's offbeat habit.
Watch the entire hilarious video above!