Admittedly, lip syncing (or for that matter, singing of any kind) rarely involves protective glasses. But Melissa McCarthy does things a little differently.
The actress and star of new movie "The Boss" joined Jimmy Fallon on "The Tonight Show" on Monday night for an epic "Lip Sync Battle," and the results truly colored our world.
"I gotta be honest, I'm a little nervous," admitted Fallon before they went head-to-head.
"I don't get nervous a lot," she fired back. "I am pretty freaked out about crushing you."
MORE: From Dwayne Johnson to Anne Hathaway: Our favorite 'Lip Sync Battle' performers
Clearly, this was not going to be just any old lip sync battle. Fallon started things off with classic "Brand New Key" (sung originally by Melanie in 1971), but McCarthy stepped up the game quickly with DMX's 2003 hard hitter "X Gon' Give It To Ya" with a performance that left The Roots either laughing or looking stunned.
For the second round Fallon bounced back with Zayn Malik's recent hit "Pillowtalk" (he even brought a pillow out on stage to back him up). But he ultimately was no match for McCarthy, who came out on stage with clear goggles, a wind machine and a nature-themed backdrop as she launched into "Colors of the Wind," which Judy Kuhn sang for 1995's "Pocahontas."
But wait, there's more: As she launched into the song, stuffed animals (an otter, a heron and a wolf) blew in from offstage ... and then came the feathers and the glitter. So much glitter.
Jimmy Fallon (and all of us at home) doubled over in laughter. It may have been the messiest, most entertaining lip sync yet!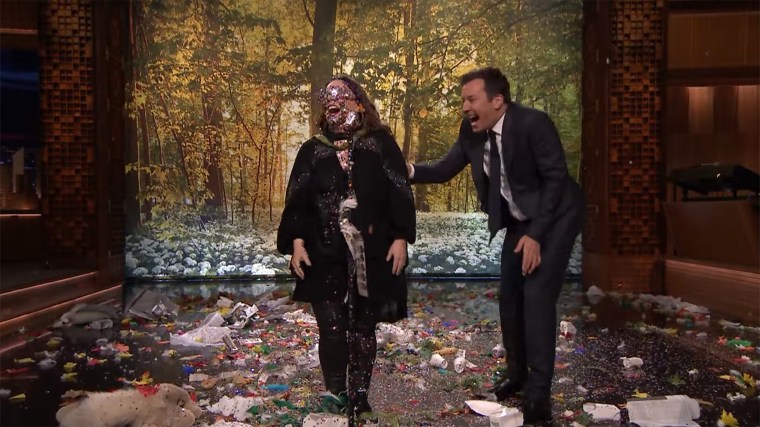 MORE: John Krasinski gets his mind blown by Anna Kendrick on 'Lip Sync Battle': 'What is happening?'
"The Tonight Show Starring Jimmy Fallon" airs weeknights at 11:35 p.m. on NBC.
Follow Randee Dawn on Twitter.