Fans know by now that Meghan Trainor is "All About That Bass," but during her visit to TODAY Monday, she was all about several other new things as well, including a tour announcement, a new tune ("Lips Are Moving") ... and a big surprise presented to her by TODAY!
Here are just some of the highlights:

Save the dates! Trainor will be part of the Macy's Thanksgiving Day Parade on Thursday, Nov. 27 — and she's kicking off a tour on Feb. 11, 2015! "I'm headlining!" she grinned after making the announcement that she's hitting the road. "It's crazy!"
Her major label debut album, "Title," is set for release next January, but savvy listeners know she's already got two self-released albums worth checking out: "I'll Sing With You" and "Only 17," both from 2011.
She wrote her first song at age 7, and told her musician-dad, "I'm a pop star; we need to get a [tour] bus."
"Bass" was not meant as a slam against less well-rounded folks. "I wrote the song to help people become comfortable in their own skin," she explained. "I do feel like that, and it has helped me and helped a bunch of people, but the goal wasn't to bash skinny people."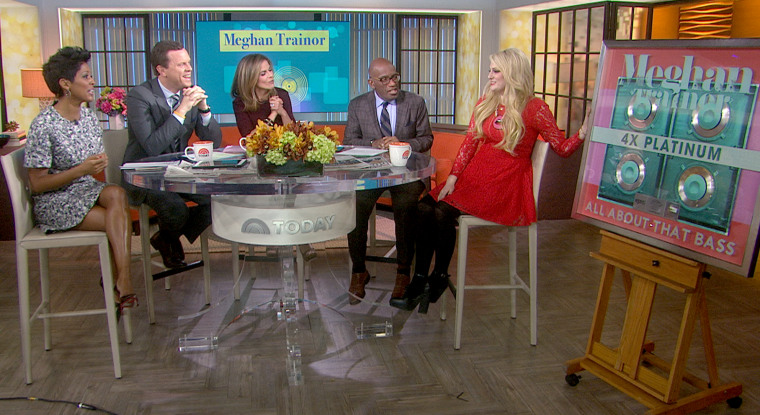 Speaking of big hits, "Bass" is now certified quadruple platinum, a fact the TODAY hosts helped Trainor celebrate by surprising her with a framed honorary plaque from her record label. "You can take that home with you," noted Natalie Morales. "In my suitcase?" she asked.
She could, of course — though if she took it to the airport, she'd have to be all about that baggage.