"Suits" star Patrick J. Adams won at least a little slice of the internet Monday with his hilarious reaction to his co-star Meghan Markle's recently announced engagement to Prince Harry.
Adams, 36, who plays Markle's fiancé on the legal drama, took to Twitter after the news broke on Monday, joking, "She said she was just going out to get some milk..."
A few hours later, Adams added a more heartfelt note.
"Playing Meghan's television partner for the better part of a decade uniquely qualifies me to say this: Your Royal Highness, you are a lucky man and I know your long life together will be joyful, productive and hilarious," he wrote. "Meghan, so happy for you, friend. Much love."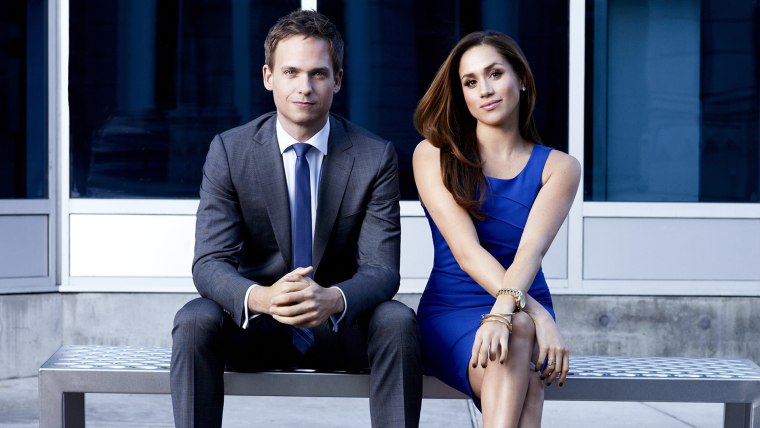 While we understand the witty actor may have needed a bit more time to process the news, the rest of Markle's "Suits" family — like many others on both sides of the Atlantic — were all too eager to gush their approval over the impending royal nuptials.
Actor Wendell Pierce, who plays Markle's father, Robert Zane, on the USA Network show, excitedly tweeted, "Congratulations to my TV daughter Meghan Markle and Prince Harry on the news of their wedding engagement.
"Harry," wrote Pierce, addressing the redheaded royal directly, "you have her TV Father's blessing. Robert Zane approves."
"Suits" creator Aaron Korsh chimed in with his own well-wishes, tweeting, "Congratulations to Meghan Markle and Prince Harry on their engagement. Wonderful news, I wish you both a lifetime of happiness."
Markle, 36, and Harry, 33, dated for more than a year before making their first official appearance together this past September at the Invictus Games in Toronto.
The actress opened up to Vanity Fair for the magazine's October cover story about her relationship with the real-life prince.
"We're in love," she said. "I'm sure there will be a time when we will have to come forward and present ourselves and have stories to tell, but I hope what people will understand is that this is our time. This is for us. It's part of what makes it so special, that it's just ours. But we're happy."
"Personally," she added, "I love a great love story."
So do we! We're so excited for Meghan and Harry!