While some may not naturally think of fall as a time for comedy, there are still some big movie laughs to be found at your local multiplex. Meg Ryan tries for a comeback in "The Women," which features an all-female cast. And normally dramatic actors, such as Adrien Brody, Robert De Niro and Sam Rockwell, want to show they can get you giggling, too. The laughs may not be as rowdy or outrageous as those generated in summer movies, but if you need some relief from the darkening weather, these films may give you a lift.
"The Women" Starring: Meg Ryan, Annette Bening, Eva Mendes, Jada Pinkett Smith, Debra Messing, Candice Bergen, Bette MidlerDirector: Diane EnglishStory: This remake of the 1939 George Cukor film is a comedic look at loyalty and friendship among women. When Mary Haines' (Ryan) husband steps out with a perfume salesperson (Mendes), the friendships in her life (with Bening, Pinkett Smith, Messing) are stretched to the breaking point, as the women begin to question the romances in their own lives and how much they trust each other. One to watch? Maybe. The original movie (which starred Joan Crawford and Norma Shearer) is very funny, but the question is: Will English (creator of "Murphy Brown") be able to maintain the film's acidic wit? Entertainment Weekly reported that English intended to tone down the Clare Boothe Luce play's original misogynistic tone. Admirable, yes, but will it leave the movie toothless? English hopes the same fans that made "Sex and the City" a hit will come out for the film. "Women need to reach into their purses and vote with their wallets," she told the Hollywood Reporter after receiving the Women in Hollywood Crystal Award. "Money talks, and Hollywood listens. That's the only way things will change."Web site: http://www.thewomenthemovie.com Release date:  Sept. 12
"How to Lose Friends & Alienate People"
Starring: Simon Pegg, Megan Fox, Kirsten Dunst, Gillian Anderson, Jeff Bridges Director: Robert B. WeideStory: British writer Sidney Young (Pegg) is hired by Sharps magazine, a Vanity Fair-like publication, to write about celebrities and the beautiful people. But he manages to make every wrong turn imaginable, from asking stars inappropriate questions to bringing strippers into the office. Bridges plays publisher Clayton Harding, a once-edgy magazine editor, who now panders to celebrity culture. Dunst plays a skeptical co-worker Young develops feelings for, while Fox is the starlet that he lusts after. One to watch? Yes. Based on Toby Young's memoir about his time at Vanity Fair, this movie looks to poke a sharp stick in the eye of publisher Graydon Carter, who eventually fired Young from the magazine. Young told the New York Times that the film is "foremost a withering assault on glossy magazine journalism." Director Weide is a director/executive producer on "Curb Your Enthusiasm." Bridges, who claims not to have based his character on Carter, described the movies themes to the New York Times this way, "The relationship the media has with Hollywood now is like a barker at the carousel. From the award ceremonies we throw ourselves to the celebrity magazine coverage, it's all part of the selling of the wares." Web site:  http://www.how2losefriends.com/ Release date: Oct. 3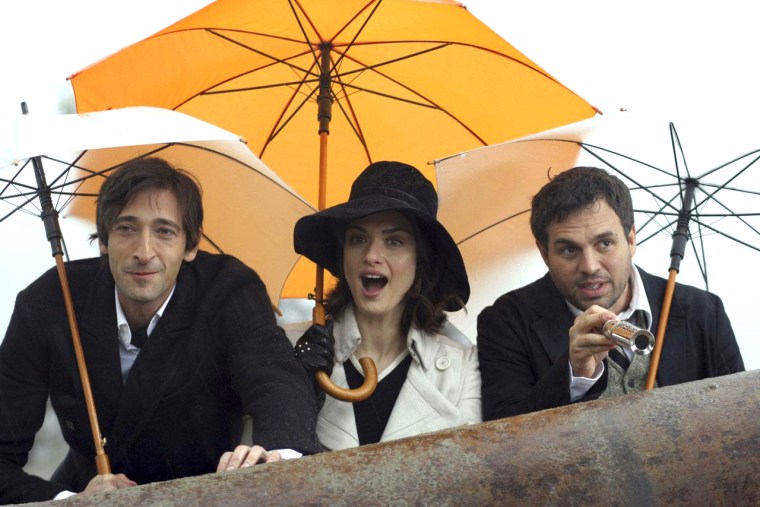 "What Just Happened"
Starring: Robert De Niro, Catherine Keener, Stanley Tucci, Robin Wright Penn, Bruce Willis, Sean Penn Director: Barry LevinsonStory: Based on the book by producer Art Linson ("Casualties of War," "Heat"), this film tells the story of a middle-aged Hollywood producer (De Niro) who must deal with a temperamental Bruce Willis, while at the same time attempting to finish up a nightmarish Sean Penn flick. And his home life, with his second wife (Wright Penn) and teenage daughter (Kristen Stewart), just happens to be falling apart.One to watch? When it was shown at Sundance, this film failed to find a distributor, but Levinson reportedly recut the film for Cannes, where it received a more favorable response, according to the L.A. Times. However, according to critic Emmanuel Levy, the film is "a disappointingly familiar insider's movie, a Hollywood satire that lacks biting humor or novel ideas and characters." Interesting tidbit: according to IFC.com, Willis based his hot-tempered version of himself on Alec Baldwin. Web site:  http://www.whatjusthappenedfilm.com/Release date:  Oct. 3 (Note: Date has changed to Oct. 31)
"Role Models"
Starring: Seann William Scott, Paul Rudd, Christopher Mintz-Plasse, Jane Lynch, Bobb'e J. ThompsonDirector: David WainStory: Two energy drink reps (Scott, Rudd) trash a company truck and get arrested. The judge gives them a choice: They can go to jail or they can become Big Brothers to the bashful Mintz-Plasse and the foul-mouthed Thompson. One to watch? Maybe. According to Ain't It Cool News and MTV, Rudd rewrote the script during a hiatus in filming. Originally, Luke Greenfield ("The Animal") was set to direct, but he was replaced by the more talented Wain ("Wet Hot American Summer," "The State"). That's a lot of turmoil for one little comedy, but the combination of Wain, Rudd and "Superbad's" McLovin, Mintz-Plasse, does give cause for hope. Web site:  http://www.rolemodelsmovie.com/Release date:  Nov. 7
"Choke"
Starring: Sam Rockwell, Anjelica Huston, Brad William Henke, Kelly MacdonaldDirector: Clark GreggStory: Victor Mancini is a sex-addicted, med-school dropout, who works in a colonial reenactment theme park, and keeps his ailing mother (Huston) in a mental hospital — supplementing his income by pretending to choke in expensive restaurants. When, in a rare lucid moment, his mother reveals some information about who his father may be, Victor enlists the help of his mom's doctor (Macdonald) and his best friend (Henke) to solve the mystery. Based on the book by Chuck Palahniuk.One to watch? Yes. Critic Emanuel Levy called the film, "always darkly humorous, often wildly funny, and occasionally visually inventive, a film that tries to do full justice to its literary source material." Cinematical gave it more of a mixed review, saying that Rockwell is the only reason to see it. Director Gregg, best known as an actor ("The New Adventures of Old Christine") makes his directorial debut. Web site: http://www.foxsearchlight.com/choke/ Release date: Sept. 26
Note: Dates are subject to change.