It took Andy Cohen decades to realize the impact a dog could have on his life. Now he wants to keep others from taking so long to find out.
Growing up in St. Louis, the "Watch What Happens Live" host never had a dog. When he decided to finally get one three years ago, he knew from the start that he wanted to adopt.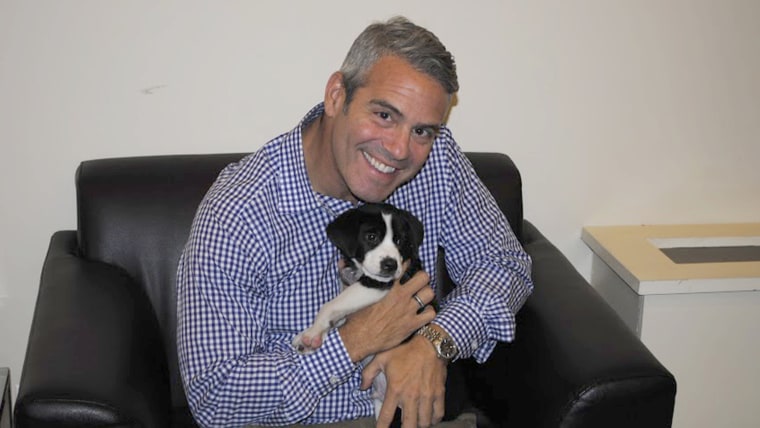 "There are so many great dogs available who need homes, so why buy a dog when you can help save one?" Cohen told TODAY.
Online, the 48-year-old executive producer of the "Real Housewives" TV franchise came across an adorable beagle-foxhound mix that was on his way to New Jersey from a kill shelter in West Virginia. But when Cohen went to pick the dog up in November 2013, he started to have second thoughts.
He blamed it on his busy schedule and on commitment issues in past relationships. "I was thinking that if I get this dog, I'm going to be with it for the rest of his life," he recalled. "And that scared me."
So he worked out a deal with the shelter; he would bring the dog home on a trial basis. But within minutes of taking the dog through the door of his West Village apartment, it was a total love fest.
"The shelter later told me they only agreed to it because they knew I wouldn't bring him back," Cohen said.
Cohen couldn't get enough of his new loyal companion, whom he named Wacha, after St. Louis Cardinals pitcher Michael Wacha.
"I thought I was saving Wacha, but he really rescued me," Cohen said.
The dog lover has teamed up with Purina ONE and North Shore Animal League America to bring shelter dogs into more schools through "Mutt-i-grees," a program to help students become more engaged and develop social awareness.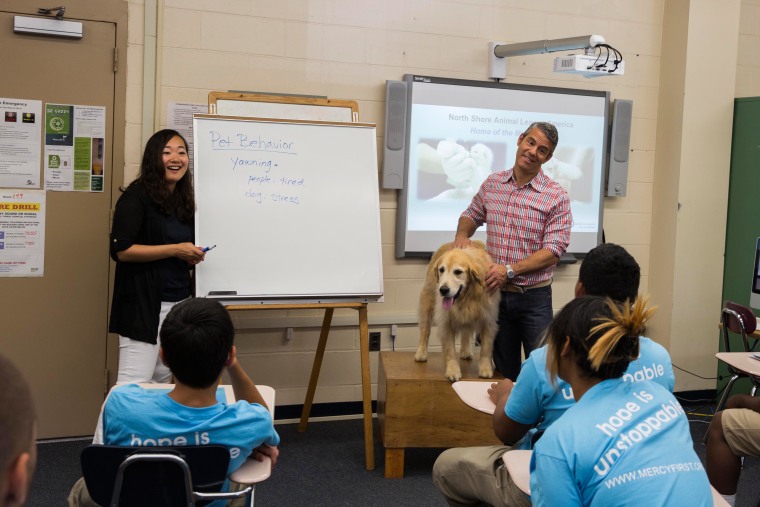 "I saw it myself: The kids really came alive," Cohen said. "It's important for kids to learn how to care for another living thing."
Cohen says having a dog has opened his heart and made him more empathetic.
Wacha goes everywhere with him, from the Bravo Clubhouse every night to the Hamptons on the weekends in the summer. The only place he's not allowed is on the subway, because there are too many smells. But that doesn't stop Andy from taking it!
When you're a famous dog, it only makes sense for you to have a squad of celebrity dogs. Wacha's best friends are Gary Fallon, Jimmy Fallon's golden retriever, and Allison Williams' dog, Moxie.
He's also in a play group in Brooklyn with Pepper, also a rescue pup, whose owner is TODAY's very own Al Roker.
RELATED: Matt Lauer picks between Katie Couric and Meredith Vieira on 'Watch What Happens'
"Wacha is perfect and almost all I need," Cohen said regarding his love life.
Cohen is no stranger to the dating scene in New York City and occasionally turns to Tinder in hopes of finding an eligible bachelor. He found himself on a recent Tinder date with a guy who didn't know who he was, which Cohen liked.
The trouble was, people kept coming up asking for photos throughout dinner, blowing his incognito. When Cohen messaged him the next day to say he had a nice time, his date told him that his fame was a problem and a relationship wouldn't work out.
"My fame is inconsequential and hasn't been an issue in past relationships," Cohen told TODAY. "But there's no hard feelings, because I didn't like the guy anyway."
Wacha was abused and suffers from PTSD as a result. Cohen makes sure to give him extra love and attention.
"Wacha is my full-time companion and best buddy," he said. "My life is so much richer because of him."