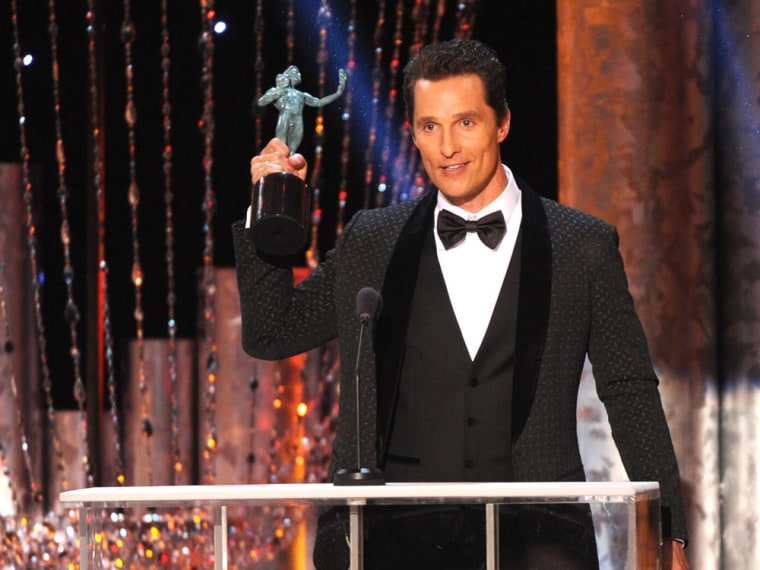 Hollywood honored its best and brightest performers Saturday at the 20th Annual Screen Actors Guild Awards. But as the stars vied against one another, the wins weren't only determining the big winners of the night.

The SAG Awards are widely considered to be the best indicators of what to expect from the heaviest hitter of the awards season, the Oscars. In the best supporting actress in a film category alone, the last four out of five SAG winners went on to take the Academy Award. So who nabbed that honor this time (and might just go on to take the Oscar in the near future)?
Those expecting another win for recent Golden Globe winner Jennifer Lawrence were no doubt surprised when her name wasn't called, but no one seemed more shocked than the actual winner, Lupita Nyong'o. The "12 Years a Slave" star was breathless when she took the stage and told the crowd that "being recognized by fellow actors is an honor of the highest order."
As for the best actor in a supporting role, man-bun trendsetter Jared Leto (who wore his locks down on this occasion) repeated his Golden Globe win, marking his first ever SAG win.
Leto thanked the those with HIV/AIDS, who inspired his "Dallas Buyers Club" performance, his fellow nominee "the late and great James Gandolfini," and the woman he called "the hottest date in town," his mother.
Of course, the SAG Awards offer something that the Oscars just don't have an equivalent for — television nods. Just after Nyong'o and Leto walked off with their film accolades, TV's familiar faces got their due.
"Veep's" Julia Louis-Dreyfus won for best actress in a TV comedy, and it was easy to see why she did as she delivered her harried acceptance speech.
"I'd like the thank the members of the Hollywood Foreign Press for this glorious Golden Globe." Er. "It's important to understand that it's truly an honor to be nominated for an Academy Award." Um. Eventually she got around to some gratitude for her SAG award and to "some of the cast (of 'Veep'). I don't know!"
It was "Modern Family's" Ty Burrell who accepted the trophy for best TV comedy actor, and he was back on stage just moments later — along with the rest of the show's cast — to accept the award for comedy ensemble. Sofia Vergara did the talking, calling the win "mind blowing."
Helen Mirren commented that she didn't "feel saggy," but rather "quite perky" after winning for best actress in a TV movie or miniseries for her part in HBO's "Phil Spector."
And it was Michael Douglas who won for his turn as the Liberace in HBO's "Behind the Candelabra." After some innuendo-filled banter for his on-screen lover and off-screen pal Matt Damon, Douglas assured, "I am not here without Matt Damon. ... Matt this is yours too, you know that."
Sandra Bullock, Matt Damon and other Hollywood stars gather to honor the best in movies and television.
While Saturday's event marked the 20th year for the SAG Awards, the Screen Actors Guild has been handing out its Life Achievement award far longer — since 1962. The latest Hollywood legend to take the honor is 82-year-old Rita Moreno.
Morgan Freeman, who appeared alongside Moreno on the '70s kid show "The Electric Company," presented the honor, informing the audience that the Puerto Rican-born star is one of only 11 EGOTs (actors who have been honored with the Emmy, Grammy, Oscar and Tony) in Hollywood's history.
"I'm so bloody happy," the actress said after taking a victory lap around the stage. She had something else to say shortly after receiving the honor, but censors had to block that racy word, whatever it was. Moreno finished off her acceptance speech with a few bars of the song "This is all I ask."
When the TV drama awards rolled around, it was "Downton Abbey's" Maggie Smith, who wasn't on hand, who won for best actress.
Best actor in a TV drama? That one was no surprise. Bryan Cranston's final season in the role of Walter White on "Breaking Bad" earned him a Golden Globe in the same category last week, and a SAG on Saturday night. Cranston also took the honor last year, which marked his first-ever SAG award.
"I've had so many crappy jobs in my life," Cranston told the crowd — tough jobs that left him with "dust in every orifice." He thanked God and "Bad" creator Vince Gilligan for his good luck.
And just like Burrell earlier in the evening, Cranston found himself returning the stage right away for his show's ensemble win — the first ensemble win for "Breaking Bad."
"What a way to go out in style!" Cranston cheered. 
Finally, the evening wrapped up with SAG's biggest awards in film: best actor, actress and cast.
Matthew McConaughey took the stage to accept the award for his work in "Dallas Buyers Club."
"There's a magic place that we as actors can strive to get to ... when you're seeing the character from the inside out," McConaughey raved, comparing it all to a wild ride through space, as he took his first-ever SAG award.
Cate Blanchett was the leading lady to get the honor for "Blue Jasmine," and when the show was running late and she was being rushed through her speech, she made sure she got her time.
"Matthew McConaughey spoke about Neptune, I can have five seconds!" she said before taking much more than that.
And it was Bradley Cooper who spoke on behalf of the cast of "American Hustle." They took the last award of the night, and he used what time was left to give praise to a non-actor, "Hustle" director David O. Russell.
"He is an actor's director!" Cooper said.