/ Source: The Associated Press
Paul McCartney delivers his 20th solo album with "Chaos and Creation in the Backyard," the Pussycat Dolls offer "PCD" and Patty Loveless is "Dreamin' My Dreams" in this week's reviews.
"Chaos and Creation in the Backyard," Paul McCartneyIs "Chaos and Creation in the Backyard" the album Paul McCartney fans have been waiting for him to make?
Not quite. While it has much more edge that most of the McCartney's usual lighthearted pap, it doesn't dive into the darker recesses explored by his former bandmate John Lennon.
That said, "Chaos and Creation" is a good album, picking up in some ways where 2001's "Driving Rain," McCartney's last collection of original songs, left off.
"Chaos and Creation" is much more restrained than "Driving Rain," and in that regard has more in common with McCartney's early 1970s records. Hearkening back to his first solo album, 1970's "McCartney," Paul wrote all the songs and played most of the instruments on his latest.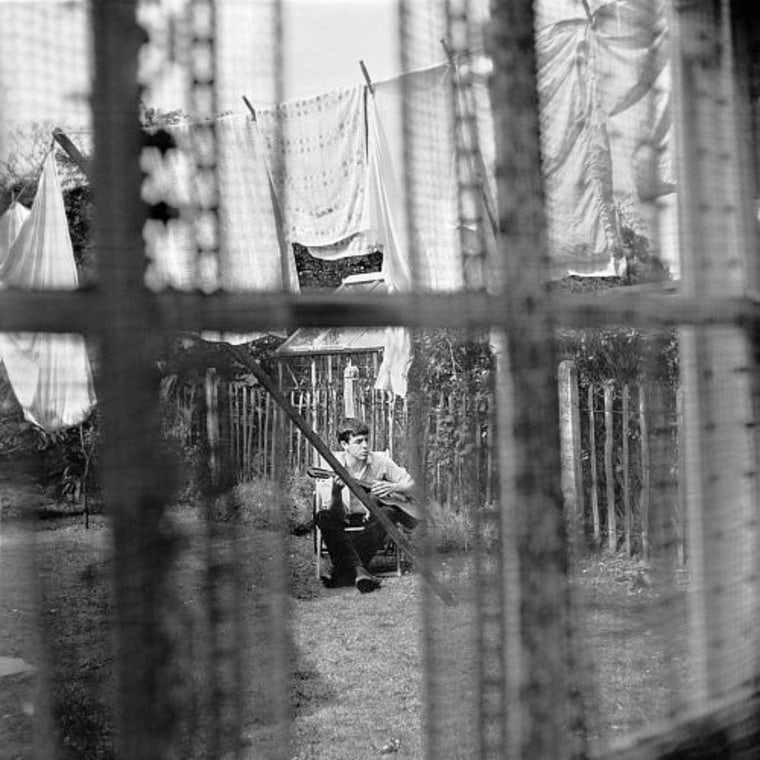 Aided by Radiohead producer Nigel Godrich, McCartney does show some emotional depth and vulnerability, which is usually hidden behind his aging mop-top facade.
"At the Mercy" includes the very un-McCartney-esque line of "Sometimes my head is hanging low, but it's time to get on with the show. ... I can think of nothing more to say."
He sings of loss and friendship in "How Kind of You" and sadness and sorrow in "Too Much Rain."
Even with his darker side poking through, McCartney can't totally divorce himself from songs like "English Tea." The catchy tune will burrow into your cerebral cortex, but your lyrical sense will cringe at lines like, "Do you know the game croquet, peradventure we might play, very gay, hip hooray."
But as he approaches 64, "Chaos and Creation" gives McCartney fans another reason to still need him. Fans can only hope it's the sign of even better things to come.— Scott Bauer
"PCD," The Pussycat DollsPretty faces and great bodies? Check. Some singing ability? Sure. Can dance up a storm? You betcha. Hmm ... could it be the latest iteration of the girl group?
This time around, it's The Pussycat Dolls. Originally a cabaret act in a Los Angeles club, they've been turned into a group, with their single "Don't Cha" among the hot tracks of the summer.
The only problem with manufactured groups is that they come out with manufactured product. There's talent here — the first single latches onto your brain, some of the music is great, and lead singer Nicole Scherzinger can actually sing — but it just doesn't seem genuine, interesting or memorable.
There's a mishmash of stuff — uptempo and ballad, come-hither ditties and a girl-power-don't-need-a-man anthem, club music and something that sounds very close to a show tune. It's all somewhat overproduced, and just seems like a compilation of songs the Dolls can perform dance numbers to at their new lounge in Las Vegas.— Deepti Hajela
"The People's Champ," Paul Wall
Paul Wall is almost always seen flashing his custom-made platinum smile. With his debut album, "The People's Champ," hip-hop fans now have a reason to beam, too.
With his personable southern drawl intact, the affable lyricist takes hip-hop to a hypnotic state of mind with narration about his native Houston.
The single "Sittin' Sidewayz" lets listeners in on Houston's laid-back culture over a contagious synthetic production, while visualization runs wild on "Drive Slow" featuring Kanye West, which also appears on West's new album, "Late Registration."
Even the sternest rap enthusiast will crack a smile over "Smooth Operator," which has Paul discussing his way with women over a throwback, almost '70s sounding pimp production. "So Many Diamonds" features T.I. boasting about their lifestyles with enough nerve to tell Donald Trump he's fired from "The Apprentice."
He later tones down the glitz for a more humble approach on the introspective "Just Paul Wall." The only setback is "Girl," which cleverly samples the Chi-Lites classic "Oh Girl" but plays entirely too soft for the lively H-Town native.
Fellow Houston natives Scarface and Slim Thug are better lyrically, and Mike Jones exploits his name more, but Wall uses his charisma and magnetic flow to formulate engaging song themes — making him an apt host for guiding fans through Houston's hip-hop scene.— Mark Lelinwalla
"Dreamin' My Dreams," Patty Loveless
A warped steel guitar lick begins Patty Loveless' new CD. She then launches into "Keep Your Distance," the anthem to all-or-nothing love by Richard and Linda Thompson. It's no mere cover version.
Loveless pours heart and soul into the opening lines, her plaintive Kentucky twang making the most of the song's Celtic bitterness. While so many country singers (pop singers too, for that matter) feel the need to over-emote on mushy, team-written ballads, Loveless, one of the true success stories of the late '80s new traditionalist movement, has made a career of understatement and great song selection. "Dreamin' My Dreams" continues that run. Loveless brings an easy poignancy to the record's lineup of songs, which includes A-list material from hip Nashville writers like Jim Lauderdale and Steve Earle. There are marvelous standards on the record, too, such as Allen Reynolds' title cut and Delaney and Bonnie's "Never Ending Song of Love," which is rendered here bluegrass-style.
In the past, Loveless has had her ups and downs commercially, but if there's any justice in the universe, "Dreamin' My Dreams" will be all over the airwaves and sell a ton. Even if it doesn't, though, the record proves that Loveless, now in her third decade of recording, is one of country music's great interpreters.— Paul V. Griffith
"The Minstrel Show," Little BrotherThose tired of indulgent rhymes and the rappers who spew them can finally stop waiting for something authentic to come along. That's because Little Brother brings hip-hop back to its heavy lyrical basics with "The Minstrel Show."
The North Carolina-based group consists of talented lyricists Phonte and Big Pooh and producer extraordinaire 9th Wonder, who concocted the chilling "Threats" for Jay-Z's "The Black Album." With "The Minstrel Show," Little Brother discards the standard glitz and glamour lyrics for rhymes on various daily life matters and situations. The easily relatable "Beautiful Morning" shares the obstacles faced by Little Brother as musicians each day, while "The Becoming" precisely explains the group's inception, sound and movement through music.
The slow grooving "Cheatin" has Little Brother narrating an emotional bitter circumstance about a girlfriend cheating on her man. Later "We Got Now" has the modern-day A Tribe Called Quest in assertive mode asking hip-hop heavyweights to pass them the baton for more positive music.
While the average rapper's descriptions of a lavish life may be entertaining on a record, it's usually not relevant to the everyday hip-hop listener. In contrast, 9th Wonder's production alone evokes more emotion than can be found on many mainstream rappers' entire albums. Then add the sound rhyming skills of Phonte and Big Pooh, and it becomes a tough task to find any flaws to an impressive "The Minstrel Show."— Mark Lelinwalla
"Souls Alike," Bonnie RaittSome things improve with age — Bonnie Raitt, for example.
Raitt, whose first LP was released in 1971, sounds better than ever in her latest album, "Souls Alike."
She can still wrap her voice around a lyric and effortlessly conjure the appropriate mood — edgy or sweet, submissive or aggressive, melancholy or joyful. But now she does it with a maturity and self-assurance that set this latest performance apart from her earliest work.
The new album is her 18th and the first on which Raitt gets credit as producer. And not one lemon turns up in its mix of 11 songs of various styles.
It starts with one of the better cuts, "I Will Not Be Broken." Raitt, who recently experienced a series of personal tragedies, sings the song's lyrics confidently ("Push me to the limit/ Maybe I may bend/ But I know where I'm goin'/ I will not be broken") and a jaunty, buoyant sound conspires to create a song that promises to become one of her classics.
Another outstanding performance is found on the spiritual-sounding "God Was in the Water." Its simple but haunting sound can easily take root in the listener's mental jukebox and play itself back at will.
"So Close" is slow and sweet. And in the sneakily contagious "Crooked Crown," the singer is trying ever so hard to maintain the delicate balance to survive.
"I Don't Want Anything To Change" is a melancholy ballad tinged with self-pity as the singer is unable to accept that her lover has left.
Ending the set is "The Bed I Made," with its poignant performance reminiscent of Raitt's classic "I Can't Make You Love Me."
The songs offers a variety of styles and influences: rock, ballads, spiritual, blues, and even a bit of patter. Raitt handles all with equal aplomb.
Chances are, each listener will create his own particular set of favorites.— Ron Berthel
"Where You Live," Tracy ChapmanEven more bare bones than usual, Tracy Chapman recorded her seventh solo album not in a studio, but in a San Francisco-area rehearsal space filled with trucked-in gear. The result: beautifully written songs in Chapman's signature simple and acoustic style.
The memorable tracks are "America" and the album's first single, "Change," which has Chapman posing a string of rhetorical questions. It's great in the way of her break out hit 1988's "Fast Car," but doesn't pull at the heart strings as much as it challenges the listener.
"America" is a spirited and revolutionary track that brings out Chapman's mind for social justice. The song asks Americans to face their history with lyrics like, "The ghost of Columbus haunts this world. You're still conquering America."
Chapman includes beautiful ballads like "3,000 Miles," which opens with a haunting percussive beats that make you feel mile after mile after mile. The painful and seeking lyrics of "Never Yours" will almost bring tears and memories of personal lost loves.
Flea of the Red Hot Chili Peppers guests on three tracks and Chapman is at her Grammy-winning best. She makes no tangent here. It's just Chapman's updated, intimate take on the world through her folk sound and intelligent, touching lyrics.— Caryn Rousseau
"Love and Life," LaToya London
LaToya London has a mild identity crisis on her first solo album. Not wanting to break completely from the "American Idol" mold, the former contestant offers the smooth, soaring vocals and love songs that made her popular on national television.
But "Love and Life" includes other sexy, sultry tracks with hip-hop beats that show London trying to leave her squeaky-clean image behind while still hanging on to her core audience. The album includes songs like "Scandalous" and "Anything" with spicy, adult R&B sounds and steamy seductive lyrics.
Her radio-friendly first single "Appreciate" features raps from Black Thought of The Roots. The other hip-hop vibe comes on "Non a Whatcha Do (Bling)." The rest of the album would make the perfect background music for a romantic dinner at home, featuring London's beautiful ballads on "Waiting for You" and a lovely classic tune "How I Love the Rain."
"Practice Makes Perfect" has a Toni Braxton sound and makes for easy listening. London sought out producers who have worked with Mariah Carey, Whitney Houston and Anita Baker and it shows. As proven on "American Idol," London's voice makes songs we loved already sound even better, so she leaves listeners with a cover of "All By Myself," one of her most popular songs on the television show.— Caryn Rousseau
"No Direction Home: The Soundtrack
— The Bootleg Series Vol. 7," Bob DylanBootlegs and outtakes are more marketable than ever these days — and it doesn't hurt the effort if you happen to be Bob Dylan. For that reason alone, "No Direction Home," marketed as part of Dylan's "Bootleg Series," piques the interest. But the imminent arrival of a Dylan biopic of the same name by Martin Scorsese makes it even more interesting to take a walking tour of the master's career.
The two-disc "No Direction Home" is a collage of Dylan alt-takes and live performances. It's an alternate-universe tour through the career of the former Robert Zimmerman — and, by extension, the evolution of folk music through the 1960s.
The most fascinating tune is the first — a brief, muffled recording of a song called "When I Got Troubles" that sounds like a field recording from a folk-song collector. It's billed as "most likely the first original song (Dylan) ever recorded, and it comes across as exactly what it is — a Minnesota high-school boy emulating the Delta Blues sound.
Dylan's early professional recordings in this CD echo his sound on his canon of albums. The earliest ones sound like (or are about or by) Woody Guthrie; Dylan's "This Land is Your Land," recorded live in New York City in 1961, was clearly the inspiration for Bruce Springsteen's version two decades later.
By 1962, the truly unique Dylan emerges, and these tracks feel more sensory, more raw than their familiar counterparts. A 1963 demo of "Don't Think Twice, It's Alright" is more ethereal than the better-known version — and more stripped down, if that's possible. An alternate take of "Mr. Tambourine Man" with Ramblin' Jack Elliott feels almost desperate, and a live version of "A Hard Rain's Gonna Fall" is deliberative and tentative, as if Dylan's feeling the lyrics more than he did in the well-known studio cut.
By the time outtakes from "Highway 61 Revisited" and "Blonde on Blonde" appear on Disc 2, Dylan's willingness to experiment from take to take has become obvious. "Desolation Row" has an intriguing electric riff behind its acoustic rhythm, while "Ballad of a Thin Man," live in Scotland in 1966, is even funkier and more psychedelic than the familiar classic.
For many artists, a release of outtakes is dull and unnecessary. For Bob Dylan, of course, it's a treasure chest — and a glimpse into what bodes to be an unusual movie.— Ted Anthony
"Los Aguacates de Jiquilpan," Akwid
Heavy with the flavor of the Los Angeles neighborhoods where Latino culture is merging with hip-hop, the third album from this Grammy-nominated pair of Los Angeles brothers is a bumping blend of traditional Mexican styling and urban edginess.
Sergio and Francisco Gomez are shaping a new direction in rap music by mixing typically Mexican instrumentation, cool soul/R&B rhythms, and clever Spanish lyrics loaded with of-the-moment Mexican slang.
The album has 13 tracks alternating between Akwid's songs and a female narrator telling the tale of "Los Aguacates de Jiquilpan" (meaning "The Avocados from Jiquilpan," referring to the duo's hometown in the central Mexican state of Michoacan). The woman's cheery voice will be familiar to anyone who has seen Mexican television commercials aimed at children.
Especially cool is Akwid's self-titled first song, with its heavy bass and swinging mariachi-spiced chorus where the duo shouts out the names of U.S.-Mexican Latino territories, from Los Angeles to Mexico City and back.
These brothers work hard at breaking down borders.— Michelle Morgante
"KCRW Sounds Eclectico," Various Artists
Fans of off-the-familiar-format music long have praised Los Angeles public radio station KCRW-FM for its eclectic musical programming. Now those who love the Latin alternative rock that is largely ignored by mainstream radio have an album of some of the best songs to be recorded during live performances at the station's studio.
Whether or not you've heard these songs by stars such as Cafe Tacuba, Julieta Venegas, Aterciopelados, Los Lobos (and so many more), you've not heard them like this. They have the energy of live, unscripted performances but the quality of a studio recording.
The nearly spartan production allows the listener to feel as if they're standing next to the haunting voice of Juana Molina, or feel the sultry vibe of Andrea Echeverri (Aterciopelados) on her acoustic version of "Baracunatana," or sense the firm resignation of undocumented immigrants given voice by Manu Chao in "Clandestino."
KCRW producer Nic Harcourt offers liner notes about each of the artist's visits, such as Ruben Albarran's (Cafe Tacuba) refusal to speak English during the interview.
On behalf of Latin-alt fans who will hear this album: KCRW, we thank you.— Michelle Morgante
"Purified," CeCe WinansIt's got to be the anointing that keeps hits flowing from Cece Winans like sweat off the preacher's forehead. "Purified" is an album full of well-produced potential crossover tracks that are, true to Cece's style, well-written and full of ministry.
"Purified" will take you to the "throne room," but it's more Saturday evening barbecue than Sunday morning service. At the album's heart is a theme of love: in worship, relationships and fellowship. The comforting "You Are Loved," meets a basic need of human existence with the simple words "Someone told me to tell you/Someone told me to say/You are loved" over a lush string arrangement. The romantic, island-flavored "I Promise," is destined to accompany many brides down the isle. "I Pray" traverses the same ground as Winans' hit single "Anybody Wanna Pray?" but given the track's funky handling by nephew-producer Mario Winans, the reiteration is well appreciated.
The track for the club kids is "Let Everything That Has Breath." Cece maintains her ability to marry heavenly lyrics with the kind of beats that will make your earthly temple want to get down.— Aimee Maude Sims
"Return Of The Champions," Queen and Paul RodgersFirst off, this is NOT Queen in any way, shape or form. That entity died in 1991 along with vocalist Freddie Mercury, the singularly irreplaceable voice, presence, icon and innovator whose multi-octave range, over-the-top flamboyance and natural showmanship was the very essence of Queen.
What's more, bassist John Deacon opted out of this reunion, leaving only guitarist Brian May and drummer Roger Taylor of the original quartet. And although Paul Rodgers has his own lofty place in rock history, having fronted Free, Bad Company and The Firm, he is a bad match for this group, which rightly ought to be called "The Guitarist And Drummer From Queen, The Singer From Bad Company, And Three Other Guys No One's Ever Heard Of." (Wouldn't that fit nicely on T-shirts!)
Rodgers' limited vocal range and absence of personality are painful to watch and hear on this May 2005 live concert from England, and he brings nothing to the band's vast catalog of hits.
Performing as Queen without Mercury is as wrong as Led Zeppelin without Robert Plant or The Doors without Jim Morrison. (Oops, that already happened.) But if a Queen reunion had to be done, there are far better choices than Rodgers to front it. George Michael was brilliant in an all-star tribute concert to Mercury in 1992, and Elton John excelled on "The Show Must Go On" and "Bohemian Rhapsody" in past Queen tributes. Speaking of "Bohemian Rhapsody," the band performed the backing music while a taped video image of Mercury sang along on giant screens, as bogus a move as a similar posthumous Elvis tour not too long ago.
When Rodgers emerged to take over vocals at the end of the song, it only highlighted what music has lost in Mercury, and what a royal disappointment this incarnation of "Queen" is.— Wayne Parry