Poet laureate Maya Angelou — who was also a dancer, writer, singer, director and actress, to name just a few of her talents — was a true Renaissance woman right up until her death Wednesday at 86. 
Over the decades, she seemed to have a hand in just about every form of entertainment possible. Here's a look at some of her high-water marks in the pop culture world.
Woman of words
Angelou is thought of as a poet first, and with good reason. She is well known for her works, and earned an Pulitzer Prize nomination in 1971 for her first poetry collection, "Just Give Me a Cool Drink of Water 'Fore I Diiie." In addition, she's recited her poem "On the Pulse of Morning" at President Clinton's 1993 inauguration, and the first of her multiple autobiographies, "I Know Why the Caged Bird Sings," was an international bestseller that she helped adapt into a 1979 movie.
TV takeover
Angelou spread her wings wide over a number of roles on the big and little screen, sometimes in front of the camera and sometimes behind it. She wrote movie scripts (1972's "Georgia, Georgia"), guested on TV shows including 1995's "Touched By an Angel" and "Sesame Street" (multiple times in the 1990s), co-starred with Oprah Winfrey in 1993's "There Are No Children Here" and chatted with Johnny Carson a few times on "The Tonight Show" in the early 1970s. 
She also had dual roles on "Roots," the legendary 1977 miniseries based on author Alex Haley's book about slavery in America, which featured LeVar Burton and Cicely Tyson. Angelou played Nyo Boto and Yaisa.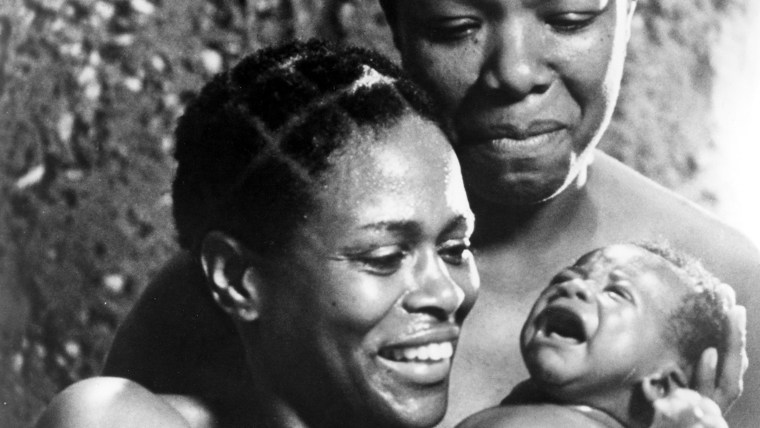 Movie mama
Angelou's aura was expansive enough for the big screen too, and she hit her stride in the 1990s in films such as 1995's "How to Make an American Quilt" and "The Journey of August King," which she narrated. She also had an extraordinary encounter on the set of 1993's "Poetic Justice," in which she shared screen time with Janet Jackson, and as she recalled in an interview in 2013, a very angry Tupac Shakur.
"I didn't know who he was," she explained. "He was into a big row with another young man, so I said to him, 'May I speak to you?' and he was cursing ... and finally I said, 'When was the last time anyone told you how important you are? Did you know our people stood on auction blocks? Their soul bought and sold ... so you could stay alive today?' And finally he heard me and stopped talking and started to weep."
Her last role was in 2006's "Madea's Family Reunion," in which she again appeared with "Roots" co-star Tyson.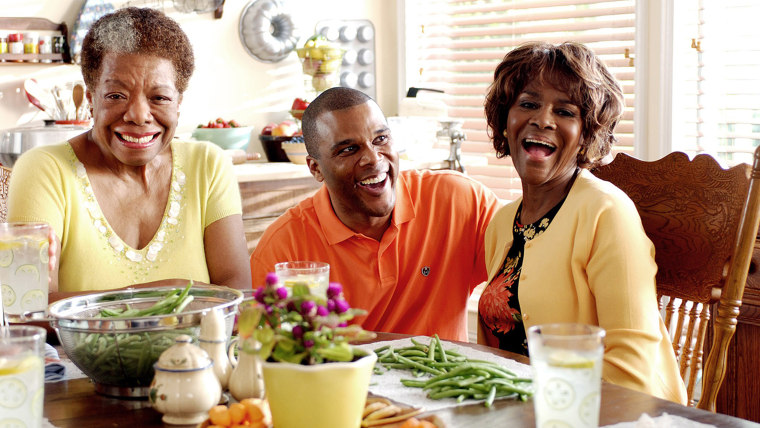 The Oprah connection
Angelou found something of a spiritual soul mate in Oprah Winfrey, whom she met in the 1970s when the future talk-show queen was still a TV anchor. Over the years, Angelou always found an open seat on the couch on any one of Winfrey's shows or projects, and in 1997 the pair did an interview while lying in a big brass-framed bed as Angelou talked about one of the most important lessons she ever received.
"A person says to you, 'I'm selfish' or 'I'm mean' or 'I am unkind' ... believe them. They know themselves much better than you do," said Angelou.
A storied career
Angelou had more to offer than just the written word and acting roles. She earned a Grammy nomination in 2008 for her spoken-word album "Celebrations," and a Tony nod for her performance in 1973's "Look Away." She directed TV episodes (1976's "Visions") and movies (1998's "Down in the Delta"), and early in her career, danced with Alvin Ailey and recorded an album of Calypso music, then headed off to Europe to dance in a production of "Porgy and Bess."
In her later years, Angelou wasn't as present on the public stage. Still, like a comet, she left a long trail behind her — of music, of dance, of images, of life lessons and wise words. Maya Angelou, a woman who proved it was possible to do anything and everything, was the true definition of the word "star."
The American author, poet and activist first touched readers with her coming-of-age autobiography "I Know Why the Caged Bird Sings."