/ Source: msnbc.com contributor
Another year, another batch of people who are famous, were famous, would like to be famous again, or genuinely want to learn to fox trot — it's time for another season of "Dancing With The Stars." The show won't start until Sept. 22, but the cast was announced Monday morning.
The casting coup is a complete no-brainer: "Dancing" managed to get Misty May-Treanor, two-time Olympic gold medalist in beach volleyball. Not only does the fact that her newest medal is only a week old make her peak moment of fame infinitely more recent than anyone who has ever been on the show in the past, but presumably, ABC's confidence in its viewers' level of interest in her has something to do with what felt like thousands of hours of women's beach volleyball coverage from Beijing. It's unclear whether Misty can dance, but the show is clearly gaining muscle in its ability to attract the non-desperate.
At the other end of the spectrum, as much as the tragically ubiquitous Kim Kardashian (more on that in a moment) is an unwelcome presence, she's not the dud of the group. The dud of the group is Jeffrey Ross, who has been famous and not funny for many, many years, and who is one of very few guys who's still billed as an "insult comic." It's a clear attempt to duplicate the awful but transfixing presence of Adam Carolla last season, but while Carolla has always had an oddly impish quality that made him hard to entirely resist, Ross does not. He also doesn't seem to have much of a natural fan base among "Dancing" viewers, so expect a mercifully short stay.
And then there's Kim Kardashian. Of all the people who have ever been passed off as "stars" who are not "stars," none is less of a star than Kim Kardashian, who has a reality show about herself but has no other conceivable excuse for "stardom." The transforming of oneself into a gossip brand in spite of having no actual claim on anyone's attention is an old game now, but the world already has a Paris Hilton, and is already trying to make her go away. Kardashian is likely to be slightly less obnoxious than Ross and will probably stay longer, but the encouragement of her rise to inexplicable fame is the show's biggest misstep of the year, in terms of its obligations as a citizen of the world.
Also visiting from the world of reality television is chef Rocco DiSpirito, whose first show, "The Restaurant," was a miserable failure, but who has managed to nevertheless carve out a nice niche for himself. He pops up on shows like "Top Chef" and "The Biggest Loser," where everyone always treats him like a hero, even though he has the huckster vibe of the guy you meet on a plane who won't stop telling you about his new idea for something like "virtual sleeping bags."
May-Treanor isn't the only Olympic athlete on the roster this year: there's also Maurice Greene, a gold-medal sprinter from the 2000 Games. His speed and body control should be great benefits to him in the competition, but as we learned with Floyd Mayweather in season five, a natural fit — his was boxing — doesn't always put you at the head of the class. Still, the glow and currency of the Olympics should serve Greene well.
Of everyone in show business — everyone — it's hard to think of anyone who has more consistently appeared to be a nice, gracious, lovely person than "All My Children" star Susan Lucci. If you want to be filled with warm regard for her, watch her 1999 acceptance speech when she finally won the Daytime Emmy after 18 nominations and no wins. Look for her to hang around, because the overlap between the "Dancing" audience and the soap audience is notoriously enormous. Her fellow "All My Children" cast member Cameron Mathison had a long run a couple of seasons ago, and even accounting for the fact that men tend to have more reliable fan bases than women, she should have no problems.
This year's older dancer, a position that's usually been filled by a man, goes to 82-year-old Cloris Leachman, a decorated TV actress. She's unlikely to stay a long time as the competition narrows to pretty young stars and buff athletes, but it wouldn't be surprising for her to last for several rounds, given audiences' consistent affection for whichever candidate is the least obvious (in the past, Jerry Springer and George Hamilton have benefited).
Jake Johnson and Damon Wayans Jr. on the "Let's Be Cops," red carpet, Selena Gomez is immortalized in wax and more.
The youngster of the group is "Hannah Montana" star Cody Linley, who is, at 18, the youngest person to ever dance on the show. Whether the kids who watch "Hannah Montana" are really ballroom fans remains to be seen.
You'll hear the joke everywhere, you can be sure, but the show takes its life in its hands by casting Ted McGinley, probably television's most famous "show-killer." He has a reputation for showing up before cancellation on shows including "Happy Days," "The Love Boat," and "Sports Night." It's unlikely that he will single-handedly bring down television's second-leading franchise, but expect it to be Tom Bergeron's go-to line in the first episode.
It seems that every year brings a football player, from the good (Jerry Rice) to the very good (Emmitt Smith, Jason Taylor), and this year's model is Warren Sapp, who played 13 years in the NFL for Tampa Bay and Oakland. Believe it or not, Sapp has gotten himself in trouble for inappropriate skipping in the past — yes, skipping — so maybe this is a good fit. The powerful athletes can be hard to predict, and Sapp doesn't have quite the marquee appeal of a Jason Taylor, but this kind of guy can surprise you.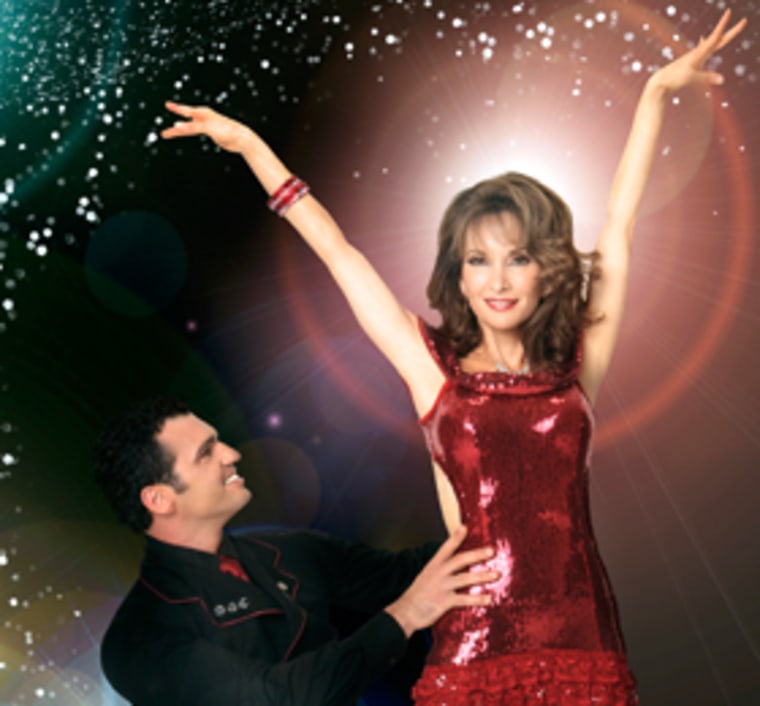 If Joey Fatone wasn't enough of the former N*SYNC for you, you'll be happy to hear that this year, Lance Bass is in the game. Bass has been more famous for his personal life and widely publicized coming out than for musical accomplishments in recent years, but he's always seemed to have a sense of humor about it (his "Tropic Thunder" cameo is a good example), and boy-band members have a strong track record of translating their former "Bye Bye Bye"-style grooves into foxtrot.
Brooke Burke, Playboy model and "Rock Star" hostess. Pardon my pointedly having nothing to say.
Toni Braxton, R&B star and six-time Grammy winner, rounds out the cast. While she's been a bit out of the spotlight and may have trouble revving up her fans, musicality tends to give singers something of a leg up. She's the only person who can really claim to be a respected musician this season (sorry, Lance), so she should certainly hope to outlast some of the weirdly famous chaff like Rocco and Jeffrey Ross.
If you're taking bets, go with Misty May-Treanor, Maurice Greene, Susan Lucci and Lance Bass. Two entertainers and two athletes. And nobody whose last name is Kardashian.