Fans and fellow celebrities are mourning the loss of Matthew Perry, who died Oct. 28 at age 54. The actor, best known for his starring role as Chandler on "Friends," also appeared in hit TV shows like "The West Wing" and films including "Fools Rush In."
A representative for the actor and law enforcement confirmed Perry's death to NBC News. He was found at his home in Pacific Palisades after an apparent drowning. No cause of death has been officially determined.
Across social media, former co-stars of Perry shared tributes for the late actor. On the afternoon of Oct. 30, his five surviving main co-stars from the hit NBC sitcom shared they were "devastated" by the news of his death.
"We are all so utterly devastated by the loss of Matthew. We were more than just cast mates. We are a family," they said in a joint statement. "There is so much to say, but right now we're going to take a moment to grieve and process this unfathomable loss."
"In time we will say more, as and when we are able," the statement continues. "For now, our thoughts and our love are with Matty's family, his friends, and everyone who loved him around the world."
The message was signed by Jennifer Aniston, Courteney Cox, Lisa Kudrow, Matt LeBlanc and David Schwimmer.
The official "Friends" account on Instagram also posted a tribute.
"We are devastated to learn of Matthew Perry's passing," the post read. "He was a true gift to us all. Our heart goes out to his family, loved ones, and all of his fans."
The team behind the NBC sitcom, co-creators Marta Kauffman and David Crane as well as executive producer Kevin Bright, shared a tribute to the late actor in a statement to NBC News.
"We are shocked and deeply, deeply saddened by our beloved friend Matthew's passing. It still seems impossible. All we can say is that we feel blessed to have had him as part of our lives.He was a brilliant talent," the statement reads.
Kauffman, Crane and Bright continued, saying that Perry embodied the role of Chandler and made the role his own.
"We will always cherish the joy, the light, the blinding intelligence he brought to every moment — not just to his work, but in life as well. He was always the funniest person in the room. More than that, he was the sweetest, with a giving and selfless heart.We send all of our love to his family and friends," they said.
"This truly is The One Where Our Hearts Are Broken."
The Max streaming service, which features "Friends," has added a tribute graphic honoring Perry at the start of the first episode of each "Friends" season, as well as to the 2021 "Friends" reunion special.
More posts and statements honoring the actor have poured in during the past few days.
Bradley Whitford
Whitford and Perry co-starred on the highly publicized, but short-lived, NBC drama "Studio 60 on the Sunset Strip." Whitford posted a clip Oct. 31 on Instagram of an interview they did to promote the series, along with a long caption paying tribute to him.
"Matthew Perry made me laugh. Hard," he began. "You have not lived until you have witnessed one of his in-between-the-takes confidential riffs on the absurdity of show business and the idiocy of male confidence, wrapped up perfectly with the sudden realization that we were both grown men who wear makeup for a living."
Whitford alluded to the addiction problems Perry had.
"Without substances, Matt had a huge, open heart and a pyrotechnical, joyous brain. I think the most beautiful parts of Matt made him the most vulnerable to the monster that he would have to fight for the rest of his life," he wrote.
"His battle was heroic. They don't have award shows for that. They should."
"Studio 60 on the Sunset Strip" ran for one season from 2006 until 2007 before it was canceled. It won one Emmy Award and was nominated for four others. Whitford said Perry was a multifaceted person.
"Matt was full of contradictions. He was hilariously self deprecating and insecure and wildly self confident," he wrote. "He was a fountain of light with a huge capacity for darkness. He was profoundly blessed and terribly cursed."
Whitford also gushed about the type of person Perry was.
"I want his parents to know that Matt was kind. Not just to his costar. To everyone," he wrote.
"To honor Matt, I hope we can continue the work that mattered most to him: to open our hearts to so many who share his vulnerabilities, to encourage them to get the help they need, and to give them the love and the support they deserve. I'm so grateful that I had the opportunity to work with Matt, to spend some precious time with him, and most of all, to be his friend."
Kate Hudson
Kate Hudson posted a message to her Instagram stories on Oct. 30 reminiscing about the laughs they shared, writing, "To know him was to adore him."
"We played tennis and played more tennis, talked endlessly about trials and tribulations of love and then would talk some more as we would laugh our asses off and then laughed some more," she wrote on a photo of them onstage at the 2004 MTV Movie Awards.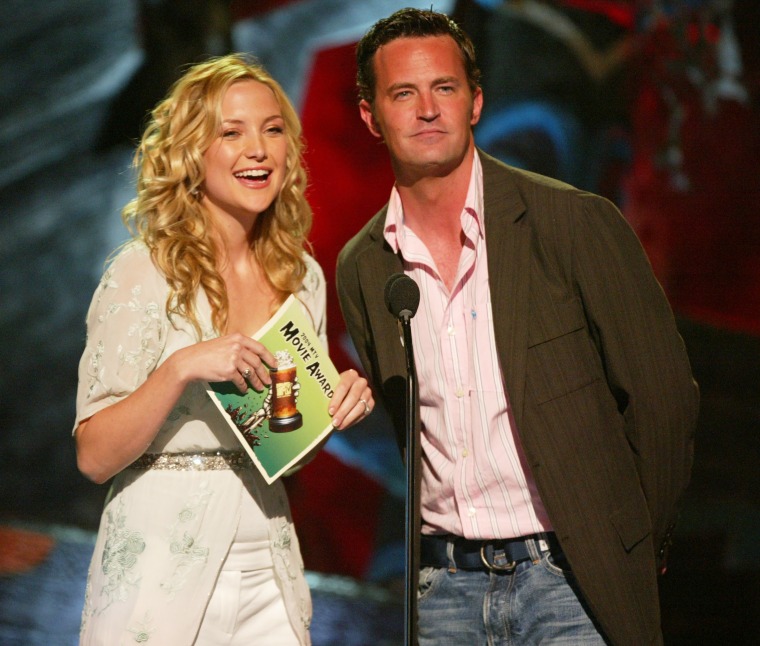 "I share the same sadness with all our film and TV community who shared time with Matthew. As you can see, to know him was to adore him."
John Stamos
John Stamos posted a clip on Instagram of his guest appearance on a 2003 episode of "Friends" and shared a memory of an interaction he had with Perry on the set.
"Matthew and I had been friendly long before 'Friends.' So, when I guest starred as Zach, the prospective sperm donor for Chandler and Monica, I hung with him a lot," he recalled. "Standing backstage, ready to make my entrance, Matt whispers, 'The audience is going go crazy when they see you! Get ready for some loud screams.' I walk through the door… silence. I was so embarrassed.
"We finish the scene and as I start to slither back to my dressing room and quit showbiz, Matt walks over to the studio audience: 'Ladies and gentlemen, give it up for John Stamos! You guys probably didn't recognize him at first because it's so much better looking in person!'
"I never forgot that and the world will never forget you," Stamos concluded.
Gwyneth Paltrow
Gwyneth Paltrow, whom Perry wrote about in his 2022 memoir "Friends, Lovers and the Big Terrible Thing," posted a tribute to Perry on Instagram.
She began by explaining she first met Perry in 1993 at the Williamstown Theater Festival in Massachusetts and that they were both there for the summer doing plays.
"He was so funny and so sweet and so much fun to be with," Paltrow wrote. "We drove out to swim in creeks, had beers in the local college bar, kissed in a field of long grass."
The actor added: "It was a magical summer."
Perry wrote in his memoir about once kissing Paltrow in a broom cupboard in Williamstown.
Paltrow wrote in her tribute that at the time, Perry had shot the "Friends" pilot, and he was "nervous" as he was "hoping his big break was just around the corner." "Friends" premiered on NBC in September 1994.
"We stayed friends for a while until we drifted apart, but I was always happy to see him when I did," Paltrow wrote. "I am super sad today, as so many of us are. I hope Matthew is at peace at long last. I really do."
Maggie Wheeler
Maggie Wheeler, who portrayed Chandler's ex-girlfriend Janice on the show, also remembered the late Perry in a statement shared with NBC News, reading in part, "Matthew was an incredibly generous actor. There was no single time I stepped onto a stage with him that I did not feel lifted by his brilliance."
"Even in his darkest moments his comedic timing was impeccable," she said.
"Matthew suffered so terribly as his book revealed to the world. I hope he is at peace beyond that suffering. He died way too soon and will be missed by all who loved and knew him in life, and as the beloved Chandler Bing."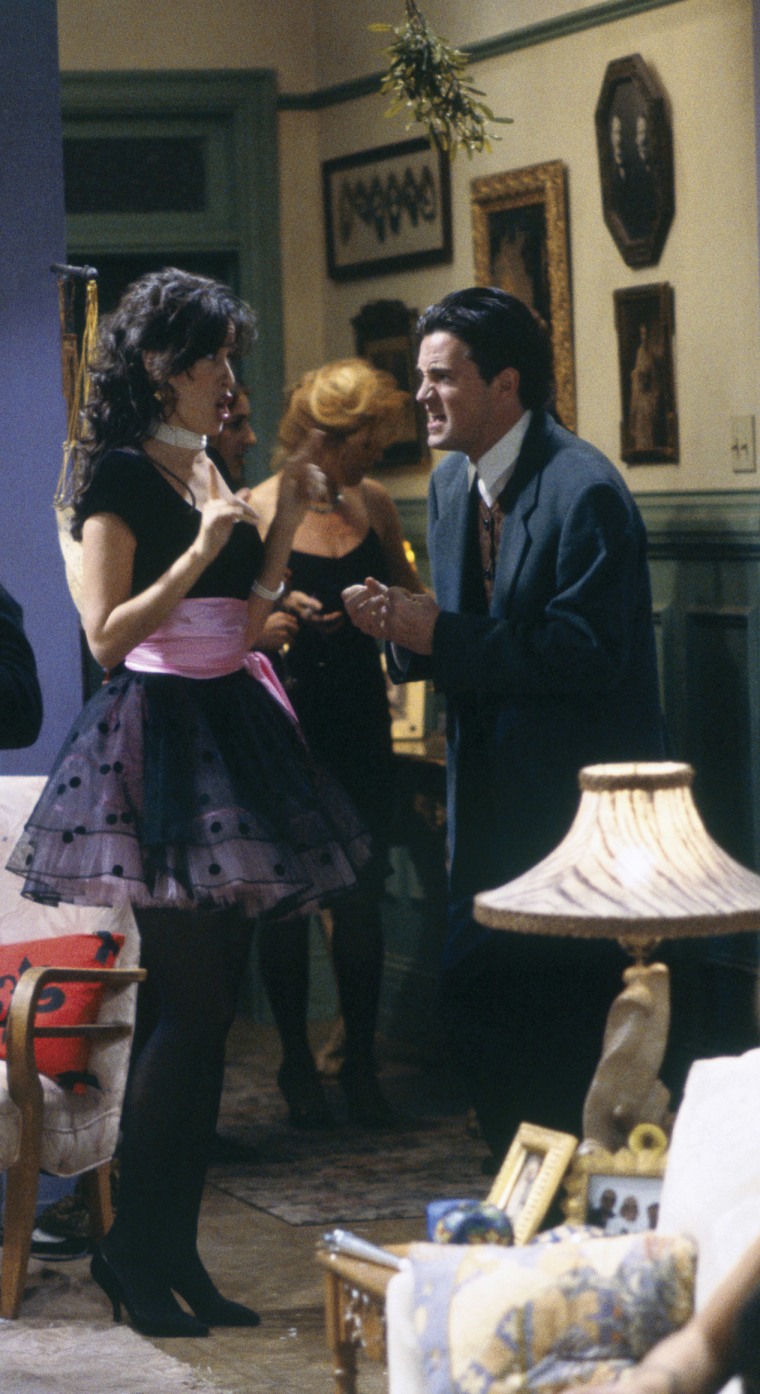 Wheeler also shared a tribute on Instagram alongside a photo of the two from the show
"What a loss.The world will miss you Mathew Perry," Wheeler wrote. "The joy you brought to so many in your too short lifetime will live on. I feel so very blessed by every creative moment we shared."
Kathleen Turner
Kathleen Turner played Chandler's father, Charles Bing aka Helena Handbasket, on "Friends." She appeared in three episodes of the show.
"I was proud to play his 'Dad,'" Turner said in a statement to NBC News in the wake of Perry's passing.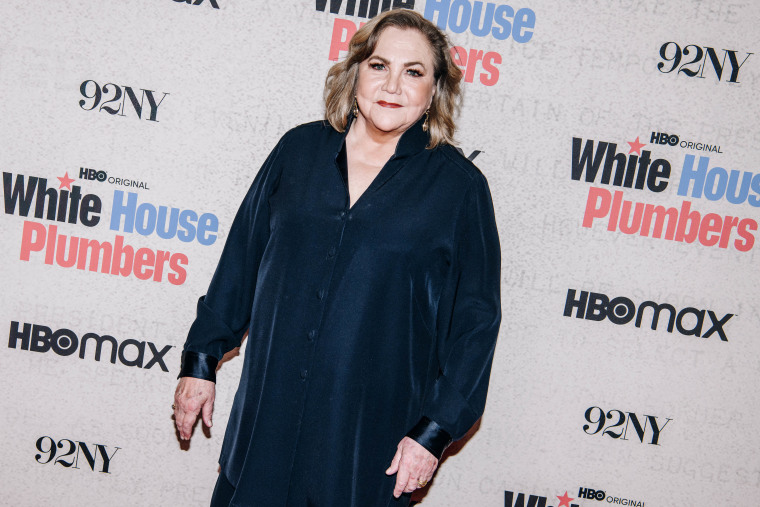 Paget Brewster
Paget Brewster, who had a guest-starring arc on "Friends" during Season Four, shared a tribute to Perry on X, the social media platform formerly known as Twitter. Brewster played Kathy, a woman who finds herself the subject of both Chandler and Joey's affections and struggles to choose between them.
Brewster requested that people read his memoir about addiction, "Friends, Lovers, and the Big Terrible Thing," as it was his "legacy to help."
"He was lovely to me on Friends and every time I saw him in the decades after. Please read his book. It was his legacy to help. He won't rest in peace though.. He's already too busy making everyone laugh up there," Brewster wrote.
Salma Hayek
Salma Hayek, who co-starred with Perry in the 1997 rom-com "Fools Rush In," shared several photos of herself with the late actor Oct. 30 on Instagram.
"Two days ago, I woke up to the shocking news that Matthew Perry is no longer with us. It's taken me a couple of days to process this profound sadness," she wrote alongside the images.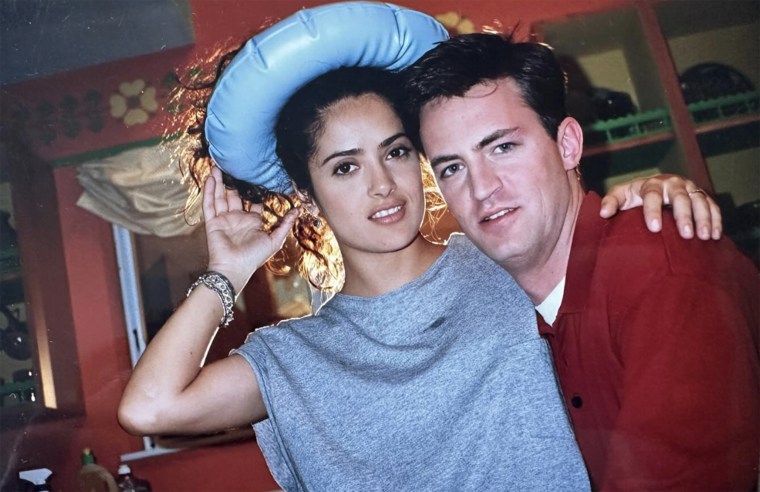 "There is a special bond that happens when you share dreams with someone, and together you work towards them," she continued. "I was very moved last year when Matthew shared on his Instagram stories how much he loved 'Fools Rush In,' and how he thought that that film we did together was probably his best movie. Throughout the years, he and I found ourselves reminiscing about that meaningful time in our lives with a deep sense of nostalgia and gratitude.
"My friend, you are gone much too soon, but I will continue to cherish your silliness, your perseverance, and your lovely heart. Farewell, sweet Matthew, we will never forget you," she added.
Adele
The Los Angeles Times reported that Adele took a moment during her Las Vegas residency performance to pay tribute to the late actor.
Onstage, Adele reflected on Perry's death despite not knowing him, sharing that some of her favorite memories when she was young involved the actor's character Chandler. She said her friend Andrew did a great impression of the character and would whip it out to make his friends laugh. 
"If any of us were having a bad day or feeling low, he would just pretend to be Chandler and I remember that character for the rest of my life," she said in part.
Morgan Fairchild
Morgan Fairchild, who portrayed Chandler's mother on the iconic sitcom, also shared a touching sentiment about the late actor on X.
"I'm heartbroken about the untimely death of my 'son', Matthew Perry," Fairchild wrote. "The loss of such a brilliant young actor is a shock. I'm sending love & condolences to his friends & family, especially his dad, John Bennett Perry, who I worked with on Flamingo Road & Falcon Crest."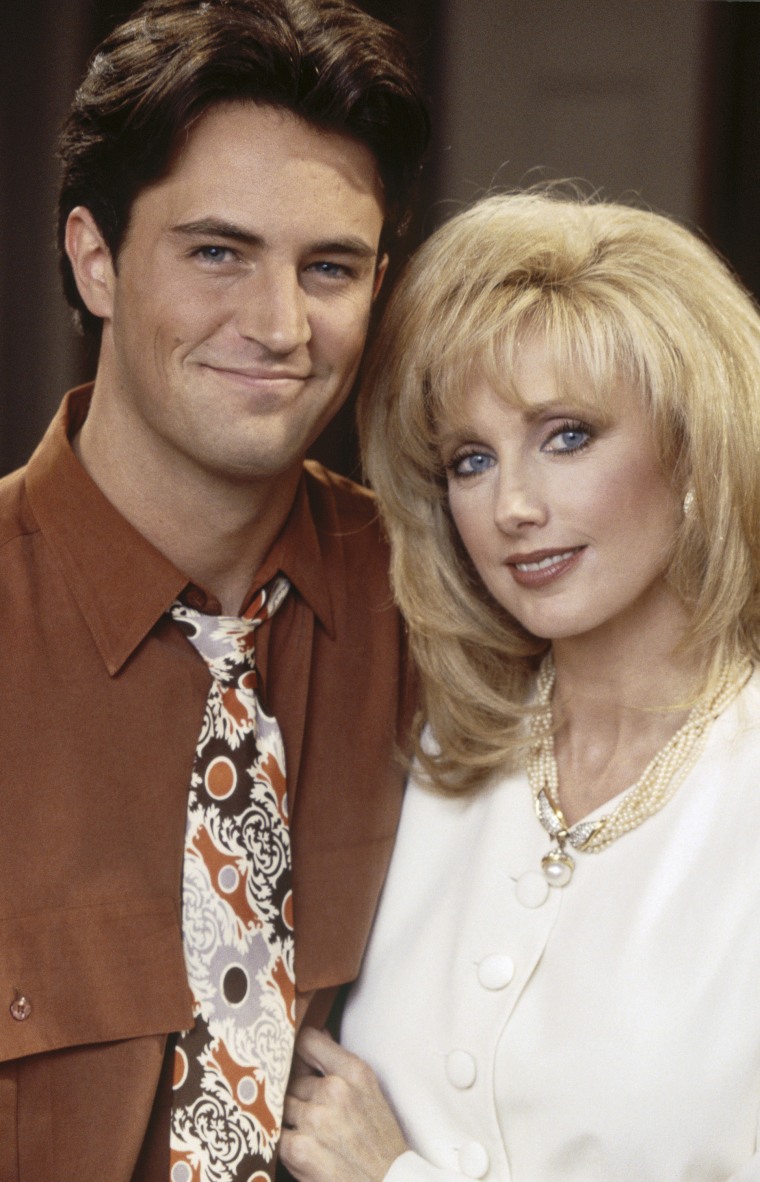 Fairchild also shared a sweet note about Perry as a child, responding to a fan on X who shared their condolences for her loss. 
"Yes, and he used to visit our sets of Flamingo Rd and Falcon Crest when his dad worked with me there and he was a little kid," she wrote. "Just heartbroken."
Yvette Nicole Brown
Yvette Nicole Brown, who starred with Perry on the TV series "The Odd Couple," shared a message to TODAY.com on her former castmate.
"It was the honor of a lifetime to get to work with the comedic genius that was Matthew Perry. He was kind, loving, hilarious and just a sweetheart of a man."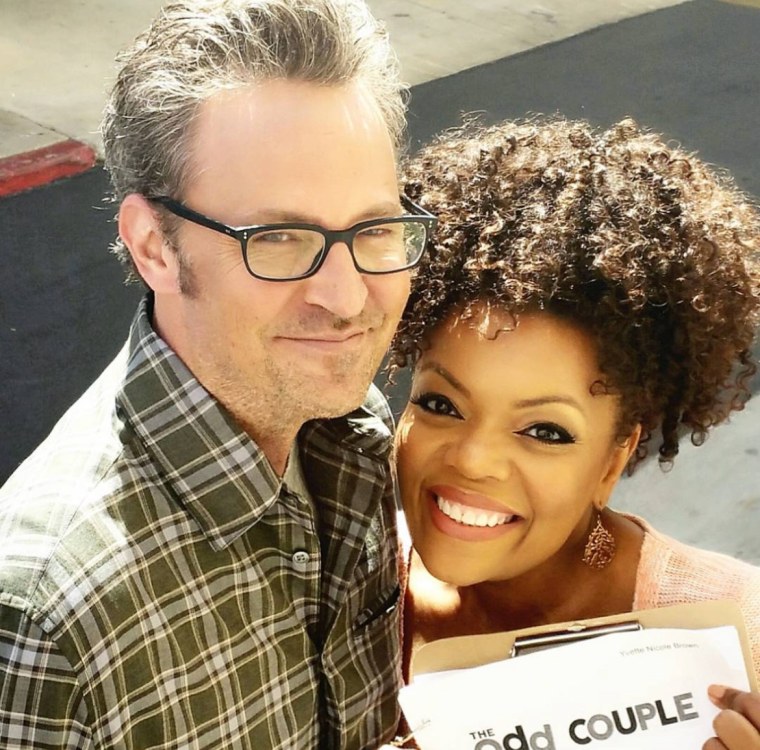 She continued, "My heart breaks that we are speaking of him in past tense when his spirit while here was so playful and vibrant even in the midst of his struggles. The loss of Matty is a loss for the whole world. I weep for his family and for everyone else who loved him dearly. Rest well, friend."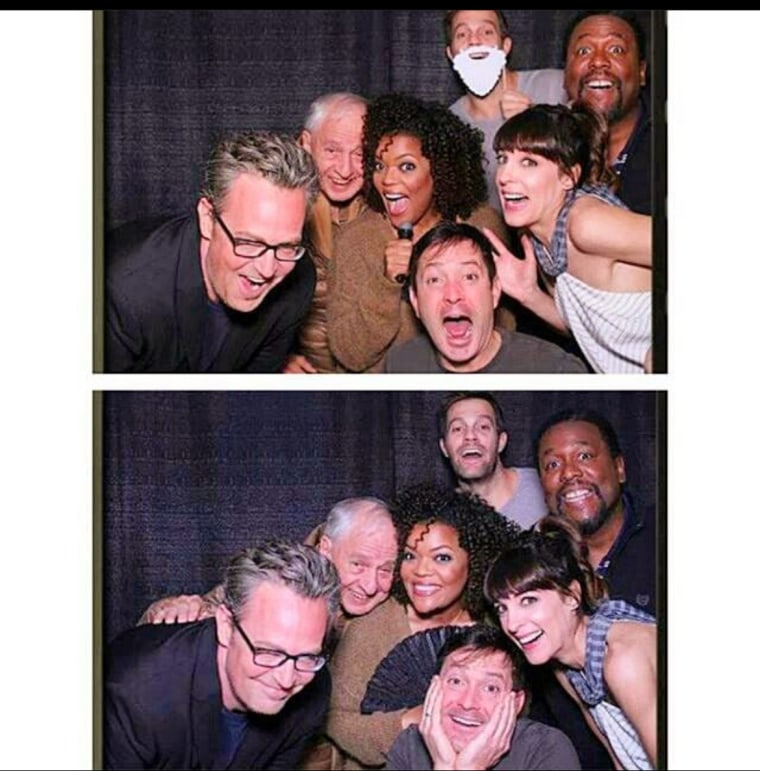 In one post on Instagram, she shared a cast photo followed by a snap of Brown and Perry sitting next to one another onstage. 
"Our #OddCouple family suffered a great loss today. The entire entertainment world has," she wrote. "I am too sad about the news to say more than this: @mattyperry4 was a sweetheart who deserved more peace in this life. I am heartbroken to hear of his passing. And am sad for the great talent the world has lost because of it."
Hours after sharing her initial post, Brown posted again on Instagram, this time sharing her love for Perry.
She posted another photo of the two sitting side by side onstage as she appeared to laugh at something he said, followed by another photo that included the show's cast. 
"We love you, Matty," she simply wrote.
Thomas Lennon
Perry's "17 Again" and "The Odd Couple" co-star Thomas Lennon shared a tribute to the late actor on Instagram.
Lennon shared a sepia toned photo of the duo. Both actors smiled as they sat side-by-side on a couch, with Lennon putting his arm around Perry's shoulder.
"Goodnight, friend," Lennon simply captioned the photo.
Shannen Doherty
Perry made a guest appearance on "90210" as Roger Azarian, but his friendship with Shannen Doherty went far beyond his role on the show. 
Doherty posted a lengthy tribute to Perry on Instagram, sharing a photo posing with Perry and another friend, Roger Castillo, in the Los Angeles Dodgers' dugout. In the caption, she recalled growing up with Perry and shared several funny stories about the shenanigans the group, including the late actor, would get into.
"We just always had fun and supported each other," she wrote in part. "You would always find us all together in a booth speaking in our own made up language. And yes, Matt always had THAT sense of humor."
Doherty also shared that she and Perry once went on a date on Valentine's Day, but her dad had to score them the reservation when Perry couldn't reserve a table at a restaurant in Malibu, California.
"Our friendship spanned a long time," Doherty added. "A lifetime really. I know many are hurting, especially our little gang. He will be missed by many and definitely by us. Yes. I could be more poetic or say things better but right now, shock and sadness prevail."
Ian Ziering
Ian Ziering, who portrayed the role of Steve Sanders on "90210," posted a tribute to Perry on his Instagram story with a throwback photo.
"RIP Matthew," he wrote on the post. "My heart goes out to his family and all he was dear to. What a great guy, so sad."
Ellen DeGeneres
In a post shared to social media, the longtime talkshow host Ellen DeGeneres wrote a tribute to the late actor.
"Matthew Perry was brilliant in so many ways," she captioned a photo of herself and the actor on her titular talkshow. "Funny was just one of them. He was incredibly special and he will be missed.
Valerie Bertinelli
Valerie Bertinelli, who starred with Perry in the sitcom "Sydney," reshared a post about the late actor on her Instagram story.
"Rest in peace, sweet man," she simply wrote on the post.
Mira Sorvino
Mira Sorvino, who starred with Perry on "Parallel Lives," mourned the loss of the actor on X.
"Oh no!!! Matthew Perry!! You sweet, troubled soul!!" she wrote. "May you find peace and happiness in Heaven, making everyone laugh with your singular wit!!!"
Selma Blair
Selma Blair shared a loving tribute to Perry on Instagram, posting a selfie of the pair together. 
"My oldest boy friend. All of us loved Matthew Perry, and I did especially," she wrote. "Every day. I loved him unconditionally. And he me. And I'm broken. Broken hearted. Sweet dreams Matty. Sweet dreams."
Rumer Willis
Rumer Willis shared an emotional tribute to Perry on her Instagram story recalling her interactions with Perry on the sets of "The Whole Nine Yards" and its sequel, which the actor starred in with Rumer Willis' father, Bruce Willis.
"I'm so sad to hear about Matthew Perry passing," she wrote. "When I was a kid and I was on Set while he and my dad were doing whole nine and whole 10 yards he was so kind and funny and sweet with my sister and me and I think his physical Comedy and that movie still makes me laugh so much."
Willis added, "I know he had many challenges in his life and brought a lot of joy to people with his comedy I hope he can rest peacefully." 
Justin Trudeau
Justin Trudeau, who attended the same elementary school as Perry, also shared a tribute on X, calling his death "shocking and saddening." 
"I'll never forget the schoolyard games we used to play, and I know people around the world are never going to forget the joy he brought them," he wrote. "Thanks for all the laughs, Matthew. You were loved — and you will be missed."
D.L. Hughley
Perry's "Studio 60 on the Sunset Strip" co-star D.L. Hughley shared a statement with TODAY.com, calling the loss "so very sad."
"Matthew was a professional; an incredibly funny and wonderful human being. He was always so generous and gracious on set. I learned a lot from him, and I was lucky to have had a chance to work with him," Hughley said.