It was the "yes" Matthew McConaughey waited to hear!
The 46-year-old "True Detective" star recalled proposing to Camila Alves in front of his family — and the excruciting seconds it took for her to respond — in the November issue of Esquire
"I remember hitting the knee, looking into her eyes and I remember her face," said the 46-year-old actor, who asked Alves to marry him during a family Christmas visit in 2011.
"I remember this smile coming up from her feet. I remember her having to catch her breath," he said.
"And she didn't say yes right away," McConaughey continued. "And then the whole family was going, 'Jeezus, she's gonna say no.'"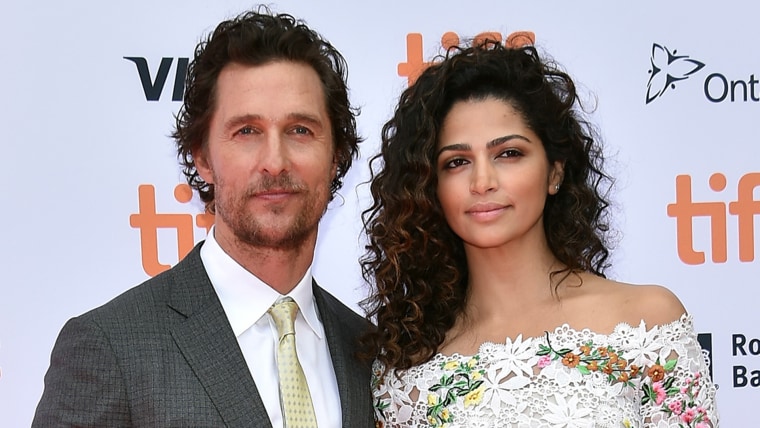 But the Brazilian model said yes. The couple, who met in a Sunset Boulevard bar in 2006, married in 2012 and are now parents to three children, sons Livingston, 3, and Levi, 8, and daughter Vida, 6.
The actor credits Levi's birth — which happened during a time when he was stepping back from Hollywood — with helping him find himself.
"Man is never more masculine than after the birth of his first child," he said. "I don't mean in a macho way. I mean in terms of giving a man strength."
RELATED: Watching Matthew McConaughey might be our favorite part of the Summer Games
McConaughey, who won an Oscar for his portrayal of a cowboy with AIDS in 2013's "Dallas Buyers Club," also praised his wife, and revealed that it was 32-year-old Alves who inspired him to go after the kinds of acting roles he wanted.
"A good woman," said the actor, "gives a man courage and confidence — the courage to have the confidence to go and do it, to not be worried as much or consider as much what the rest of the world thinks."