The battle has been brewing for months, and now it's getting serious — seriously funny!
First Ellen DeGeneres digitally devised ways to turn Matt Lauer's morning routine into a roundup of racy (and racier) clips. Then Lauer returned fire by filling her car with more than 20,000 pingpong balls. Then she invited her viewers to the TODAY plaza to find the anchor's "tickle spots."
Now? Well, just see for yourself.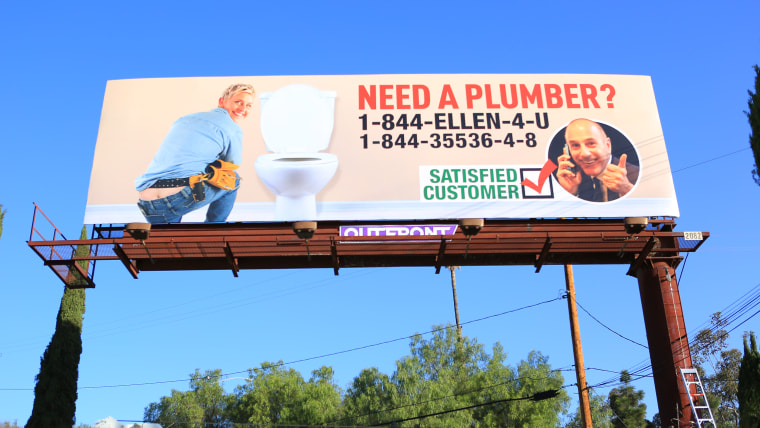 After facing down dozens of tickle-talk signs, Lauer made sure to give DeGeneres a sign so big there's no way she could miss it.
On two full-sized billboards in Los Angeles (at Lankershim and Riverside, and Cahuenga and Riverside), DeGeneres can be seen shilling for her new (and totally fake) plumbing business and showing a lot more flesh (particularly right above her waistband) than usual.
But pulling the prank is only half the fun. The rest comes when it hits its mark. DeGeneres saw the gag on her way into work, and if her reaction is any indication, the fun is far from over.
"It's payback time, for sure," she said as she looked on at mock ad.
After recreating a more modest version of her plumber pose right there on the side over the road, DeGeneres headed to work and shared her take on it all with her studio audience.
"Joke's on you, 'cause I'm a good plumber!" she told the crowd.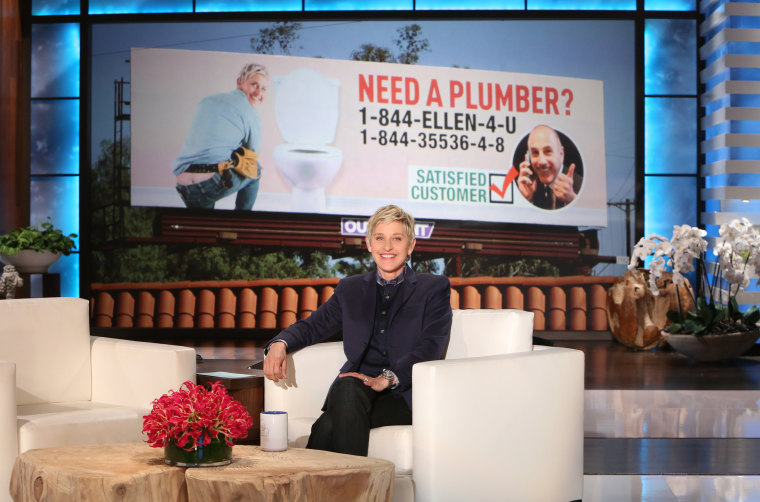 Then the talk host did what more than 12,000 others have done since the signs went up: she called the toll-free number (1-844-355-3648).
DeGeneres thanked Lauer for his message (which you really should call and hear for yourself) before adding, "I'm going to get him to get him back. I don't know what I'm going to do."
We can't wait to find out!
For now, tweet #MattsRevenge to get in on the fun yourself. And stay tuned to TODAY and "The Ellen Show" for even more.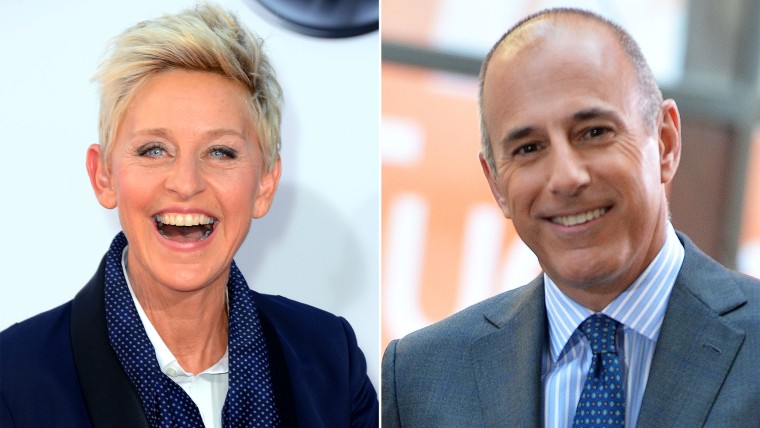 Thanks to Outfront Media for helping us pull this off!
Follow Ree Hines on Google+.