Matt Lauer and Savannah Guthrie are used to asking tough questions, but the tables were turned Wednesday when they took a turn in the hot seat as guests on Bravo's "Watch What Happens Live."
The anchors took Andy Cohen's obligatory shots and answered juicy questions from viewers, including one from a caller who asked Matt which of his former co-anchors he misses more: Meredith Vieira or Katie Couric.
Ever the gentleman, Matt acknowledged he has different relationships with each of his "dear friends." He added he frequently has lunch or dinner with both women, and lives close to Katie.
"I feel like I have great relationships with two ex-wives," he said.
But Andy prodded Matt a bit further, certain that while "it's no diss to Katie Couric, he really loves Meredith."
RELATED: Shag/Marry/Kill the men of TODAY? Hoda Kotb reluctantly makes her picks
Matt's diplomatic skills came in handy yet again.
"The difference is Meredith and I have a kiss-on-the-lips relationship. Meredith is one of those warm people, every time she sees you, she kisses you on the lips," he said, prompting agreement from Savannah. "Katie and I have a trading-barbs relationship. Always jokes one after the other. But really, I love them both."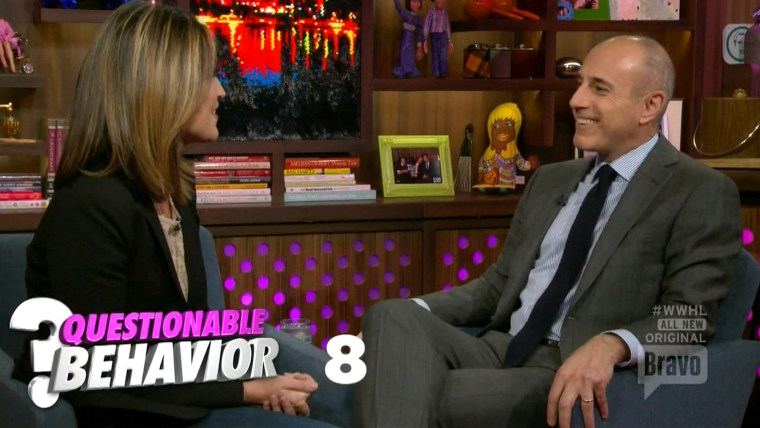 The two anchors also took questions from one another during a game of "Questionable Behavior." Viewers learned Savannah must have Tic Tacs on the set every morning, and that both listen to their favorite songs before air time.
Savannah said Matt usually chooses '70s tunes, leading her to ask, "Why do you like such crappy music?"