After years of observing the party from afar (and watching his plaid jacket get all the love), Matt Lauer has joined Twitter as @mlauer, thanks to a little help from a certain entertainer and his 23 million followers.
Minutes later, Matt was trending worldwide.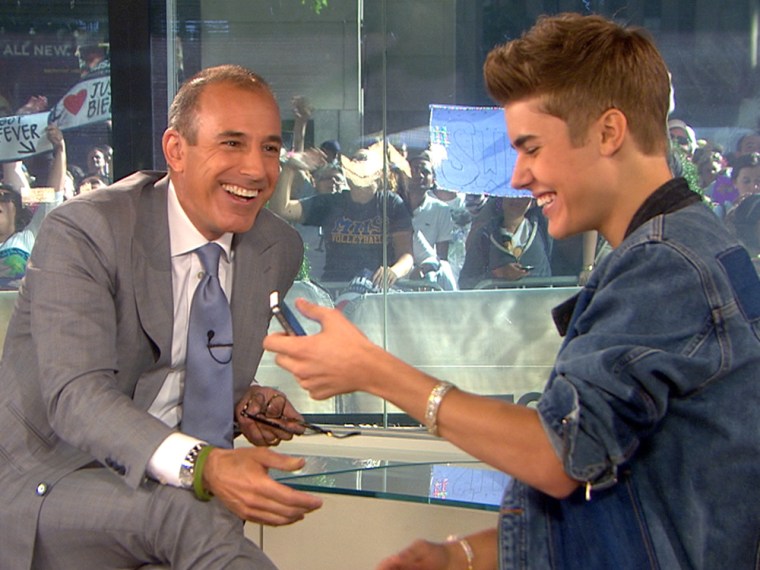 There was a small tweeting scuffle between Matt and Justin over the content of his first missive, but the two worked it out, and here's what happened:
Then Matt took back control of his phone and tweeted:
And he even took a photo!
Shortly after the tweets, Matt had racked up tens of thousands of followers. Our favorite response came from @TVwebmaster, who tweeted: "I'm 70 Matt. I'd only do this for you."
How many followers do you think Matt will get by the end of the morning? Do you think he can catch Bieber? Tell us below in the comments and make sure to follow @mlauer!
(As a little incentive, NBC News' digital media guru, Ryan Osborn @rozzy, promises to streak Studio 1A if Matt's account reaches 750K by Tuesday. Get following!)
Follow the other TODAY anchors on Twitter, too: Al Roker, Hoda Kotb, Ann Curry and Savannah Guthrie and, of course, TODAY on Twitter, Pinterest and Facebook!
More on TODAY.com:
Matt's plaid jacket gets a Twitter account (thanks to Savannah)
Waiting Bieber fans get a surprise visit from star