"Saving Mr. Banks," the new film about what happened when Walt Disney (Tom Hanks) tried to convince author P.L. Travers (likely Oscar nominee Emma Thompson) to let him turn "Mary Poppins" into a movie, opens in most U.S. cities on Friday.
The film's earning positive reviews, even though it doesn't claim to be an absolutely factual representation of the events it depicts. Here's our guide to whether you'll want to see it.

Are you a Mary Poppins fan?
Then you shouldn't miss it. From the film's opening, which quotes some of the most wistful dialogue from the 1964 film, to the development of the songs, the battles over the movie's ending, and the blink-and-you'll-miss-them shots of a fake Julie Andrews and Dick Van Dyke at the premiere, "Saving Mr. Banks" is practically perfect for "Poppins" fans.

Are you a stickler for historical accuracy?
Then you'll have to loosen up enormously before viewing this. It's a wonderful movie, but  even director John Lee Hancock agrees the filmmakers took enormous liberties with Travers' life and the making of "Mary Poppins." View it as a fiction involving real people and let the film sweep you away. It's a dazzling tear-jerker.
Is it right for kids?
Not the littlest ones — Travers comes off as a prickly sourpuss in some scenes, though her snappy dialogue and imperious attitude have more than a little Poppins in them. And scenes flashing back to her father's alcoholism and mother's suicide attempt are far more frightening than anything Mary Poppins and the Banks children faced. But if your kids are older, say 10 and up, and have an interest in behind-the-scenes storytelling, take them along. Just be sure and discuss it before and after — and point out that it's the filmmakers' version of events they never witnessed.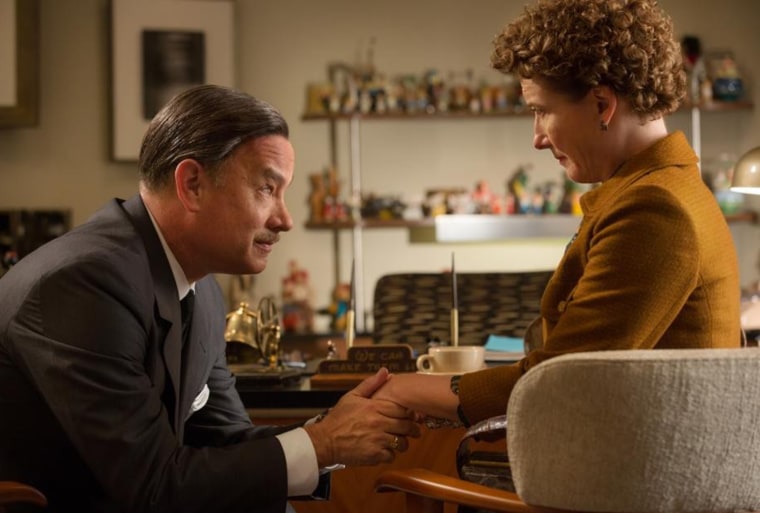 Is there more to the story?
If you love the film and want to supplement it with other media, you have to start with a rewatch of "Mary Poppins" itself. And seek out the 2009 documentary, "The Boys: The Sherman Brothers," which tells the tale of Robert and Richard Sherman, the "Mary Poppins" composing team, who are played in "Saving Mr. Banks" by B.J. Novak and Jason Schwartzman. You could also pick up Travers' original "Mary Poppins" book, to determine for yourself just how different the book-Mary was from the Disney version. And if you want to know more about Travers herself, get a hold of Valerie Lawson's "Mary Poppins, She Wrote," which eschews the Disney worship for a real look at Travers' complicated life.

What about a plan for tissues?
Ohhhh, yes. If Mom hasn't cried at a film since "Titanic," this is her tear duct cleanser. Nearly half of the movie is set during Travers' heartbreaking childhood, and watching young actress Annie Rose Buckley struggle as her beloved father (Colin Farrell) drinks himself to death is agonizing. And when Travers finally cracks and taps her feet to the Sherman brothers' tunes, it's a heartwarming moment — even if it's untrue.

Should you stay for the credits?
Don't bail early on this one. As the closing credits roll, the film switches to real images from the 1964 premiere and movie set. That's fascinating on its own, but then the film changes to a shot of an old-fashioned tape recorder like the one Travers insisted be used to record her Disney meetings. And this time, the words coming out of it aren't scripted lines written for Thompson and Hanks, but actual snippets from the real Travers' meeting Disney employees. "That we cannot have," snaps the real Travers at one point. "That would be very un-English." She sounds a thousand times sterner and scarier than Thompson's version, and you wonder how Disney ever coaxed her to release the rights to "Mary Poppins" at all.