Still don't know what to make for your Fourth of July cookout? Martha Stewart is here with her take on your favorite summertime recipes. Check out the ideas she shared with TODAY, and take your outdoor BBQ from hot to sizzling.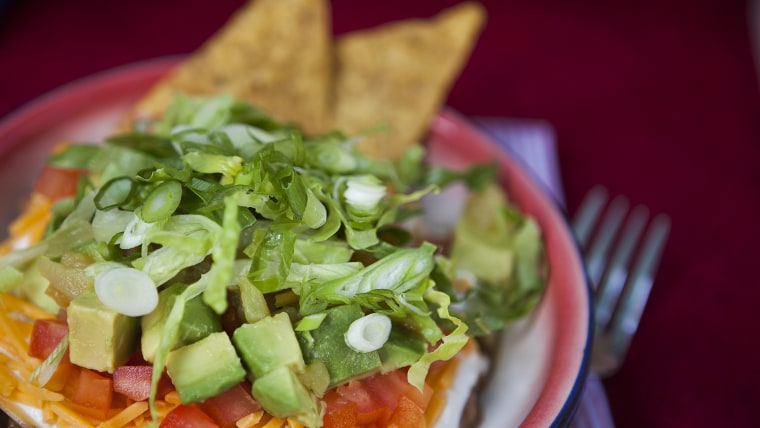 Seven-layer dip
Serves 4
2 tsp. fresh lime juice
2 tbsp. water
2 cups refried beans, preferably homemade
Coarse salt
Freshly ground black pepper
1/2 cup sour cream
1/2 cup (2 oz.) grated cheddar 
1 (4.5-oz.) can chopped green chiles 
2 plum tomatoes, seeded and chopped
1 ripe, but firm avocado, halved, pitted, peeled and cut into small dice 
1 cup romaine lettuce, shredded
2 scallions, trimmed and finely chopped
Tortilla chips for serving
In a medium bowl, stir lime juice and water into the refried beans, and season with salt and pepper. Transfer to a serving dish. Spread the sour cream on top, then layer evenly with cheese, chiles, tomatoes, avocado, lettuce and scallions. Serve with tortilla chips. 
Classic homemade lemonade 

Makes 1 quart
1 1/2 cups fresh lemon juice (from about 10 lemons)
1 cup super-fine sugar
2 cups water
Strain lemon juice through a fine sieve into a pitcher. Add sugar, stirring until it dissolves. Stir in water. 
Muddled ginger-mint lemonade 
Makes 1 serving
1/2 lemon (cut into wedges)
1-in. piece fresh ginger, peeled and sliced
4 sprigs fresh mint
1 1/2 tsp. honey
1 to 2 oz. water
Muddle lemon, ginger, mint and honey in a glass. Stir in water. Top with crushed ice.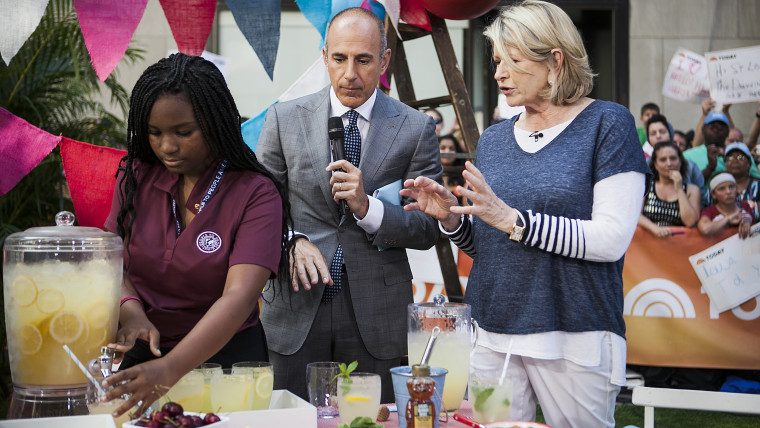 Three-bean salad

Serves 4
8 oz. green beans, stem ends removed, halved on the diagonal
4 oz. yellow wax beans, stem ends removed, halved on the diagonal
2 tbsp. Dijon mustard
2 tbsp. red wine vinegar
2 tbsp. olive oil
Coarse salt
Ground pepper
1 (15.5-oz.) can kidney beans, drained and rinsed 
Prepare an ice-water bath. Fill a large pot with 2 inches of water, and set a steamer basket (or colander) inside. Bring to a boil. Place green and wax beans in the basket, and reduce the heat to a simmer. Cover the pot and steam until the beans are bright and crisp (about 6 to 8 minutes). With tongs or a slotted spoon, transfer the beans to the ice bath to stop the cooking, then drain. In a medium bowl, whisk together mustard, vinegar and oil, and season with salt and pepper. Add the steamed beans, and toss to coat. The bean salad can be refrigerated, covered, up to 1 day; bring to room temperature before serving.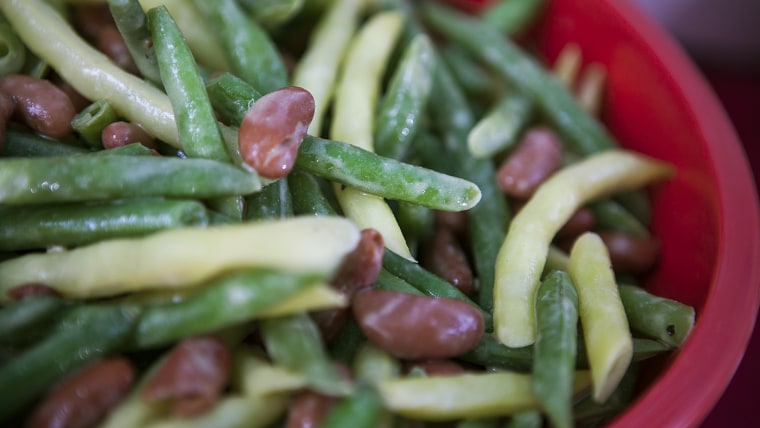 Corn dogs

Serves 4
2 2/3 cups yellow cornmeal
1 1/3 cups all-purpose flour, plus more for hot dogs
3 tbsp. sugar
2 tsp. baking powder 
Coarse salt
Freshly ground pepper
4 large eggs, lightly beaten
1 1/2 cups whole milk
2 qt. vegetable or peanut oil, for frying 
12 hot dogs
Whisk together cornmeal, flour, sugar, baking powder, 1 tsp. salt and 1 tsp. pepper. Stir in eggs and milk. (You will have about 5 cups of batter). Fill a large, heavy pot, Dutch oven or deep fryer with enough oil to submerge hot dogs, then heat until a deep-fry thermometer reaches 360 degrees. 
Meanwhile, pat the hot dogs dry, and insert a 10-in. bamboo skewer through each lengthwise. Roll them in flour to coat. Dip 1 hot dog into batter, turning until completely coated. Let any excess batter drip off, and wipe away extra batter using your fingers so that the hot dog is coated evenly. Lower hot dog into the hot oil. Immediately repeat with 2 hot dogs. 
Cook corn dogs, turning to cook evenly, until a deep golden brown (about 5 to 7 minutes). Transfer to a tray lined with paper towels, turning to blot the oil. Working in batches of 3, repeat the process with the remaining hot dogs and batter.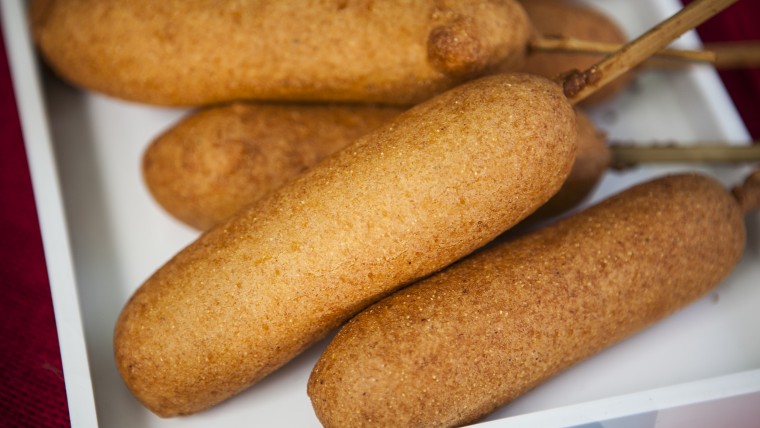 Classic potato salad

Serves 10 to 12
4 lbs. russet potatoes (about 8 medium)
Coarse salt
3 tbsp. cider vinegar
3 large eggs
1 cup mayonnaise
1/2 tsp. celery seeds
1 tsp. dry mustard powder
1/2 tsp. freshly ground pepper
3 celery stalks, cut into 1/4-in. dice
1 small onion, cut into 1/4-in. dice
10 cornichons, cut into 1/4-in. dice
3 scallions, trimmed and thinly sliced
2 tbsp. fresh flat-leafed parsley, coarsely chopped 
1 tsp. sweet paprika 
In a large saucepan, cover potatoes with water by several inches. Bring to a boil, then add 1 tbsp. salt. Reduce heat and gently boil until potatoes are tender when pierced with the tip of a sharp knife (about 25 minutes). Drain. Peel the potatoes while still hot — using paper towels to protect your hands — and cut them into 1-in. pieces. Transfer potatoes to a bowl and drizzle with vinegar. Let cool.
Place the eggs in a small saucepan, and fill with enough cold water to cover them by 1 inch. Bring to a boil, then turn off the heat. Cover, and let stand for 11 minutes. Transfer to a bowl and cover with cold water, then let cool and peel. Cut the eggs into 1/4-in. dice. Slice the remaining egg into 1/4-in. thick rounds, reserving for garnish.
Combine diced eggs, mayonnaise, celery seeds and dry mustard in a large bowl. Season with salt and pepper, and whisk to combine. Stir in potatoes, celery, onion, cornichons, scallions and parsley. Refrigerate at least 30 minutes, or up to 1 day. Just before serving, garnish with paprika and egg rounds.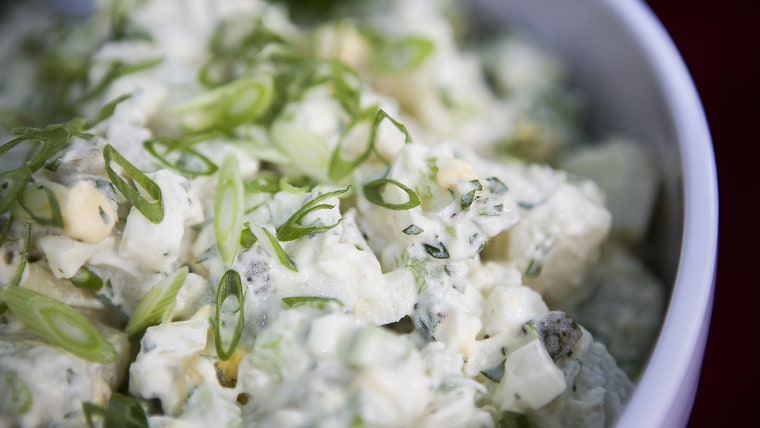 Individual cherry pies

Makes 6
4 cups frozen sour cherries, defrosted until easily separated
1 cup sugar
1 tbsp. all-purpose flour, plus more for rolling out dough
2 1/2 tbsp. cornstarch
Juice and grated rind of 1/2 lemon
Pâte brisée (pie dough)
1 large egg, lightly beaten
2 tbsp. heavy cream
Preheat oven to 450 degrees. In a medium bowl, combine cherries, sugar, flour, cornstarch, lemon juice and zest. 
On a lightly floured surface, roll one disk of dough out slightly less than 1/8-in. thick. Use a 4 3/4-in. cutter to cut out 6 rounds. Fit rounds into 3 1/2 in. fluted tart pans with removable bottoms. Divide filling evenly between pans. Roll second disk of dough out 1/8-in. thick. Use a small star-shaped cutter to cut out dough stars. Place them on top of the filling. Put onto a parchment-lined baking sheet.
In a small bowl, whisk together egg and heavy cream. Brush evenly over the tops of the pies. Bake until golden brown, and juices are bubbling (35 to 40 minutes). Remove from oven, and let cool for at least 1 hour before serving.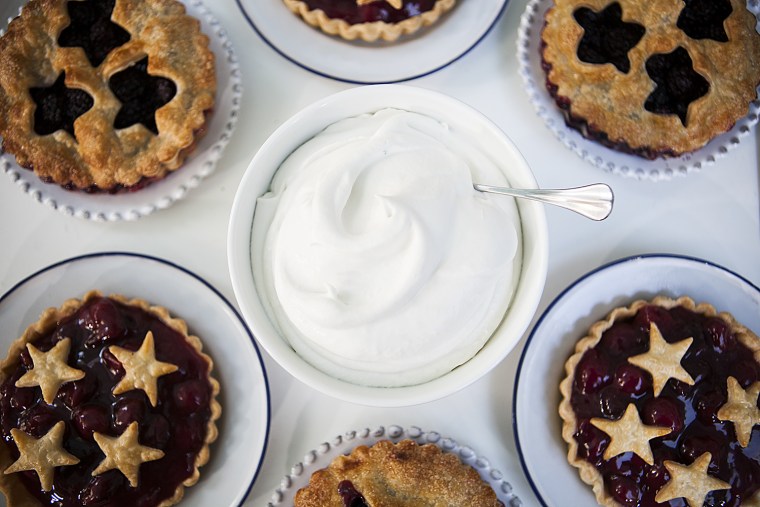 Miniature blackberry pies

Makes 6
20 oz. (5 cups) blackberries
3/4 cup sugar, plus more for sprinkling
2 tbsp. cornstarch
1/8 tsp. salt
All-purpose flour, for surface
Pâte brisée (pie dough)
1 oz. (2 tbsp.) unsalted butter, cut into small pieces
1 large egg yolk
1 tbsp. heavy cream
Whipped cream, for serving

Cook's Note: After 30 minutes in the oven, the crust will turn light gold and the berries will start bubbling. Although the pies may look done, they need to bake for another 30 minutes to ensure that the bottom crusts are cooked through.
Preheat oven to 425 degrees. Gently toss blackberries with sugar, cornstarch and salt in a large bowl.
On a floured surface, roll 1 disk of pate brisee to 1/8-in. thickness. Using a 5 1/2-in. biscuit cutter, cut out 6 rounds. Drape each round over a 4-in. fluted tart pan with a removable bottom, and press dough into bottom and up sides of pan. Edges with be flush with rims. Roll remaining disk of dough to 1/8-in. thickness. Cut out 6 more 5 1/2-in. rounds. 
Fill each tart pan with 3/4 cup blackberry mixture, mounding berries in the center. Dot berries with butter. Center 1 of the remaining dough rounds on top of 1 tart pan. Using a small star-shaped cutter, cut out star shapes from the rounds. If making with the individual cherry pies, you can use these dough stars to put on top of the cherry pies. 
Gently press top and bottom edges of dough together to seal, and the pinch sealed edges. Repeat with remaining rounds. Transfer pies to a rimmed baking sheet, and freeze or refrigerate until firm (about 15 or 20 minutes). 
Lightly whisk yolk and heavy cream in a small bowl. Brush the top of each pie with egg wash, and sprinkle with sugar. Cut 4 vent holes in the top of each with a paring knife. 
Bake for 30 minutes. Then rotate the baking sheet, and reduce heat to 375 degrees. Continue to bake until berries are bubbling and crust is deep golden brown (about another 30 minutes). Let pies cool in pans on a wire rack for 30 minutes. Unmold, and let pies cool completely on wire rack. Serve with whipped cream.