Martha Stewart may have just confirmed Pete Davidson's newest relationship.
Stewart shared a photo on Instagram April 9 posing alongside Davidson and his "Bodies Bodies Bodies" and "Bupkis" co-star, Chase Sui Wonders. In the snap, Davidson had one of his arms around Stewart's shoulders while he held a container of eggs in his other hand.
"@hellofrommuffin dropped by with two friends @pete_davidson_bupkis and @chasesuiwonders They were out looking at our beautiful town of Bedford," Stewart, who has famously weighed in on Davidson's attractiveness in the past, captioned the photo.
She added, "I showed them around the farm and inside the winter house where the Easter Bunnies were getting ready for Sunday . Very cute couple !!!!"
Wonders left a comment on Stewart's post of three emoji — two bunnies and a white heart.
Davidson and Wonders have recently been spotted at several events together, including at the Daytona 500 race in February.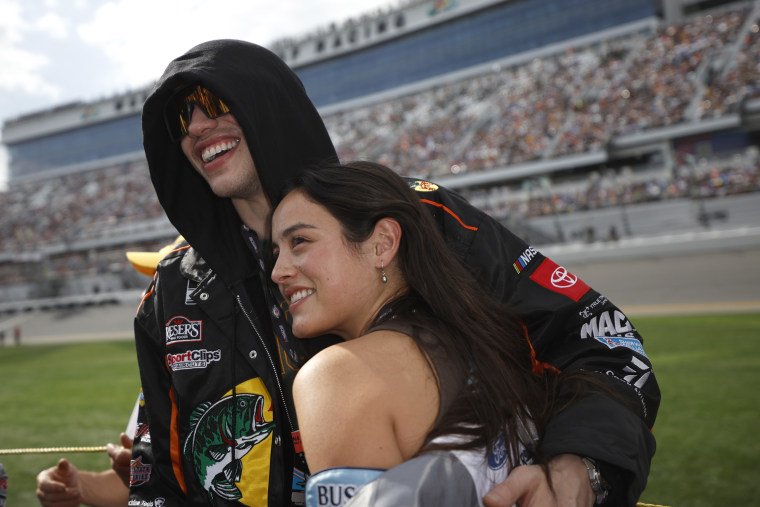 TODAY.com has reached out to representatives for Davidson and Wonders for comment.
Over the years, the former "Saturday Night Live" star has been in several high-profile relationships.
He previously dated Larry David's daughter, Cazzie David, for two and a half years and was engaged to Ariana Grande for four months before the couple split in October 2018.
After Kim Kardashian hosted "SNL" in October 2021, Davidson and the Skims founder began their romance. During the course of their nine-month-long relationship, Kardashian shared glimpses of their relationship on social media, and the couple made their red carpet debut at the White House Correspondents' Dinner in April 2022. 
Davidson and Kardashian ultimately split amicably in August 2022.
While Davidson has poked fun at his relationships over the years, he opened up to host Jon Bernthal on a recent episode of the podcast "Real Ones" about the implications of his highly-publicized romances.
"In 12 years, I've dated like 10 people," the 29-year-old told Bernthal. "I don't really think that's that crazy, but to some people it seems very interesting. That became all anyone would talk about."
The "King of Staten Island" star went on to explain how he had met his previous partners, adding, "These people that I've dated, I met them at work. I wasn't in anyone's DMs, no one was in mine."
"I worked at one of the five Hollywood epicenters of where you meet people and that's just who I was working with and who I was around," he said, referring to "SNL" where he was a cast member from 2014 to 2022. "That's how it happens."
Davidson said that he wouldn't change any decision he's made along the way and clarified he wasn't "mad at anyone," adding, "I think everyone's just trying their best and that's just how I'm trying to live my life. It's a hard thing to navigate."