Time sure does fly!
Not only has it been nearly 30 years since "Saved By the Bell" first aired, but former co-stars Mario Lopez and Tiffani Thiessen are both old enough to have children of their own who are starting to watch the show. And those kids have questions.
"My kids have given it a shot and (they're) not feeling it," said Lopez, 44, who's taking a two-day turn hosting "The Ellen DeGeneres Show" starting Thursday, and invited Thiessen in to reminisce with him.
Apparently his kids (Gia, 7, and Dominic, 4) have asked him, "Daddy, why is your hair like that?"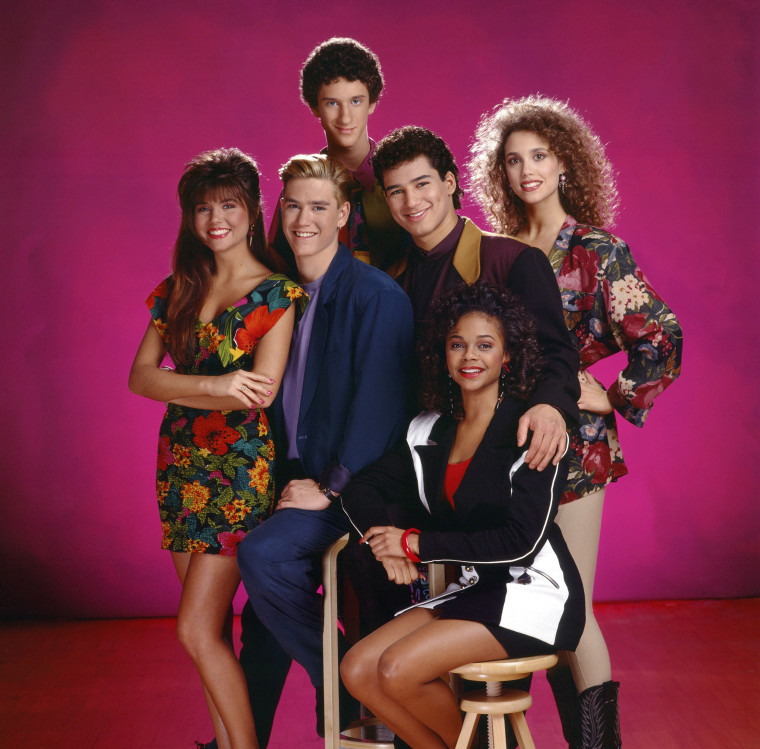 Thiessen, 44, says her daughter Harper, 8 (she also has Holt, 3), has been allowed glimpses.
"Harper started watching it a tiny, tiny bit. I was OK with season one but after that kissing started happening and I was like, 'No, no, no we're done.'"
In a "few more years" she might be open to letting her daughter see more, but explained that "Harper was into it (because) she was so into (Lopez) and Mark-Paul (Gosselaar) ... She's so boy crazy already, I'm in trouble."
"Saved By the Bell," which featured the antics of a group of friends at Bayside High, ran on NBC from 1989-93. The show has recently experienced a resurgence of interest as its young fans have grown up, including a pop-up restaurant in Chicago called Saved By the Max in 2016 and Jimmy Fallon reuniting the cast on "The Tonight Show" in 2015.
Today, Lopez and Thiessen can't believe how much time has gone by since they starred on "Bell."
"I can't believe I'm that old," said Lopez, who normally hosts "Extra." "I thought it was 20 years since 'Saved By the Bell,' but it's been 30 years since 'Saved By the Bell!'"
"We are old," agreed Thiessen. "We are really old."
Follow Randee Dawn on Twitter.