Set your DVR now: Mariah Carey is returning to Times Square this New Year's Eve.
The singer has announced she will perform on ABC's "Dick Clark's New Year's Rockin' Eve with Ryan Seacrest" for the second year in a row.
Carey would be the first to tell you that her appearance on the show last year did not rock. It did, however, go viral, thanks to the problems she experienced while onstage.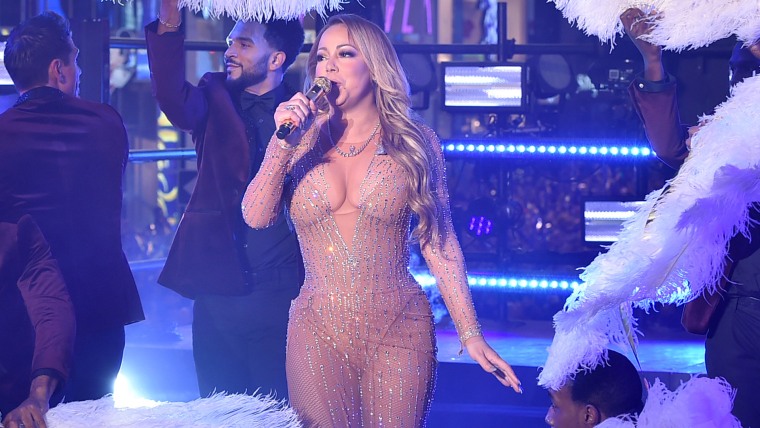 "We can all agree that last year didn't go exactly as planned and we are thrilled to move forward together to provide America with an incredible night of music and celebration on 'Dick Clark's New Year's Rockin' Eve with Ryan Seacrest 2018.' See you in Times Square!" a joint statement from Carey and dick clark productions read.
Carey was more direct on her Twitter page: "Take 2."
Take 1 was pretty much a disaster — she said she couldn't "hear" and at one point stopped singing, even though a prerecorded vocal could still be heard in the background. A few hours later, she tweeted, "S--- happens."
In the ensuing days, Carey's team and dick clark productions engaged in a public spat. Speaking with Entertainment Tonight, her manager blamed the performance on technical glitches and said the "decision not to cut to commercial or cut the performance out of the West Coast feed is in a way sabotaging as they wanted a viral moment."
dick clark productions responded in a statement that the implication it would ever "intentionally compromise the success of any artist is defamatory, outrageous and frankly absurd."
Carey herself chimed in on her "horrible" night during an interview with Entertainment Weekly, saying, "I'm of the opinion that Dick Clark would not have let an artist go through that and he would have been as mortified as I was in real time."
But all of that's in the past now. Let the countdown to her New Year's Eve do-over in Times Square begin.