Mariah Carey and Nick Cannon may have parted ways after an eight-year marriage that officially ended earlier this year, but the exes are far from out of one another's lives.
That's because they have two very important shared responsibilities: their twin 5-year-olds, Moroccan and Monroe. And that, as she told TODAY's Kathie Lee Gifford and Hoda Kotb on Friday, is why you might see them together for major holidays.
RELATED: Mariah Carey, Nick Cannon and kids celebrate Mother's Day — see the sweet photo
"It's important for the kids," said the singer, noting that they'd recently hung out for Thanksgiving and Halloween. "He's part of their lives forever."
Fans will get to see some of that interaction on Carey's new E! docuseries, "Mariah's World," in which Cannon makes a few cameos. And she also ended up allowing the twins to appear on camera, something she hadn't initially expected she'd do.
"I wanted to make sure ... that they were comfortable at all times," she said. "I never wanna be a stage mom. Like, that's not me."
The series, which follows Carey on her most recent tour, could have come to a screeching halt when during filming she and her then-fiancé James Packer ended their engagement. But Carey says she refused to let that reality intrude.
"I can't give somebody that much power," she said, in relation to the split and calling off the series. "Are you kidding me? ... You gotta keep on pushing."
RELATED: Mariah Carey's twins steal the show during Hollywood Walk of Fame presentation
Speaking of which, Kathie Lee and Gifford made it clear they knew Carey had already bounced back. "You have a new man," said Hoda, referring to dancer Bryan Tanaka. "We've seen pictures."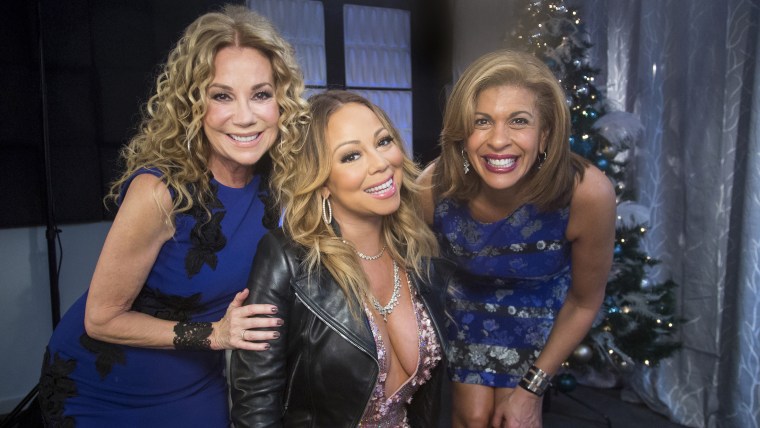 But Carey, whose life has long been in the public eye, also knows when to go mum. "I refuse to answer under the grounds that it may incriminate me," she said.
That's our Mimi!
"Mariah's World" begins airing on E! on Sunday, Dec. 4 at 9 p.m. ET.
Follow Randee Dawn on Twitter.