PASADENA, Calif. -- Season 12 of "American Idol" doesn't even kick off until Jan. 16, but for months, the reality competition has been overshadowed by numerous reports of feuding between new judges Mariah Carey and Nicki Minaj. (The biggest fight to date came to light in October when a video of Minaj cursing out Carey during an audition surfaced online.)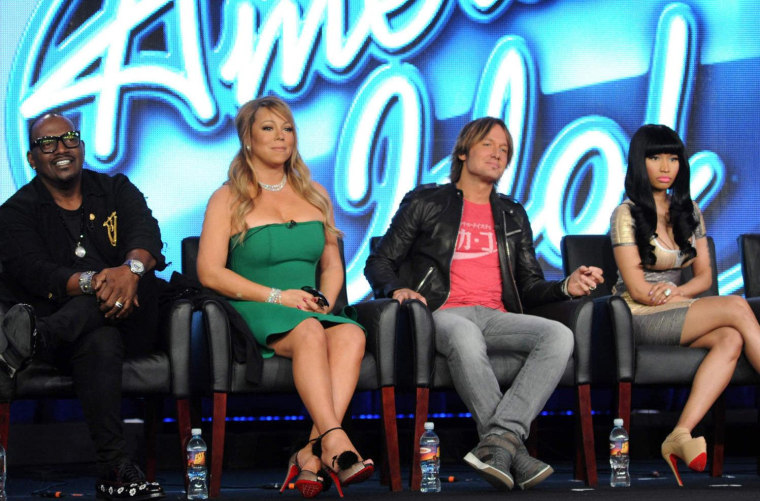 But are the spats just fodder for drumming up publicity for the reality competition, which isn't quite the ratings juggernaut it used to be?
The answer: No.
"It's authentic," Mike Darnell, Fox's president of alternative entertainment, told reporters Tuesday at the Television Critics Association's winter press tour in Pasadena, Calif. "There's passion from this group. They disagree about a lot of the talent, about the way to approach the talent. What the talent should be doing. It's not just the girls. It's everybody."
Disagreement over a potential contestant is what reportedly led to the leaked fight between Carey and Minaj. 
"The feud, whatever feuds there've been, isn't just between Nicki and Mariah," executive producer Nigel Lythgoe noted. "Keith (Urban) and Randy (Jackson) have had their fights as well."
"The fight is what it is," Carey chimed in. "This is 'American Idol,' it's bigger than all that. It's bigger than some stupid, you know, trumped up thing. It's about the next huge talent, superstar that will come from this show."
When the subject of her fights with Minaj kept coming up, Carey said, "The whole thing is convoluted. It's a distraction from the show. It's a distraction from the contestants. ... It shouldn't be about any of us sitting up here."
Original judge Randy Jackson, who is back again, pointed out that heated moments have been around since the beginning. "First or second season, me and Simon (Cowell) had a go. That's what the show is," he said. "It's that passion, that's what you want from the judges. We're all passionate about these kids."
Executive producer Trish Kinane said that the invested panel was a result of listening to the audience.
"One of the things (viewers) told us on the judging panel, they wanted experts in their own right. ... They also told us they wanted honesty," she said. "We very much took that into consideration when talking to Mariah and Nicki and Keith and Randy. I think we got it. They're not shrinking violets. They say what they think, and we encourage that. We'll encourage that even more as we go into the live shows."
"American Idol" premieres Jan. 16 at 8 p.m. on Fox.
Do you think the fighting has already been too much of a distraction, or will it make this season more interesting? Share your thoughts on our Facebook page!
Related content:
More in The Clicker: