Maria Shriver still remembers the profound conversation she had with a nun after her marriage ended.
The TODAY special anchor, 67, reflected on her visit to a convent as part of her search for guidance in the wake of her split from ex-husband Arnold Schwarzenegger.
"I went to a convent, a cloistered convent, and to be in silence and look for advice," Shriver said during the Feb. 6 episode of the "Making Space with Hoda Kotb" podcast.
"And the reverend mother there … I actually have written about this but I — I haven't shared it," Shriver continued. "She said, 'I think you came here looking for permission.'"
"And I felt like I was in a scene out of 'The Sound of Music,' you know?" she added.
"She goes, 'You can't come live here … but you do have permission to go out and become Maria,'" Shriver continued.
She says these words affected her deeply.
"I was, like, sobbing," she said.
"I had never given myself permission to — to feel, to be vulnerable, to be weak, to be brought to my knees. And the world did it to me. And then I was like, 'OK, God, let's go,'" she explained.
Shriver and Schwarzenegger married in 1986 and separated in 2011, finalizing their divorce in 2021. 
At times during their marriage, Shriver said she struggled with feelings of invisibility due to Schwarzenegger's fame.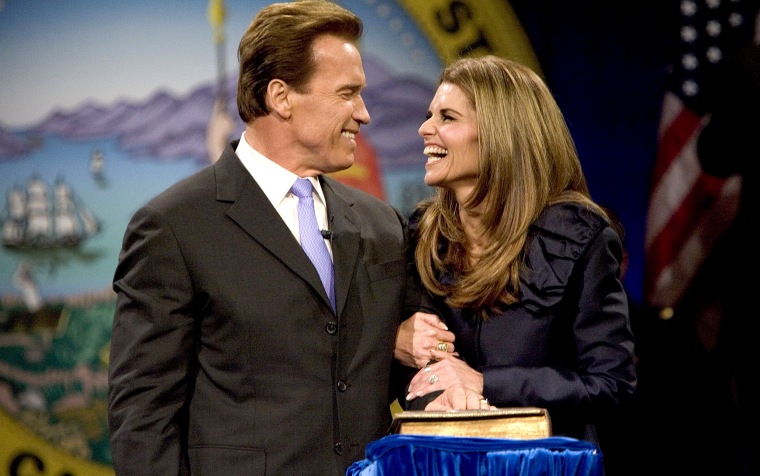 This frustration echoed feelings Shriver had been dealing with throughout her life as a member of the Kennedy family.
"I grew up feeling invisible in an incredibly public, famous family," said Shriver, who is the niece of the late President John F. Kennedy, as well as the late Sen. Robert F. Kennedy and Sen. Ted Kennedy.
"There were a lot of really big characters in that family," she said.
"If you, as a child, are standing next to the president of the United States, two U.S. senators, the first lady, nobody is looking at you," she added. "You are background noise. And you take that with you really through life, and you end up putting yourself in situations where that continues until you learn your lesson."
For Shriver, learning her lesson meant learning to value herself, rather than seeing herself through the eyes of others.
"It's not about other people seeing you, it's about you seeing yourself. And that took me a really long time, a really long time to learn," she told Hoda.
"I would find myself getting angry at people who came up and didn't acknowledge that I existed when I was standing next to Arnold or when I was standing next to, you know, my uncle," she continued.
"And then I was like, they were teaching me a lesson, that it's not about whether they see me. Do I see me? Am I invisible to me?"
The Emmy-winning journalist said these experiences gave her empathy for others who are struggling.
"There's always somebody who is feeling invisible," she said.
"I know what that feels like," she continued. "And so, I usually try to go over and talk to the person who I think is standing there feeling that way."
Simply talking with people and giving them undivided attention can be a precious gift, she said. 
"I thought what made people feel seen was winning an Emmy … getting an award, getting a book, being on TV," she said. 
"But," she went on, "what actually makes people feel seen and worthy is talking to them, sitting with them, calling them, slowing down … sitting on the porch, going, 'I don't have anywhere to go. I'm right here with you.'"