/ Source: The Associated Press
When a tiny French town destroyed during World War II needed help rebuilding, "Gone With the Wind" author Margaret Mitchell came to the rescue.
Mitchell's efforts on behalf of Vimoutiers are little known, even to those who have studied her life and papers. Like other aspects of Mitchell's life, her penchant for charitable giving has been overshadowed by the best-selling book and subsequent film, said Hillary Hardwick, spokeswoman for the Margaret Mitchell House museum.
"I think people do not understand the extent to which she was involved in philanthropic efforts both in Atlanta and elsewhere," Hardwick said.
There is no mention of Mitchell's connection to Vimoutiers at the museum, said Hardwick, who said she hadn't heard the story until an Associated Press reporter called. There's a brief mention on a timeline of Mitchell's life on the museum's Web site: "Helped to rebuild French town of Vimoutiers after World War II."
The story of how Mitchell came to donate enough money to rebuild the town's hospital begins in mid-1944, when she got a letter from Denis Barois, a French Air Force pilot stationed in southwest Georgia. He wrote to tell her how her book had resonated with him.
"The description of Scarlett's escape from Atlanta reminded me of the roads I traveled as I left France," said Barois, now 86 and living in Mexico City.
Invited to Mitchell's homeIt was 1942 when a 20-year-old Barois fled his occupied country, crossing the Pyrenees Mountains on foot, and headed to north Africa to answer Gen. Charles de Gaulle's call for resistance. In Morocco, he joined the French Air Force and was sent to the U.S. for pilot training.
In November 1944, Mitchell received Barois and a friend of his at her home when they came to Atlanta after completing advanced training.
"She was very small but very nice and very funny," Barois said in a recent interview in French.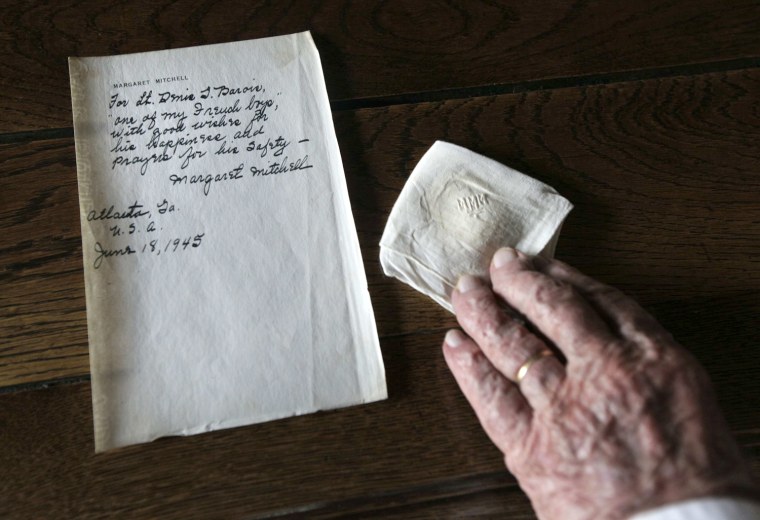 Mitchell served Barois and his friend champagne and gave Barois a monogrammed handkerchief scented with her perfume and an inscribed copy of her book, two items he still treasures today.
When Barois returned to France after the war, he married a woman from Vimoutiers and discovered the devastation there. The town had been mistakenly bombed by Allied forces.
"The town was extremely destroyed," Barois said.
He and Mitchell remained friends after the war, often exchanging letters and trinkets by mail. Mitchell would send Barois and his wife things they couldn't get easily in France after the war, like toothpaste and color film, and he would send her perfume, lace and French magazines.
In a letter to Barois dated July 14, 1949, and on file at the Vimoutiers historical society, Mitchell thanked him for some perfume he'd sent: "It is something different — something I could not procure here in Atlanta, something no friend of mine possesses."
When Vimoutiers was struggling to raise money to rebuild, Barois thought of his famous American friend. Mitchell was so touched by the account that she sent a check to rebuild the hospital and enlisted the help of the Pilot Club International, a service organization, to help fund the rebuilding of the rest of the town. It's unknown how much Mitchell donated.
"The circle of life sometimes brings wonderful things," said Marie-Christiane Boullard, director of the town historical society and whose sister married Barois. "If my sister hadn't met this young pilot who had trained in the United States and met Margaret Mitchell, we might never have gotten help from the Americans to rebuild."
'She had a soft spot for soldiers'
The town was so grateful they made Mitchell an honorary citizen of Vimoutiers in July 1949, Boullard said from Vimoutiers in a phone interview in French. It was an honor Mitchell apparently held dear, according to a letter at the historical society.
"Nothing that has happened to me before has ever pleased and touched me as much as this honor which you and the Municipal Court of Vimoutiers have paid me," Mitchell wrote in the July 27, 1949, letter to Boullard's father, who ran the hospital.
Mitchell wrote in the letter that she hoped to visit France and see the rebuilt Vimoutiers. But she was hit by a car just a few weeks later in Atlanta and died at age 48.
"She always had a soft spot for soldiers and the armed forces and always tried to do things for them," said Mary Ellen Brooks, curator of rare books and director emeritus of the Hargrett Rare Book and Manuscript Library at the University of Georgia, which has a large collection of Margaret Mitchell and Mitchell family papers, including personal correspondence, research materials, photographs and family legal materials.
Brooks said she hadn't heard anything about Mitchell's connection to Vimoutiers until she was contacted a few months ago by one of Mitchell's descendants who had come across mention of the donation in family papers. Brooks later found a letter that corroborated the story.
The descendant, Bill Troost, whose great-uncle was Mitchell's second husband, attended a ceremony in May 2008 in which a plaque honoring Mitchell was unveiled at the hospital Mitchell helped rebuild.
This month marks the 65th anniversary of the bombing, and Mitchell remains a beloved figure in Vimoutiers.
"Unless you have lived through something like that," Boullard said of the bombing that killed her brother and destroyed her hometown, "you can't really understand how meaningful this humanitarian aid from the Americans was to us."