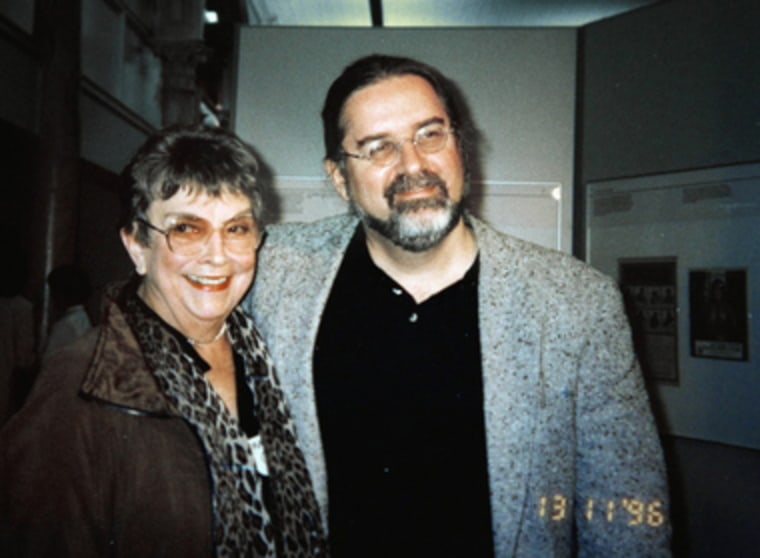 Margaret Ruth Groening, whose name was the inspiration for one of her son Matt's characters in TV's long-running "The Simpsons" series, died in her sleep on April 22 in Portland, Ore., a private obituary reported in The Oregonian. She was 94.
Born Margaret Wiggum in 1919, Groening was the daughter of Norwegian immigrants who met on the boat while coming to America. According to the obituary, "Margaret's highest honor was being named May Queen of Linfield College," from which she graduated in 1941 and married Homer Groening, "whom she chose because he made her laugh the most."
The real-life Marge and Homer had five children: Patty (who died in Jan. 2013), Mark, Matt, Lisa and Maggie, along with eight grandchildren and two great-grandchildren. Homer died in 1996.
Virtually all of those names are familiar to "Simpsons" fans; Matt Groening used many of them for characters now beloved the world over (though there's no indication that the real-life Margaret ever had tall blue hair). In a separate article, The Oregonian noted that while Margaret never went by "Marge," either, though that didn't keep fans from assuming that she was just like the tolerant TV mom.
Hundreds of well-wishers have posted comments in the obituary's guest book, thanking a woman many never met but felt they knew. "The world is a happier place because of you," wrote Gail Lowy of Wilsonville, Ore. "Through Matt's work, you were the mom to all of us who still remain children at heart."