When Margaret Cho and I sat down for our interview last month for two articles, one coinciding with Asian Pacific American Heritage Month and another for LGBTQ Pride Month this June, I was surprised to learn of a fascinating bullet point in her life story.
The comedian, actor and podcast host has been surrounded by queerness since she was a young girl.
In 1978, Cho's parents, Young-Hie and Seung-Hoon Cho, bought a bookstore called Paperbook Traffic in San Francisco's gay neighborhood, the Castro District. Cho likens her experience to the one featured in the Ryan Murphy documentary "Circus of Books," which presented the story of a Los Angeles gay bookstore that was owned by a straight, Jewish couple.
"It really was exactly the same situation as 'Circus of Books,'" Cho told TODAY via phone. "We had rolling racks of gay romance novels like 'Cobalt' and we had 'Honcho' and 'Blue Boy' and 'Drummer Magazine' in the magazine stands. It was fabulous."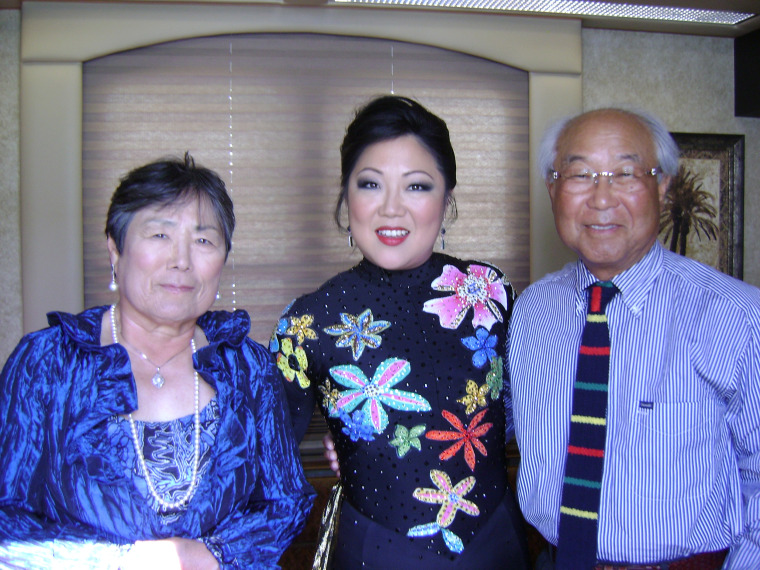 Cho said she had many queer icons who helped her, especially with her own coming out, throughout her career. She rattled off a bevy of influential names: Rosie O'Donnell, Harvey Fierstein, Joan Rivers and B.D. Wong.
"Bisexuality is like Atlanta, Charlotte or the Dallas-Fort Worth Airport. Where you go to get your connection."
Margaret Cho
"Oh, and Armistead Maupin, too," she added, referring to the renowned author of "Tales of the City," which also became a Netflix show in 2019. "I knew him when I was a really little kid. My parents had a gay bookstore and he was one of the people who did book signings there."
Being surrounded by drag queens, go-go boys and porn stars helped inform and inspire Cho from a young age. She realized there was more to life than just the straightforward offerings so many kids were used to seeing. And while her parents were comfortable with the gay culture because of their work, they still weren't accepting when she came out years later as bisexual.
"No, they're fine with queer culture," Cho explained. "What my parents had a problem with was bisexuality because they think that's not real, because they're experiencing bisexuality with people saying they're bi because they're not comfortable coming out. It's like a connecting flight. It's like a transfer. Bisexuality is like Atlanta, Charlotte or the Dallas-Fort Worth Airport. Where you go to get your connection."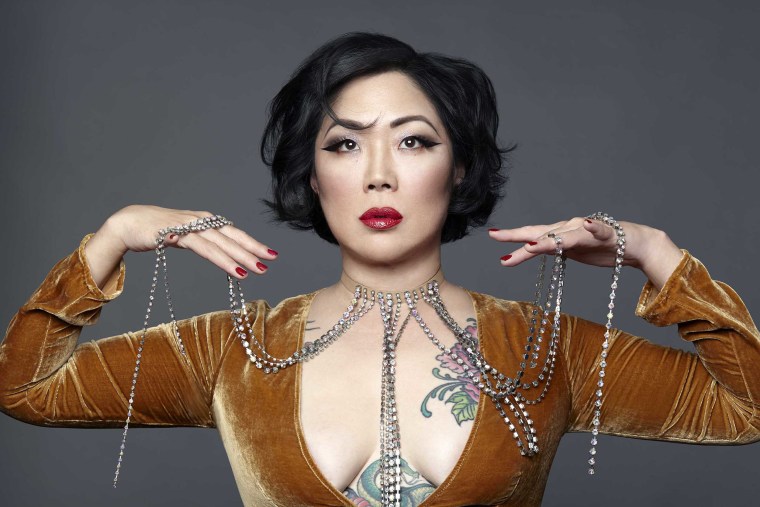 Today, Cho's parents still hold on to this notion, like many people within and outside of the LGBTQ community.
"They still think it's not real," she said of her parents. "They still have a problem with it and it's very interesting, because I don't really care about that but they're scared because they think that I'm in a crisis of coming out, when I'm actually out because I came out as a lesbian, I came out as straight and then I came out as bisexual."
Cho has always had to explain herself and her sexuality to people who have doubted her. A big reason for this is because she married a man in 2003, but they separated in 2012 and officially divorced some time later. She still identifies as bisexual, but also believes in pansexuality as well.
"Well, 'bi' means that there's only two genders, so I don't like that because I think that's wrong," she said. "But I do love the '70s sound of bisexual. It sounds very gay chic. I think it's more about language than anything, I guess. I like the way the young people are doing it. They're like, 'Well, we just don't have labels,' which I think is fabulous."
"So many of us couldn't come out for so long and kids are like having a different time of it and I'm so proud of them for it."
When asked who the young people are who are inspiring her, she points to Bowen Yang or Lil Nas X, who excite her with their hyper-queer art.
"It's very gay from an Asian American perspective," she said of Yang's work on "Saturday Night Live." "Talk about silenced? That has been silenced, the gay Asian experience really is unheard."
Or Lil Nas X, whose hit single "Montero (Call Me By Your Name)" has been playing on repeat for her.
"I love that song and that video," she said. "I wanted his drop of blood sneakers so bad. It's so fabulous. Like, how fun and beautiful to embrace that and it's just really fantastic. To me, that's really the future, it makes me feel really young. It makes me feel really seen as a queer elder. I love that they're feeling free and living their lives. So many of us couldn't come out for so long and kids are like having a different time of it and I'm so proud of them for it."
Today, Cho is dating both men and women. She's not quite single, but definitely living alone.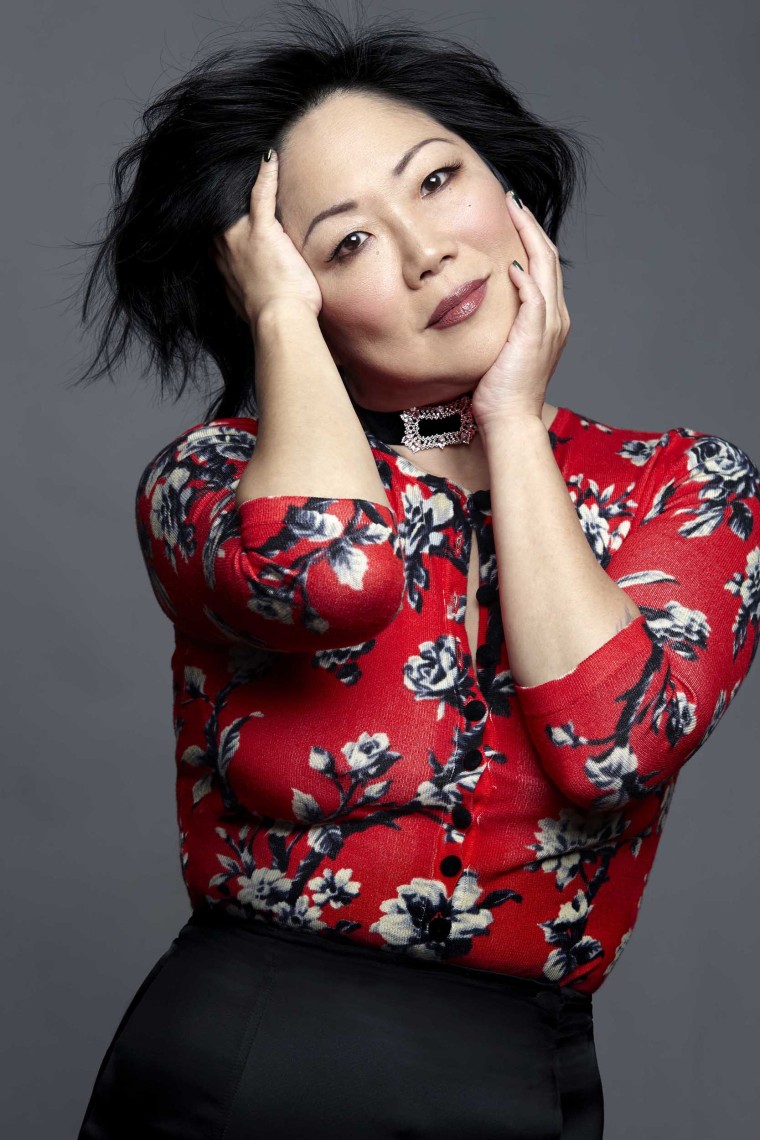 "I am dating," she said. "It's really grown, and it's very adult and yet, I'm very happy living alone. I think that's really the biggest fear for a lot of people, is being alone, but I love it. You know, I think it's really what I've been searching for. I have relationships that I love but it's also really easy and it's really adult."
Cho said that she believes in polyamory, the practice of openly dating numerous people at the same time, and that it's something she upholds in her relationships, but doesn't actually happen often.
"I don't have that kind of relationship where I can't see other people but you slow down," she said. "I just want things to be simpler. So yeah, I love polyamory, but it's just so much talking and a lot of work. I can't do it. I always end at one even though in my mind, I am poly, but I'm too, too, too busy."
Or too lazy? She laughed and answered, "Both!"
Cho said she also wants the LGBTQ community to reclaim a controversial term used to refer to gay people: "fruit."
"I think that's a really good one that we need to bring back," she said. "What are you up to fruity? I'm really fruity."
This LGBTQ Pride Month 2021, TODAY is highlighting the LGBTQ trailblazers in pop culture who paved the way, along with the trendsetters of today who are making a name for themselves. By examining their experiences individually, we see how all of their stories are tied to one another in a timeline of queer history that takes us from where we were to where we stand today.