The first thing you need to know about the man that has brought the lovable Freddy Hayes to life on "House of Cards" is that he's never ever tasted one of Freddy's delicious-looking ribs.
The second thing is why. The first scene filmed for Netflix's political thriller's first season was shot at Frank Underwood's (Kevin Spacey) favorite joint, a neighborhood rib shack that opens just for him at his beck and call.
"It was our first day and they covered me in barbecue sauce," actor Reg E. Cathey told TODAY. "It was hot; it was like 90 degrees. It was very uncomfortable and it was that smell. I just couldn't stand the smell. That's why I didn't want to eat any because I was covered in it. And then it just became a joke—Freddy doesn't eat his own ribs! So I just kept it going and I never ate one rib."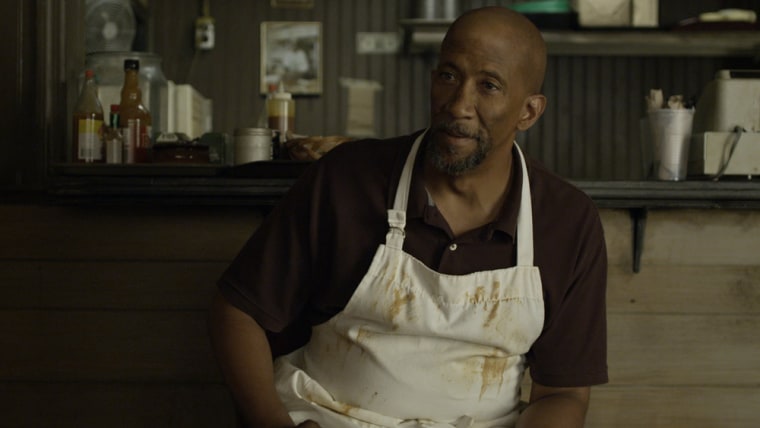 If watching Frank thoroughly enjoying Freddy's ribs makes you hungry, that's understandable. But Freddy's Ribs is purely fictional; it's not a stand-in for an existing Baltimore barbecue restaurant. The location used for filming is just an empty storefront. The interiors are filmed in a studio.

Where do the ribs come from, then? That answer is a little boring: it's just a set dresser grilling up Frank's favorite barbecue. Although he never tasted Freddy's ribs, Cathey confirms they "sure smelled good."
"I grew up on army bases all over the world but I'm from Alabama," he said. "In Alabama, we have ribs with a white sauce, which is really great. I had talked about this when we talked about Freddy and what he served and I mentioned the white sauce. And everyone went, 'Oh, that's just too weird!' It does look very strange but it's really good. The best barbecue comes from North Carolina, though. So, in my mind I was serving North Carolina-style barbecue."
Spoiler alert: Do not continue reading if you haven't completed the second season of "House of Cards."
But who will serve the barbecue now? By the end of the second season, fans were reeling over all of the collateral damage left in the wake of Frank and Claire Underwood's (Robin Wright) ambitions. Nosy journalists and disobedient ex-lovers is one thing, but what did Freddy do to deserve this?
Once Frank became vice-president, Freddy became an object of public interest, and the reformed convict was doomed. He became a pawn in the power struggle between Frank and his enemy Raymond Tusk (Gerald McRaney) and in the end wound up selling his restaurant.
"I liked the story a lot," said Cathey who knew his character's journey from his first meeting with director David Fincher, creator Beau Willimon, and Spacey. As a veteran actor who has worked on memorable series like "Homicide and "The Wire," Cathey has learned to accept the fate of his characters. 
"I have no idea if Freddy's coming back," Cathey said. "They won't tell me. But it's one of those things when I first sat down with David, Beau and Kevin to talk about what the character was gonna be and what our relationship and tone would be, I knew it would be something special. I didn't know whether people would like it or whether they would watch but I knew it was special. I thought it was simply lovely. And we had a ball doing it."
From the start, everyone agreed, that Freddy needed to be dignified, Cathey said. That is why he didn't accept Frank's "guilt money" when they parted ways and why his last words to Frank were that he was just a "good customer" to him.

"Even though he had been in prison, he still had a core — it was either going to be his way or no way at all," he said. "Which is why he still had that rundown little place. Even though he could cook more, he was just going to do what he does perfectly — ribs. He's that kind of person.
"I never thought of Frank as a friend of Freddy's, but he was more than just a good customer," he continued. "Freddy is very much to himself because of his past. From the beginning, these two men weren't friends but they were very comfortable with each other. Freddy understood that this is the one place where Frank could be completely at ease and Freddy liked that. We built on that, moreso than friendship. Friendship is a little too strong."
If Freddy is gone for good, Cathey said he will miss working with Spacey. "We had developed a nice rhythm and real nice ease." 
Jodie Foster directed "Chapter 22," the episode in which Freddy hands over the keys and walks away. Filming that scene was emotional for Cathey.

"It was touching and it was sad," Cathey said. "What was touching about it is the crew on 'House of Cards' had been some of the same people I had worked with all the way back on 'Homicide.' We'd also been through 'The Corner' and 'The Wire.' So the crew guys were really touched that Freddy was giving away the keys to his place. I've shot three projects in that same neighborhood, even that same corner. I did feel sad. I hope they bring Freddy back."