/ Source: The Associated Press
Denny Doherty, one-quarter of the 1960s folk-rock group the Mamas and the Papas, known for their soaring harmony on hits like "California Dreamin"' and "Monday, Monday," died Friday at 66.
His sister Frances Arnold said the singer-songwriter died at his home in Mississauga, a city just west of Toronto, after a short illness.
The group burst on the national scene in 1966 with the top 10 smash "California Dreamin'." The Mamas and the Papas broke new ground by having women and men in one group at a time when most singing groups were unisex. John Phillips, the group's chief songwriter; his wife, Michelle; and another female vocalist, Cass Elliot, teamed with Doherty.
"Monday, Monday" hit No. 1 on the charts and won the band a Grammy for best contemporary group performance. Among the group's other songs were "I Saw Her Again Last Night," "Go Where You Wanna Go," "Dancing Bear" and versions of "I Call Your Name" and "Dedicated to the One I Love."
"What made the group special was their haunting and sumptuous harmony singing," according to "The Rolling Stone Illustrated History of Rock & Roll."
In 1998, the Mamas and the Papas were inducted into the Rock and Roll Hall of Fame.
The group's catchy sound was a blend of '60s upbeat pop and the folk music that had surged in popularity early in the decade. The song "Creeque Alley" told the story of their formation amid the musical ferment of the folk scene; among the other stars-to-be mentioned in its lyrics were members of the Lovin' Spoonful and the Byrds.
But the group's heyday was brief, and it disbanded in 1968 following John and Michelle Phillips' divorce. The members re-formed in 1971 for the album "People Like Us," but all hope for a reunion ended in 1974 when Elliot, 32, suffered a fatal heart attack while eating a sandwich in London.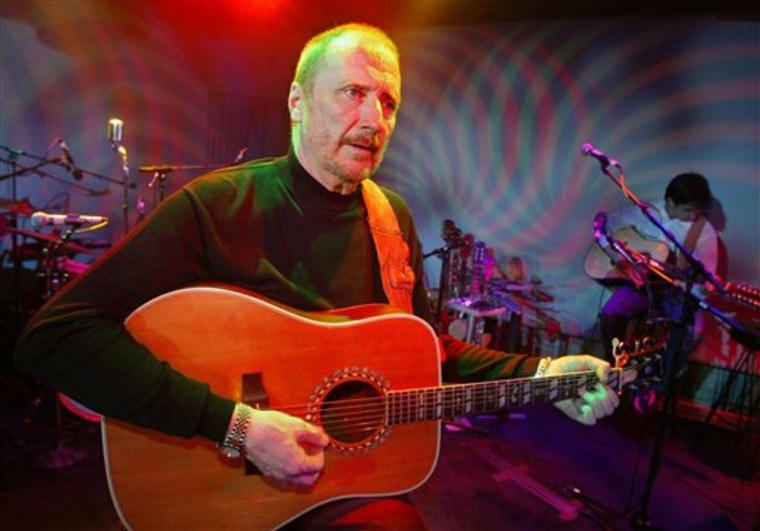 Phillips briefly re-formed the group in 1982 with Doherty, Phillips' actress daughter, Mackenzie, and Elaine "Spanky" McFarlane. The foursome toured playing oldies and new Phillips originals.
In 2003, Doherty was co-author and performer in an off-Broadway show called "Dream a Little Dream: The Mamas and the Papas Musical," which traced the band's early years, its dizzying fame and breakup.
"There's a part of this thing that if I'm not careful, I'd be just a blob on the stage crying my guts out," Doherty said at the time. "Everybody knows about death and dying and sadness, so it's an exercise in staying in the moment and not getting maudlin about your friends dying."
John Phillips died in 2001 at 65.
The Halifax, Nova Scotia-born Doherty started his music career in Montreal in 1960 as the co-founder of the Colonials, which later became the Halifax Three.
Doherty made a solo album in 1974 and achieved a bit of immortality by both playing the Harbormaster and voicing all the characters for the children's TV series "Theodore Tugboat."