Malia and Sasha Obama speak publicly for the first time in more than a decade in Michelle Obama's new Netflix documentary, where the two college students reflect on the former first lady's accomplishments.
"Becoming," which follows Obama on the 34-stop book tour for her bestselling memoir of the same name, was released on Wednesday. The film includes comments from Malia, 21, and Sasha, 18, who were rarely seen at public events at the White House other than the annual turkey pardon and the occasional state dinner.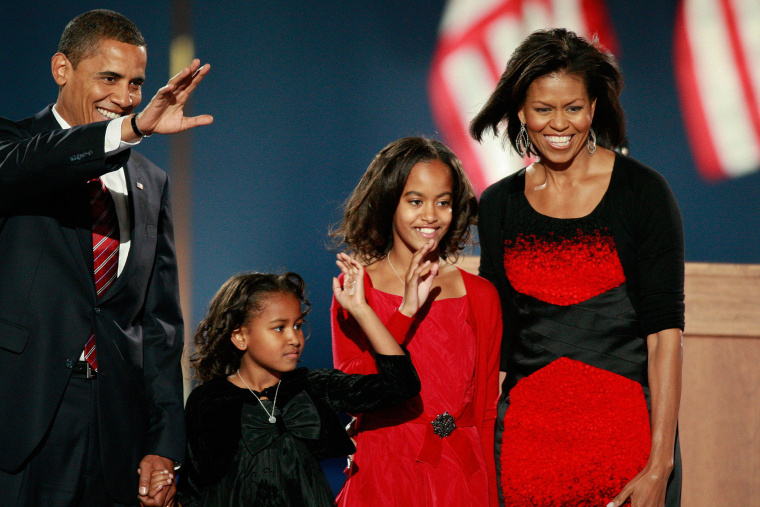 "I'm excited for her to be proud of what she's done because I think that's the most important thing for a human to do is be proud of themselves," Sasha says in the documentary.
Malia was 10 when her father was first elected to the White House. She is now a junior at Harvard. Sasha, who was 7, is now a freshman at the University of Michigan.
Michelle Obama told TODAY's Jenna Bush Hager in 2018 that she purposely kept them out of the spotlight because she wanted to give them as much of a normal life as possible.
"You want them to be able to have wonderful experiences privately and you want them to be able to fail and stumble privately, like any other kids,'' she said. "And when they're not allowed to do that, it's unfair and you feel guilty about it, you know, because they didn't choose this life."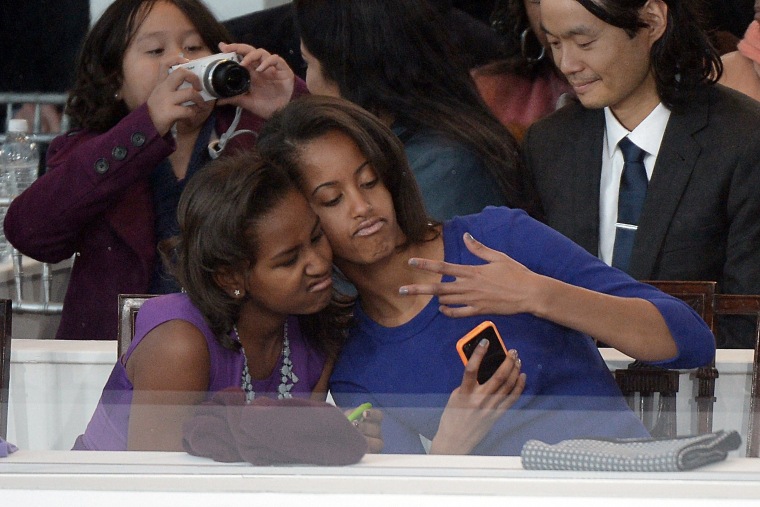 She encouraged the White House staff to allow the girls to have chores, while relaxing the dress code for the White House butlers because she didn't want them growing up thinking "grown African-American men serve them in tuxedos."
"I also had to beg the housekeepers, 'These girls need to learn how to clean their own rooms and make their beds and do their laundry. You cannot do this every day because they will not live here forever, and I am not raising kids who don't know how to make a bed,''' she told Jenna.
In the Netflix film, Malia reflects on her mother's next chapter after spending eight years in the White House.
She is "no longer facing that same scrutiny — being able to let all of that leave your mind, creates so much more space," she said.
Malia also is seen in footage from backstage during her mother's sold-out book tour, marveling to her at the excitement of the crowds.
"What this has demonstrated in a way just, damn those eight years weren't for nothing, you know?" Malia says. "You see that huge crowd out there and that last kind of speech you gave about - people are here because people really believe in love and in hope and hope in other people."
Michelle also looks back on her life before entering the White House.
"Little of who I am happened in those eight years,'' she says in the film. "So much more of who i am is what happened before."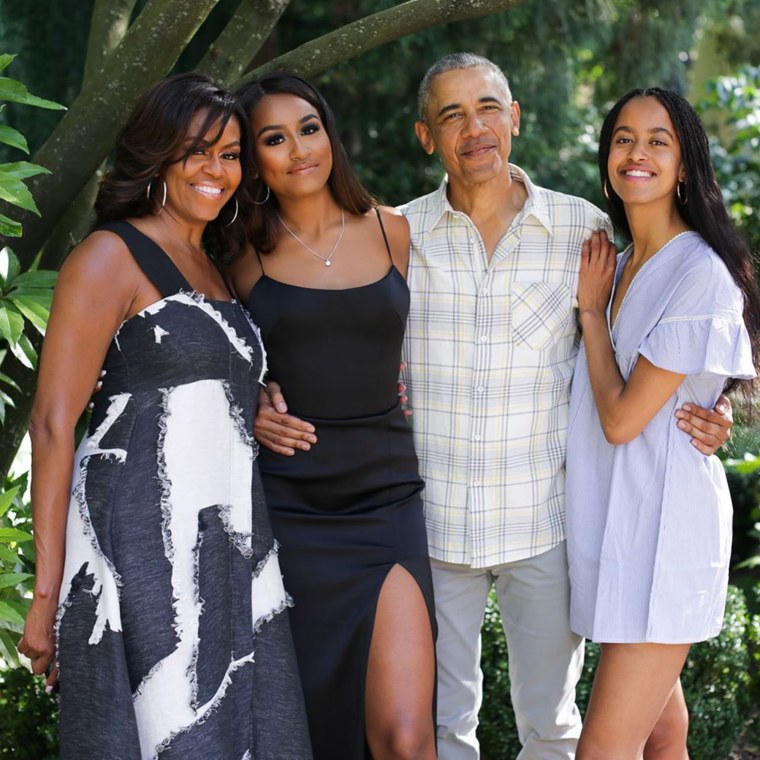 In addition, she shares lessons with the next generation that she has learned over the years.
"You've got to use the tools within yourself to feel visible and to be heard and use your voice,'' she says.
While former President Barack Obama and Michelle are now empty nesters, the coronavirus quarantine has brought their girls back home.
In March, the former first lady told Ellen DeGeneres that the family is in quarantine together and that her girls are keeping busy by completing their online classes.
"There's some good and bad that goes with it. I feel for all the folks who are going to suffer because of what's going to happen to the economy and we have to be mindful about what we're going to do to support those folks when this quarantine is over," she said. "And that is a negative, but on the positive side, I know for us, it's forced us to sit down with each other, to have real conversations — you know — really ask questions and figure out how to keep ourselves occupied without just TV or computers."