Earvin "Magic" Johnson broke down in tears when he spoke to TODAY's Craig Melvin about being part of the ownership group that has taken over the Washington Commanders.
In the interview, which aired on July 21, the NBA legend needed a minute to compose himself when he thought about how far he's come in his career, especially as a "proud Black man."
"You got me choking up now," he said while putting his hand to his chest.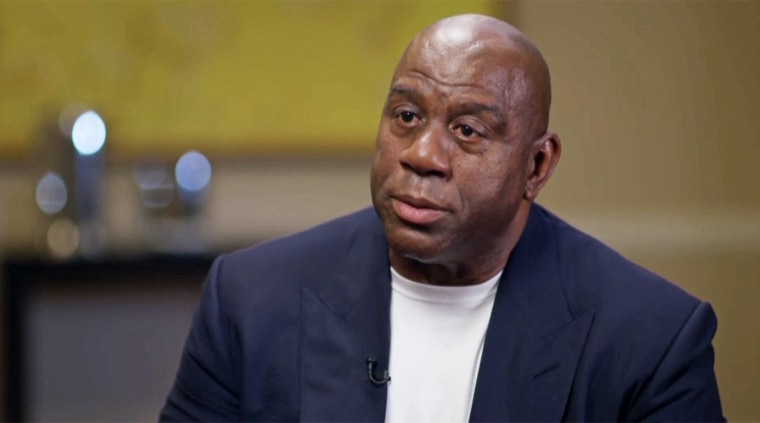 While fighting back the tears, Johnson then put his hand over his mouth and said, "This is a great opportunity and I don't know why God blessed me with these opportunities, but I want to excel, not only for myself, but my family, but for all African Americans, making sure we can see ourself in these seats."
"And I want people to know that we can do the job," he said. "Even sitting here with you now is a blessing."
"Me as well," Melvin noted.
"So, thank you," Johnson said before he shook Melvin's hand and wiped away his tears.
On July 20, Johnson joined a small group of Black owners in NFL —  which include Mellody Hobson and Condoleezza Rice — when the sale of the Washington Commanders went through, granting him a minority stake in the team.
His latest acquisition can now be added to the list of teams he also has ownership stakes in, such as Major League Baseball's Los Angeles Dodgers, Major League Soccer's Los Angeles FC and the WNBA's Los Angeles Sparks. 
At one point, the the former Los Angeles Lakers point guard had a stake with the Lakers, but sold his interest in the team in 2010.
"God is so good…I still can't believe it!" Johnson tweeted July 20. "I am currently living in an answered prayer. Since beginning my journey as an athlete and now businessman and team owner, it's all been a dream that has come full circle."
The sale of the Washington Commanders comes after its previous owner, Daniel Snyder, had been fined $60 million for workplace misconduct.
Snyder was involved in a series of scandals, including allegations of a toxic workplace culture, fines by the NFL and the announcement that the franchise had been renamed the Commanders in early 2022.
While Johnson said his team may look into the possibility of dropping the Commanders' name, he said that right now he's focused on doing the work that will keep everyone "busy."