Did the Magic 8 Ball get into the National Toy Hall of Fame? Signs point to yes.
The Magic 8 Ball, along with pinball and Uno, are this year's inductees into the National Toy Hall of Fame. The honorees were revealed on Thursday.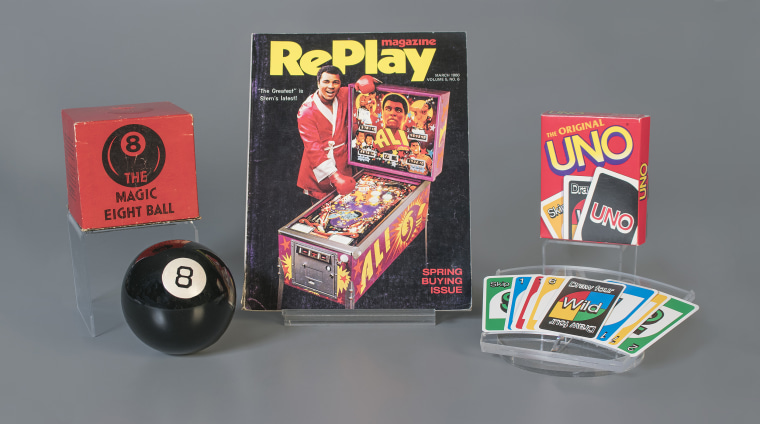 The handheld fortune-telling toy has been telling users if their crushes really like them since it came out in 1946. People ask the ball a question, give it a shake, and look for the answer that floats to its surface. (Hopefully it's a yes!)
Magic 8 Ball, $6, Amazon
Modern pinball machines made their debut in 1931, although the game traces its origins back to a French table game popular in the 18th century.
"Pinball has been enjoying a renewed interest as a new generation of digital natives discovers the fast-paced, kinetic gameplay that's easy to learn but tough to master," said Christopher Bensch, chief curator of The Strong, the museum in Rochester, New York, that's home to the National Toy Hall of Fame.
Celebrate the 100th anniversary of the Toy Industry Association by looking back at some of the most iconic toys of past decades.
The third inductee, Uno, was invented by a barbershop owner in Ohio in 1971. It has fueled countless hours of fun for adults and kids alike as they eye the number of cards in their opponents' decks.
Uno Deluxe Card Game Tin, $14, Amazon
The Magic 8 Ball, pinball and Uno beat out 12 finalists, including American Girl dolls and tic-tac-toe, to enter the National Toy Hall of Fame this year.
Last year's additions to the National Toy Hall of Fame were the board game Clue, the Wiffle ball and the paper airplane. The Magic 8 Ball and Uno were also among the 12 finalists at the time.