Dame Maggie Smith may have co-starred opposite some of film's most legendary leading men, including Laurence Olivier and Rod Taylor, but that didn't stop the 81-year-old actress from gushing about a recent peck on the cheek she received from Leonardo DiCaprio.
DiCaprio planted the smooch on Smith for the BAFTA Kiss Cam during the BAFTA Awards ceremony in London this past Valentine's Day.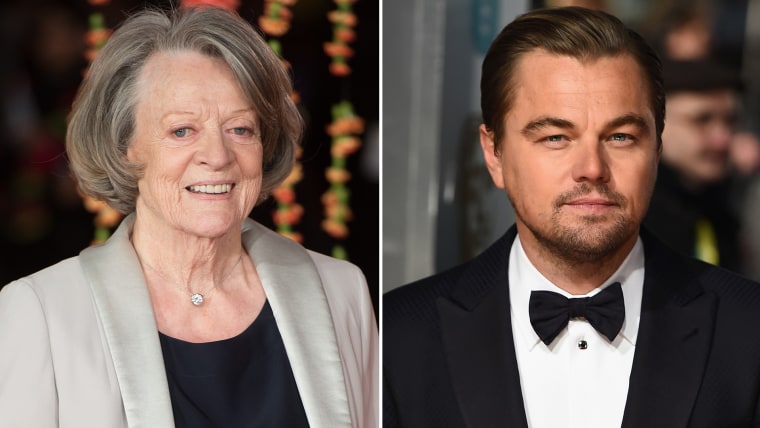 "That was the thrill for me, a real thrill because I think he's a terrific actor," the "Downton Abbey" actress said during a recent interview on NPR's "Fresh Air."
The legendary British film and theater star made no secret of the fact she's very much in Leo's corner this Oscar season, praising the 41-year-old actor's intense portrayal of real-life frontiersman Hugh Glass in "The Revenant."
"I've been rooting and voting for him since '[What's Eating] Gilbert Grape.' I thought he was so amazing in that one. He was a young man, really very young boy, wasn't he?"
DiCaprio endured a grueling seven-month shoot in Alberta, Canada, where temperatures sometimes hovered around 40 degrees below zero.
RELATED: 'Downton Abbey' without the Dowager Countess? Maggie Smith says it's time
The actor also famously ate a slab of bison liver onscreen.
"You just think, God, what he went through in that movie," said Smith, who's nabbed two Academy Awards herself during her critically acclaimed career.
Will this be the year five-time Oscar nominee DiCaprio takes home the best-actor award?
Here's hoping that smooch with Smith brings Leo good luck!