The parents of a British girl who disappeared mysteriously from a rented suite in Portugal during a family vacation in 2007 have signed a deal with a publisher to write a book about the search for little Madeleine McCann.
Kate and Gerry McCann hope to dispel any doubts people may have about the disappearance of their daughter while her younger brother slept and the couple entertained friends. They plan to use proceeds from the book to replenish a fund established to pay for a private investigation into the disappearance, according to the London Daily Mail newspaper.
Titled "Maddie," the book is expected to be released in April 2011, to coincide with the fourth anniversary of Madeleine's disappearance. The McCanns say she was snatched from the Praia da Luz in the Algarve on May 3, 2007, as they dined nearby.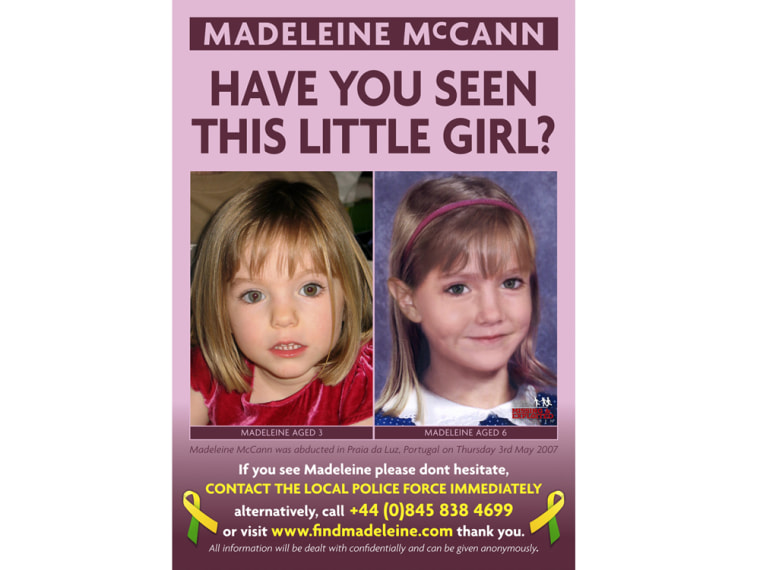 Madeleine's disappearance made headlines around the world. The McCanns' publicity trip throughout Europe and the United States brought in millions of dollars in donations to the Find Madeleine Fund. But early this month, the family announced that the fund was dwindling and was in danger of running out of money in early 2012.
According to the newspaper, Transworld Publishers — the United Kingdom division of Random House — has agreed to pay the McCanns several million dollars to write about their emotional ordeal.
"My reason for writing is simple — to give an account of the truth," Kate McCann, 42, told the Mail. "Publishing this book has been a very difficult decision, and is one that we have taken after much deliberation and with a very heavy heart. However, in the last few months, with the depletion of Madeleine's Fund, it is a decision that has virtually been taken out of our hands."
The book is expected to be an instant best-seller in Europe because of the mystery surrounding Maddie's disappearance. Portuguese police initially suspected that her parents knew something about the little girl's fate, but eventually closed the case and cleared Kate and Gerry McCann.
Meanwhile, the McCanns continue to fight a legal battle against a former Portuguese detective over his allegations that Madeleine died in the rented apartment while her parents were out. The book alleges they faked the abduction, a charge the McCanns have steadfastly denied.