The "Mad Men" creator and cast finally dropped some hints about what we can expect when the long-awaited sixth season finally debuts April 7.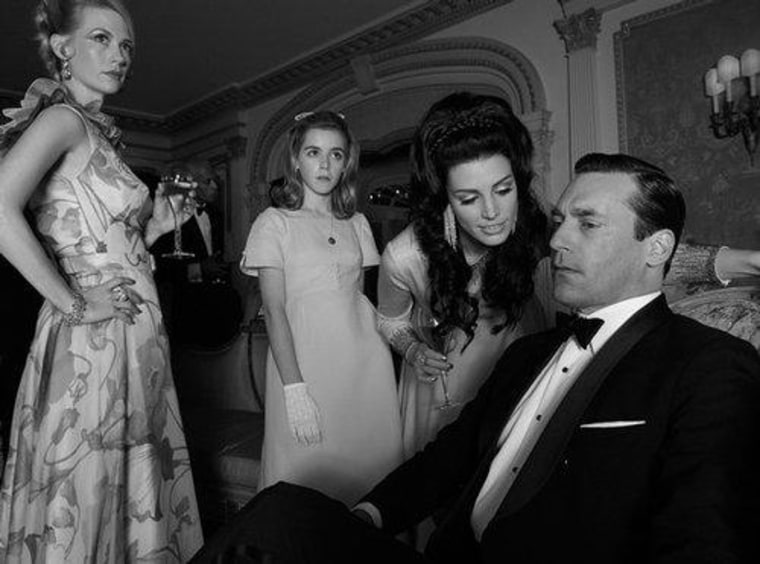 "It's not what you think is coming," teases Jessica Paré, who plays Don Draper's second wife, Megan, in a behind-the-scenes featurette. "It's not coming in the way you thought it was coming. It's probably not coming at all. Unless you were expecting more great costumes and more big hair."
Big Betty, however, is no more. Guess that grapefruit diet paid off, because January Jones' alter ego is showing off a svelte figure in a new promo picture.
Although the still -- a formalwear shot featuring Don, Megan and a very mature-looking Sally Draper -- is in black and white, the new behind-the-scenes video captures the garish getups of the era.
Rich Sommer, who plays Harry Crane, sports a hideous brown shirt, brown and burnt orange striped tie, a brown and white checked blazer and giant -- you guessed it -- brown glasses.
"It's certainly one of the more exciting seasons," Sommer enthuses about the series' sixth installment. "There's a lot of stuff happening that would never have happened on the show three or four years ago."
Notoriously secretive showrunner Matthew Weiner coyly adds, "We left off in 1967 -- there is no year left between now and then that is not filled with upheaval."
Weiner also promises "a lot of insight into Don, a new dynamic, and people striving to grow up."
"There are definitely two sides to life," notes Hamm. "The part of life that is public and the part that is private. A little bit what we're trying to do is sort of pull back the curtain."
The curtain will finally open on "Mad Men's" sixth season Sunday, April 7 at 9 p.m. on AMC.
What year will we see on the "Mad Men" characters' calendars this season? Share your guesses on our Facebook page!
Related content:
More in The Clicker: