After eight years and 15 Emmys, the final episodes of "Mad Men" are set to kick off in just a couple weeks — which leads to the inevitable question: How will the whole thing end?
Probably not with a bang. "Mad Men" isn't that kind of show, and as creator Matthew Weiner noted on TODAY Monday, there's "no big secret" to be revealed. But we're still panting to know the final fates of characters we've been faithfully following for the last eight years.
And there was plenty still to learn when Weiner joined cast members January Jones (Betty), Christina Hendricks (Joan), Jon Hamm (Don), Elisabeth Moss (Peggy) and John Slattery (Roger) for a special TODAY chat ahead of those final episodes! Here's the hard sell on what we found out:
1. Don Draper's fate was revealed (to Jon Hamm) four years ago.As the actors chatted about their characters' final outcomes, Matthew Weiner admitted that he revealed Don Draper's to Jon Hamm four years ago.
"I just thought that turning Don into a zombie was a weird choice," joked Hamm. "I mean, I thought, like yeah, it is a thing, he is ahead of the curve ... Are we broadcasting now?"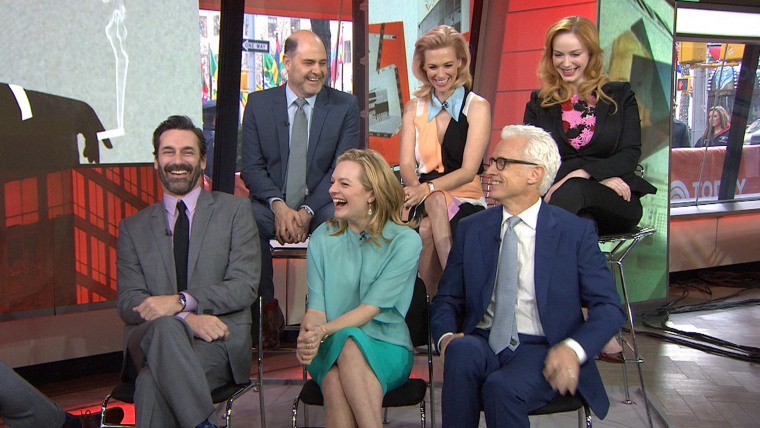 2. The ending is important, but it's not the most important thing about the show."I hope not," said Weiner about whether the finale can make or break the series. "There's 92 hours of it; I'd hate for one hour to undo that. But that is your worst nightmare."
3. Weiner knew the show had hit the big time once Halloween rolled around."I saw — and I predicted this — I said if we see a man dressed as Joan at Halloween we have made it," said Weiner.
"That was me," quipped Hamm.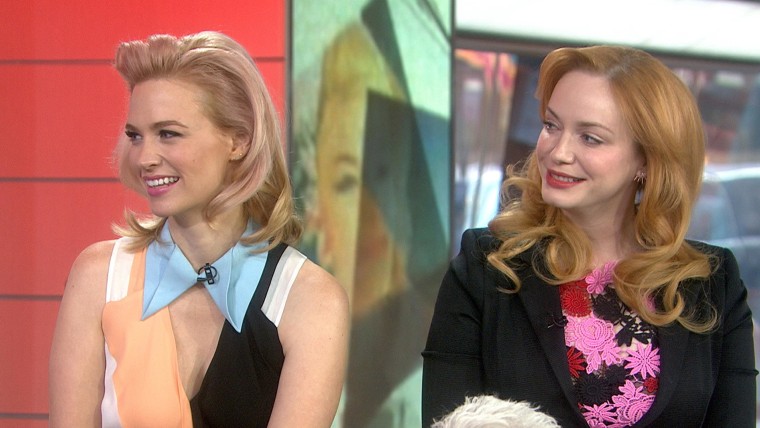 4. Most of the series' focus has been on Don, but Peggy's story may be the show's real heart."I've always viewed this very much as Jon's story and then the rest of us," said Moss.
But noted Hamm, "I've always said that it's not a mistake that the series starts on Peggy's first day at work. I think it is very much these parallel lines that are running through this very particular place in this very particular time, these two parallel tracks on how people get ahead in that time."
5. So, will there be a "Mad Men" movie down the road?Don't ask the cast; no one exactly jumped at the notion. (Though until we see how the show ends, there could be many reasons for that.) But Hamm might be up for it. "For how much?" he asked.
For fans, there is no price that's too high to pay.
Bonus: When the cast returned to talk to Kathie Lee Gifford and Hoda Kotb, they informed us what little mementos they scampered away with from the set! Moss left with Peggy's famous red thermos; Hendricks made off with several things from Joan's apartment, like a serving tray and a picture; and Slattery took the desk lamp from his Roger's office "with permission."
As for Hamm? He admitted, "I didn't take anything. ... I was very nervous because I wanted to take everything so I figured I'd better just take nothing."
Nothing but memories, that is.
"Mad Men's" final episodes begin airing on April 5 at 10 p.m. ET on AMC.