Could "Mad About You" be the latest hit '90s sitcom to enjoy a revival?
It's looking more and more like it could happen, as The Hollywood Reporter cited sources saying that Sony Pictures Television Studios has had informal talks of bringing back the NBC hit with stars Paul Reiser and Helen Hunt.
Reiser, 61, left the door open for a possible return of the Emmy-winning comedy, which aired for seven seasons before signing off in 1999, in an appearance on TODAY last month.
"For years, I've said no," he said. "Now I'm thinking it's possible, maybe."
The show followed the lives of newlyweds Paul Buchman (Reiser) and Jamie (Hunt), who were shown handling their early years of marriage and, eventually, a daughter.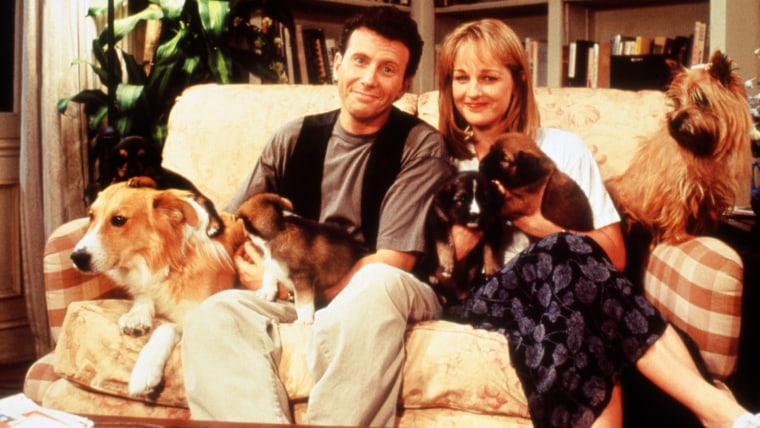 The revival would be set in the present day and follow Paul and Jamie's lives after their 17-year-old daughter went off to college, according to The Hollywood Reporter, which notes a network is not yet attached to the potential project.
Reiser has been busy with a part in "Stranger Things 2" on Netflix this fall as well as the recently concluded show "Red Oaks" on Amazon.
However, the proposed empty-nest plotline on a "Mad About You" revival could be appealing because it mirrors his real life.
"Now my kids are on the way out of the house, and it's sort of like starting over," he said on TODAY. "Maybe there's a story there."
The 1999 series finale flashed forward 22 years into the future to show the couple's ups and downs, but ignoring the original ending hasn't been a problem for other popular sitcom revivals.
The upcoming "Roseanne" revival features Dan Conner (John Goodman), who supposedly died of a heart attack in the original ending. The return of "Will and Grace" also glossed over some plot points from its original ending in 2006.
Follow TODAY.com writer Scott Stump on Twitter.