Before you dive into your traditional dinner, celebrate turkey day by tuning into Macy's Thanksgiving Day Parade.
The parade is returning for its 97th edition this year, and this year, will feature four new floats. It will air on NBC and Peacock from 8:30 a.m. to 12 p.m. in all time zones on Thanksgiving Day, hosted by TODAY's Savannah Guthrie, Hoda Kotb and Al Roker.
Leading up to the main event, NBC will air an hourlong live special, "Countdown to Macy's Thanksgiving Day Parade," hosted by Amber Ruffin on Wednesday, Nov. 22 at 8 p.m. ET.
The show will give viewers an all-access look at what goes into creating one of the biggest Thanksgiving Day events from the Macy's Parade Studio, the production facility where the floats, balloons and costumes are stored. Savannah, Hoda and Al will also join the preview special, sharing their favorite parade memories from over the years.
Ahead of the Thanksgiving Day festivities, Macy's announced on Nov. 1 pop icon Cher will perform to usher in the holiday season and that the Nov. 23 parade will be extended by 30 minutes for more entertainment and spectacle.
Read on to find out more about the lineup, which is set to feature 5,000 volunteers, 16 character balloons, 26 floats, 32 heritage and novelty balloons, more than 700 clowns, 12 marching bands, nine performance groups, plus the biggest stars in music — and Santa Claus himself.
How to watch the parade?
Parade fans can watch the telecast on NBC, or stream it live on Peacock from 8:30 a.m. to 12 p.m. in all time zones on Nov. 23. NBC will re-air an encore telecast at 2 p.m. ET.
Peacock has a free version, which viewers can sign up for here.
The Spanish language simulcast on Telemundo will be hosted by the network's daytime personalities, Carlos Adyan and Andrea Meza.
For the visually-impaired, the full broadcast, with additional audio narration, will be available on the Secondary Audio Program channel (SAP).
What are the four new floats?
TODAY's Dylan Dreyer got an exclusive first look at the floats in the Macy's parade studio in Moonachie, New Jersey, on Nov. 14 with Will Coss, the executive producer of Macy's Thanksgiving Day Parade.
"All the floats here at the parade are about 12 months of work, from early design sketches all the way through our engineering phases," Coss said on TODAY. "Then we head into our internal structural developments, our carpentry, our paint, our sculpt. Everything you'll see here today is hand-painted, hand-sculpted, hand-fabricated by the talented artists here at Macy's studios."
Dylan first took a look at The Deliciously Delectable World of Wonka by Warner Bros. Pictures float, which is inspired by Willy Wonka's first candy shop and features 500,000 pieces of prop candy, from a giant cherry tree to tiny sweets throughout the float.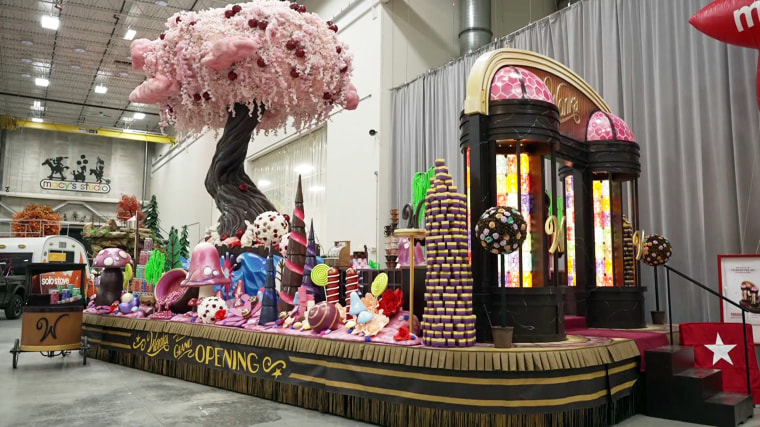 Next she was surrounded by the four Teenage Mutant Ninja Turtles on the Teenage Mutant Ninja Turtles: Mutant Mayhem by Nickelodeon & Paramount float, a two-story structure that stands about 28 feet tall.
During the parade, Leonardo, Donatello, Raphael and Michelangelo will scale the float, but before it arrives in Manhattan, it must be transported through the Lincoln Tunnel. The float has 11 hinges installed to be able to fold down and fit through the tunnel.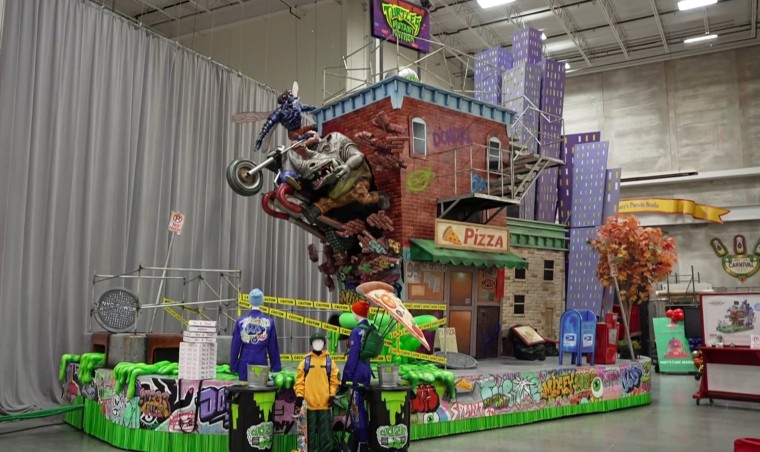 "At its top height it's 28 feet, but this will pack down to about 12 feet by 8.5 feet — about the size of a city bus. So we'll take this, we'll pack it down, we'll get it through the Lincoln Tunnel and then rebuild it on parade morning," Coss said.
Dylan also got to see the Palace of Sweets by Brach's float, a giant gingerbread house that stands about 30 feet tall that features a 25-foot rotating Christmas tree, a conveyor belt that brings candies from the bottom of the float to the top and windows for kids to wave to the parade's spectators.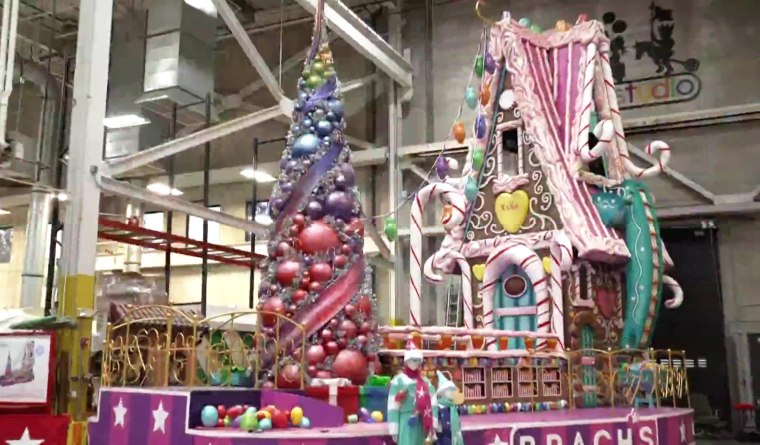 "We love this pop of color — (it) brings a little bit of joy and excitement to the parade route," Coss said.
Last but not least, Dylan took a look at the fourth new float for 2023: Igniting Memories by Solo Stove, which brings a camping environment to New York City with a natural rock formation and seating area.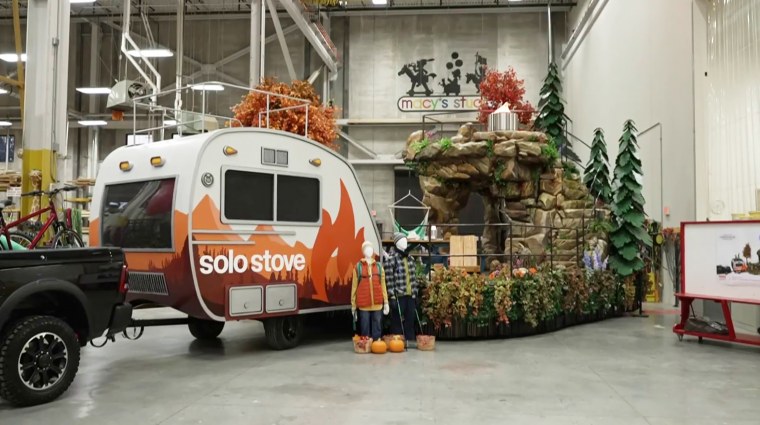 Macy's has used 2,000 gallons of paint, 300 pounds of glitter and 200 pounds of confetti to create all of the floats.
What else is new to the 2023 parade?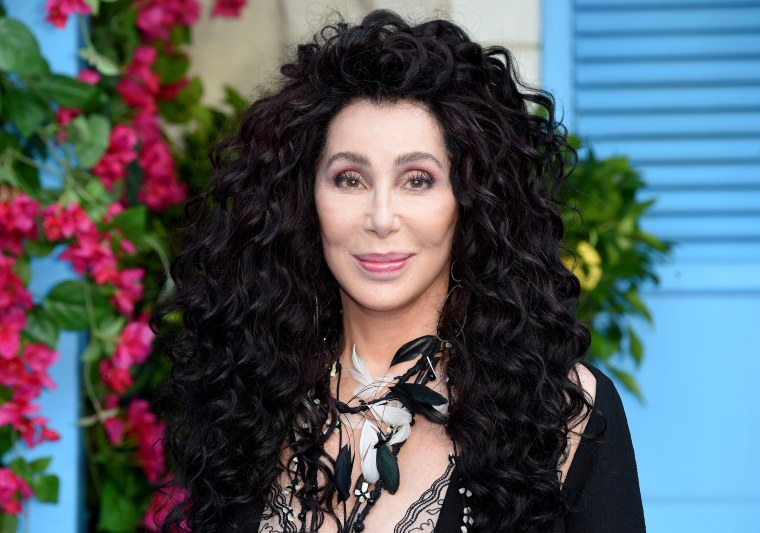 In addition to the four new floats, Cher is set to perform a new holiday hit to kick off the season on 34th Street, according to the parade. The singer recently announced she recorded her first Christmas album.
In addition to Cher's iconic performance, seven new character balloons will take flight in the parade; Beagle Scout Snoopy by Peanuts Worldwide, Blue Cat & Chugs by Cool Cats, "Kung Fu Panda's" Po by Universal Pictures' Dreamworks Animation, "Leo" by Netflix, Inc., Monkey D. Luffy by Toei Animation Inc., Pillsbury Doughboy by Pillsbury; and Uncle Dan by Illumination.
A new vehicle is also set to roll down the streets of New York City: the "Good Burger" Mobile!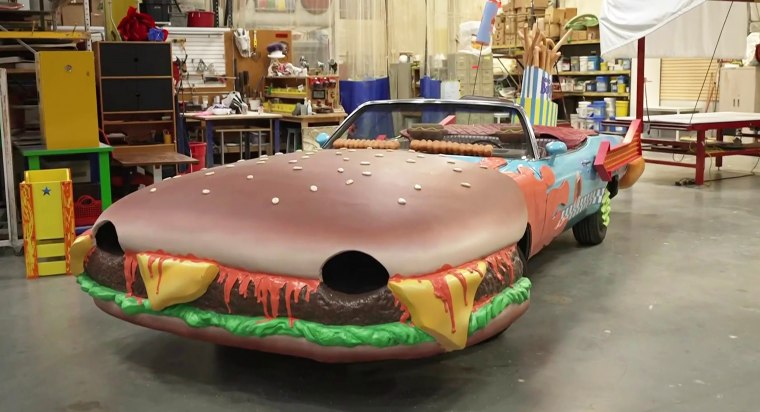 "(It's) not every day there's a giant burger vehicle making its way down the parade route but we're excited to welcome our friends at 'Good Burger' celebrating 'Good Burger 2,'" Coss said. "It's the largest burger that's ever been a part of the parade — 5,000 pounds in its true form, which is about 1,500 actual little Good Burgers."
"Good Burger 2" stars Kenan Thompson and Kel Mitchell will join the vehicle on parade day, Coss said, and TODAY's Al Roker chimed in that he has driven the vehicle himself.
What time does the parade start?
The Macy's Thanksgiving Day Parade is scheduled to begin on 77th Street and Central Park West at 8:30 a.m., 30 minutes earlier than ever before in New York and on the broadcast.
The procession will march down its signature 2 1/2-mile route, heading down Central Park West to Columbus Circle, before turning onto Central Park South and then marching down 6th Avenue.
At 34th Street, the parade will make its final turn west and end at 7th Avenue in front of Macy's iconic Herald Square flagship location, and the festivities will wrap up by 12 p.m.
Who is performing?
Jon Batiste is set to kick off the festivities, and Cher will also perform during the parade.
Other artists include Bell Biv DeVoe, Brandy, Chicago, En Vogue, ENHYPEN, David Foster and Katharine McPhee, Drew Holcomb and The Neighbors, Jessie James Decker, Ashley Park with the cast and Muppets of Sesame Street, Pentatonix, Paul Russell, Amanda Shaw and Alex Smith and Manuel Turizo.
The Big Apple Circus, Cornell Bhangra, Tiptoe's Winter Guard, the world-famous Harlem Globetrotters, Maria Verdeja School of Arts dancers, St. John's Dance, the Tap Dancing Christmas Trees, Spirit of America Dance and Spirit of America Cheer are also on the performance lineup.
More than a dozen floats will transport the performers down the streets of Manhattan, and 12 marching bands are set to hit the streets as well.
Which balloons will be there?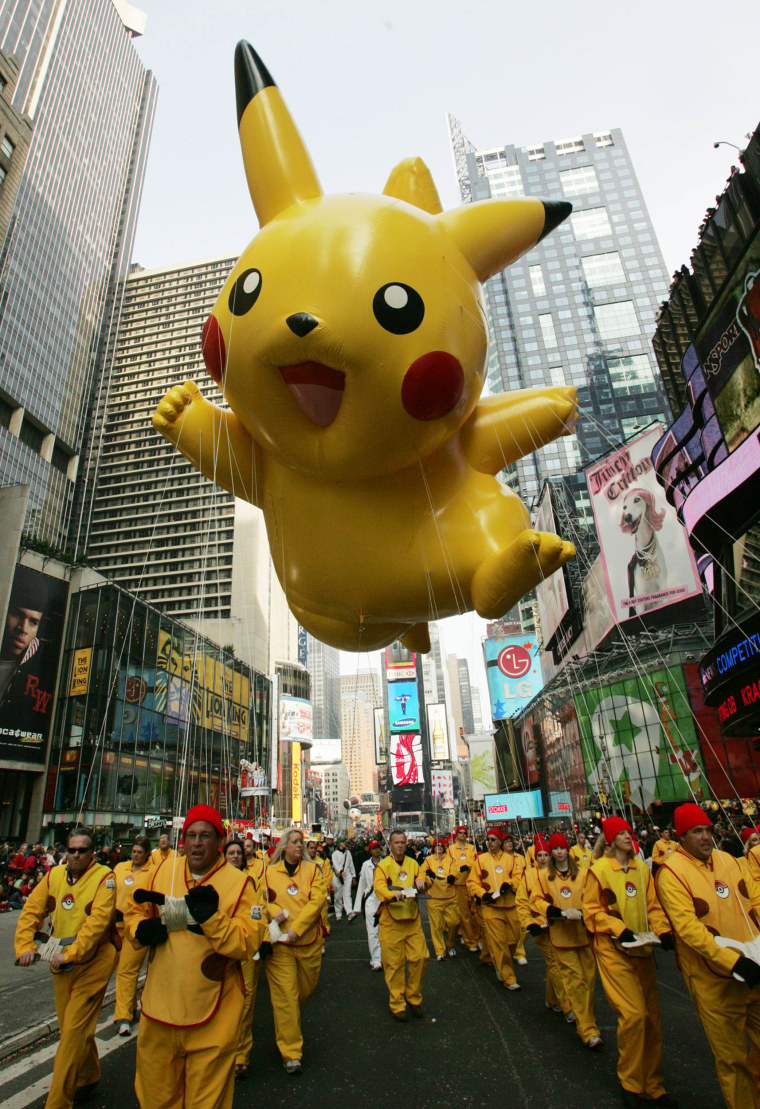 In addition to the seven new balloons, fan favorites like SpongeBob SquarePants and Pikachu will also be making return appearances.
"Diary Of A Wimpy Kid," DINO and Baby DINO, Goku, a Funko Pop!-inspired Grogu, Chase from "Paw Patrol," Eevee, Red Titan from "Ryan's World," Ronald McDonald, SpongeBob's Gary and Stuart The Minion are also among the balloons set to return to the skies above NYC.
(Peacock is part of TODAY's parent company, NBCUniversal.)