Luke Perry now plays the father of a teen in prime-time, but back in the '90s, he was the bad boy of television's hottest teen drama, "Beverly Hills, 90210."
And as it turns out, Perry's days as the brooding Dylan McKay may not be completely behind him.
During a Friday morning visit to TODAY, the "Riverdale" star said he'd go back for a reboot of the beloved series, if only he could go back to Dylan's 'do, too.
"I'm gonna see if I can get that hair standing," he said as he raked his fingers through his hair to boost it to a Dylan-worthy pompadour. "Yes, if I get the hair back up."
Seriously, though, hair has nothing to do with it. He's really ready to head back to Beverly Hills and hang out at the Peach Pit again.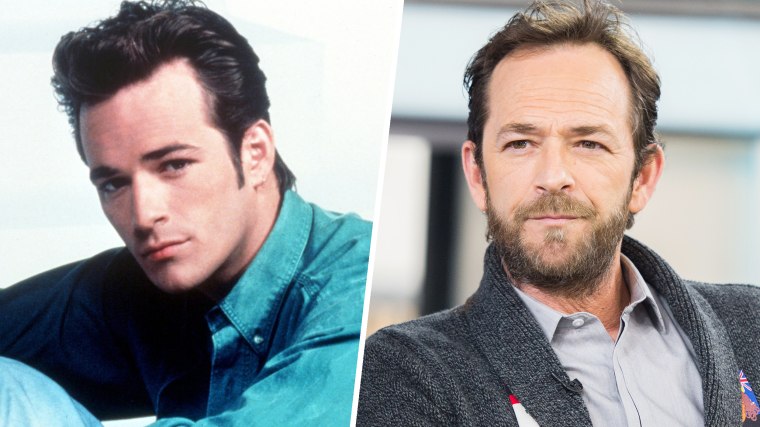 "We have talked about it recently," Perry revealed. "I very much would be interested in doing it this time."
And this time, he's not talking about a reworking for the next generation, like the previous "90210" reboot. Perry wants to get the old gang back together.
"I'd like to go back and work with my guys," he said. "Yeah, I've been doing something else and that's been fun, but I'd love to do scenes with Shannen (Doherty) again."
RELATED: AARP salutes Luke Perry at 50, reminds us we're no longer teens
Just imagine that: Dylan McKay and Brenda Walsh, together again!
Doherty's currently battling breast cancer — a battle she's shared with fans — but she hasn't let that slow down her on-screen work. She has several projects in the works, including a TV reboot of the cult-favorite '80s flick "Heathers."
At a "Beverly Hills, 90210" fan event in November, Perry credited Doherty with being one of the most important parts of the whole show.
"None of us are up here today without Shannen," he said.
So maybe a Dylan-Brenda reunion isn't too much to hope for. And if a full reboot ever happens, Perry assured us it would have the blessing of the show's late creator, Aaron Spelling.
"He wanted to do that 15 years ago," the actor insisted. "The boss wanted a reboot."