Veteran actor of stage and screen, Gavin MacLeod is invariably best remembered as Captain Merill Stubing on the beloved television series, "The Love Boat" and Murray on "The Mary Tyler Moore Show." In "This is Your Captain Speaking," MacLeod recalls his remarkable life and career. Here's an excerpt.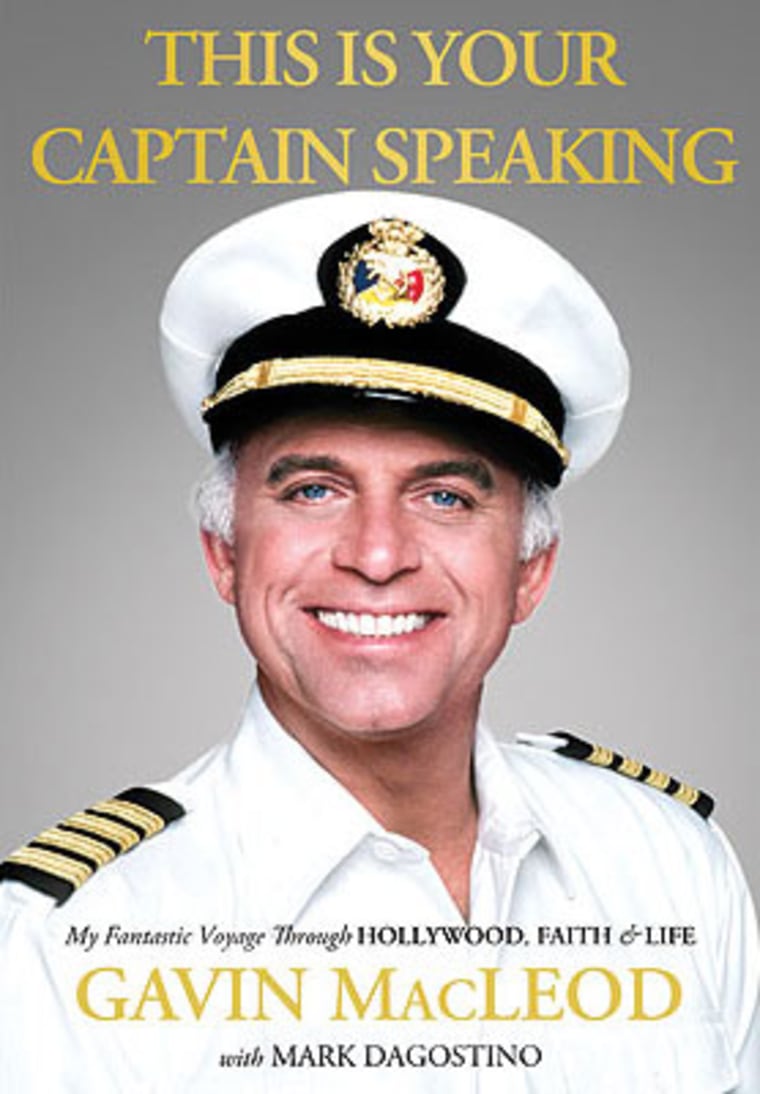 Manhattan was only thirty miles south of Pleasantville (my hometown), but it might as well have been a million miles away. How do you find a job with all those millions of people? How do you find an apartment? I only had one "in" that I knew of, so I gave it a shot.
Vince Klemmer, a friend of mine who was a very good actor and looked a little like a young Kirk Douglas, had quit college in his second year to move to New York City. I heard he had landed a job as an electrician at Radio City Music Hall, so I gave him a call and said, "Vince, think you can help me out?" He said, "Yeah! Maybe I can get you a job as an usher."
Lo and behold, just like that, he did.
It didn't take long before they promoted me to elevator operator at Radio City and raised my salary to thirty-seven dollars a week. And one day, who should step into my elevator but Lucille Ball and Desi Arnaz! I was speechless. I had to be speechless; I was working. I wasn't supposed to talk to people like that. But wow, what a thrill to be the guy to take them up in my elevator for their big movie premiere. To be standing inches away from two of the most famous people in the world was breathtaking.
I lived for those sorts of thrills, because let's face it, on that kind of salary, New York was a struggle. All I could afford to eat some days was a roll. The delis would let you take as much butter as you wanted, so I'd pile on the butter and make it a meal. I couldn't afford to get a sandwich from the Horn and Hardart Automat in Times Square, but the ketchup there was free. So like some of the other struggling actors, I learned to take some ketchup and mix it with hot water, which was also free, and to savor that tasty "ketchup soup." Other days, when I just couldn't take it anymore, I'd buy myself a hot dog. I'd pile on the mustard and relish and onions and sauerkraut, whatever they had to offer on the side of the hot dog cart, as much as I could, knowing it would be my meal for the whole day. Man, if hot dogs made me happy before, you should have seen how happy they made me then. The hot dog vendors must've thought I was a crazy person the way I oohed and aahed and mmmed!
It really didn't feel like that big of a struggle at the time. I was young. I was happy to get to work in that magnificent building. I was thrilled to go to work each day and be near so much talent, including those beautiful Rockettes—even if they hardly ever took a second glance at the bald kid working the elevator.
The problem was that agents weren't giving me a second glance either. I went all over town looking for an agent, but no one was interested in representing a young man with a baldhead. I had no idea what a problem it would be. Back at Ithaca, I played older guys all the time. But here, in the real world? Older guys played older guys, and no one wrote parts for a twenty-two-year-old who looked like me.
I knew what I needed to do. I needed to buy myself a hairpiece.
Hairpieces were something special. A good one cost a lot of money. I knew that. I kept putting money aside, but after saving for what felt like forever, I could only come up with a measly twenty-five dollars. My roommate Vince, who was such a great guy and was doing pretty well for himself as an electrician, saw me struggling. He knew how badly I needed that hairpiece, and would you believe he gave me a hundred dollars out of his own pocket to go get some hair? "I can't have a roommate with no hair anymore. I'm sick of it!" he told me. Ha! Combined with my own savings, I was sure I could afford any hairpiece I wanted. I was so grateful and excited.
I ran right down to a place called Senz Brothers, somewhere between 50th and 60th Streets, and climbed the narrow wooden staircase to the second floor. I was greeted by a man with a shaved head, which was startling. You didn't see many fully shaved heads in those days.
"Hello there," he said. "I'm Ziggy. Can I help you with something?"
I swear, for the rest of my life, anytime I've gone into a hair place there's a guy name Ziggy. Anyway, I said, "You sell hair. I need hair!" So Ziggy walked around and looked at my head and said, "Well, I tell you, it'll cost between five hundred and six hundred dollars."
I was shocked. "All I have is a hundred and twenty-five dollars," I told him, and he basically replied, "Tough. Come back when you have five hundred!"
I explained that I worked at Radio City making thirty-seven dollars a week, and that I couldn't get an agent because of my bald head, and that it would take me forever to save that kind of money. But he wouldn't budge. So I left, dejected.
As I was walking down the stairs, I heard, "Hey, kid. Come back up here."
I turned around and followed Ziggy to the back of the shop where he pulled open a curtain to a room with a long table, and on that table was a block with a hairpiece. He said, "Sit down there." He was very bossy. I sat down and he put it on my head. "What do you think about that?"
I swear it was like looking into a magic mirror. Are you kidding? "It looks fantastic!" I said. (To tell you the truth, if it had looked like a bird's nest it wouldn't have mattered to me. It was hair!)
"If you want it," he said, "you can have it for a hundred twenty-five."
"How come?" I said. "You told me five hundred."
"The truth is, somebody came in this morning to get a new one. He didn't have any use for this. He left it here. So I'll let you have it for a hundred twenty-five."
I pulled that money out so fast. I thought, Oh boy! Wait 'til the Rockettes see me now!
I was curious about something, though. Before I left I said, "Ziggy, if you don't mind me asking, who did this hair belong to?"
"I can't tell you that!" he said. "That's private information." I shrugged my shoulders and started to leave, and two seconds later he said, "You really want to know? It belonged to Andre Baruch."
"No kidding!" I said. Andre Baruch was a famous radio personality in New York who was known for his deep, booming voice. I swear to you, from that moment forward, I spoke with a deeper voice whenever I wore that hairpiece.
Decades later, I told the story of my secondhand hair on The Tonight Show. A week later, I got a call on the set of The Love Boat. "Gavin, there's a phone call for you." I asked who it was. "Somebody named Baruch?" I thought, Wow! I picked up the phone and there was that big, booming voice: "Gavin, this is Andre Baruch!" I said, "Oh, what an honor for you to call me." And he said, "Bea and I are in town now, and I'm wondering: Would you be interested in another hairpiece?" We laughed and chatted, and he invited me down to Florida. He and his wife, Bea Wain, who was a major singer during the big band era, had a radio show down in Florida, all those years later. The whole thing was just a hoot.
Anyway, that was that. I now had hair.
Coincidence or not, life changed pretty quickly for me after that. For one thing, I caught the eye of one of those Rockettes!
This excerpt was provided by W Publishing Group, an imprint of Thomas Nelson.