The famous, the infamous, and the average Joes all meet in the biography and memoir section.
Among the famous: George W. Bush and family, the subject of many books to date, with more likely to come. Leader of the infamous? Disgraced New York Times reporter Jayson Blair, whose book has stirred up all kinds of controversy — but garnered few positive reviews.
But sometimes it's the average Joes who produce the most interesting books. Danny Wallace was an ordinary Brit who decided to start a cult of his own. Peter Smith used his own love of the Beatles to reach out to his young son. Memoir and biographies can take us behind the velvet ropes and the mansion doors, but they can also drop us into an absolutely ordinary life and make it absolutely fascinating.
Murder in the OzarksThere are good true-crime books, and there are bad true-crime books. You can recognize the bad ones a mile away — they're usually paperback, sometimes rushed out within weeks of a verdict, and often feature the word "BLOOD" in the title and the phrase "16 pages of shocking photos!" on the cover.
"Almost Midnight: An American Story of Murder and Redemption," by Michael W. Cuneo (Broadway Books, $24.95), is one of the good ones.  (Although to be honest, it could have used a non-shocking photo or two — when you read 300+ pages about a real person, you're curious to see what he looks like.)
Cuneo tells the story of a triple murder in rural Missouri, but it's an unusual one in that the victims are not portrayed as saints, nor the murderer as the devil. Darrell Mease was a Vietnam vet who turned to drug dealing, and when his life is threatened by Lloyd Lawrence, a local meth kingpin, he kills the man, as well as his wife and grandson, who happen to be there.
Mease is a product of the American Ozarks, and Cuneo transports readers to this colorful region, bursting with natural beauty and also dank poverty, where cockfights and dogfights are regular entertainment. When Mease gets on the wrong side of Lawrence and flees with his young girlfriend, his worried and broke days on the road are so sharply described you'll give thanks for your warm bed and full pantry.
Mease's case took a bizarre turn after he was convicted and sentenced to death. His execution was set for the same day that Pope John Paul II was set to visit Missouri. The state tried to juggle the execution date to avoid embarrassment, but that only led to the Pope personally asking Missouri's governor for clemency.
While every detail of cases like Laci Peterson's are splashed over the nightly news, the Mease case would have been known only to Missourians if not for Cuneo's book. It's a fascinating — and often chilling — read.    —Gael Fashingbauer Cooper
Royal familyThe very title of "American Dynasty: Aristocracy, Fortune, and the Politics of Deceit in the House of Bush" (Viking, $25.95) guarantees author Kevin Phillips an audience of W.-haters and conspiracy theorists.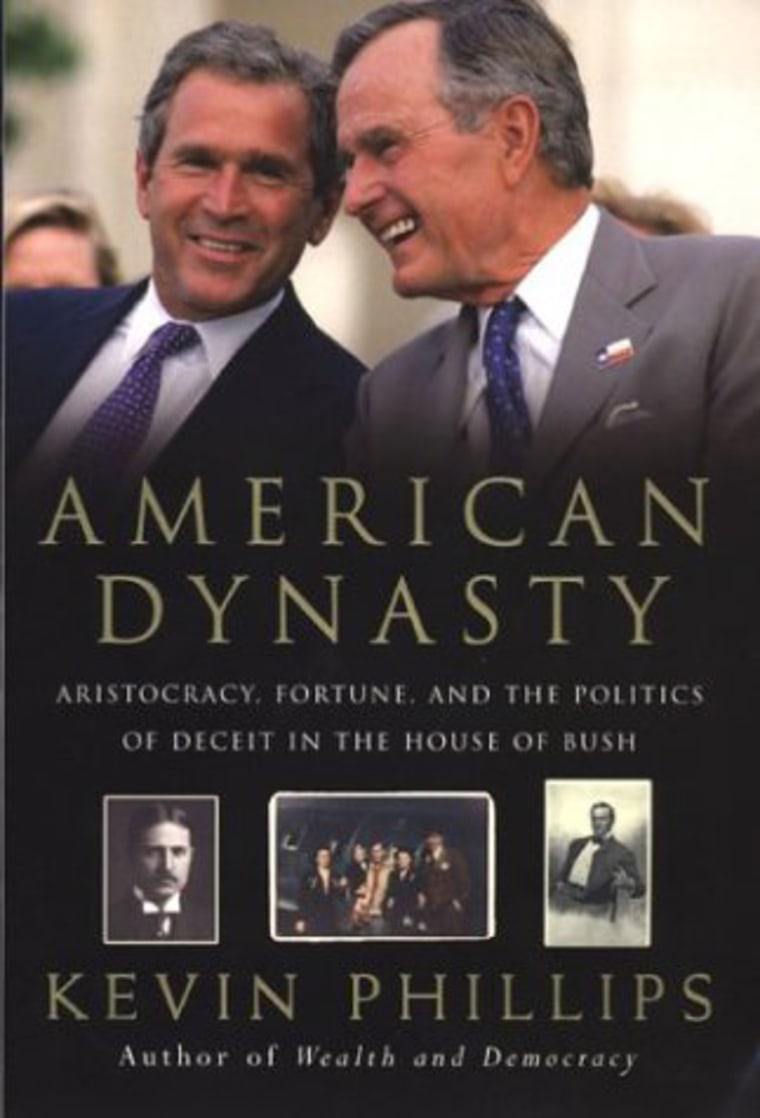 Phillips presents a thorough exploration of the Bush family's continued relationship with and influence on the political fortunes of the United States.  The extent of that relationship and influence is remarkable, stretching back several generations, and Phillips' comprehensive catalog of connections between Yale, oil money, covert ops, and so-called democratic process triggers a distinct sense of discomfort.
But those connections should engender a much stronger reaction — and would, if Phillips didn't tend to marshal too much information in support of his points, burying his conclusions in background material and at times pulling the timeline confusingly off-track.  For every sharply observed remark, Phillips furnishes a not-brief-enough synopsis of Texan history, or a long-winded description of 1980s consumer culture.
Andrew Jackson's presidential campaign isn't irrelevant, in context, but the Bush family's historical ties to power provide plenty of food for thought on their own.  While Phillips dutifully records every one of those ties, a tighter edit would have focused the narrative — and the reader's attention.    —Sarah D. Bunting
Playing with fireJayson Blair's infamous memoir, "Burning Down My Masters' House: My Life at the New York Times" (New Millennium, $24.95), tantalizes with its first sentence: "I lied and I lied — and then I lied some more." With that kind of tease, readers can pick up the book hoping for a lesson in how modern journalism can go wrong, or they can pick it up hoping for a juicy tell-all and a bit of schadenfreude.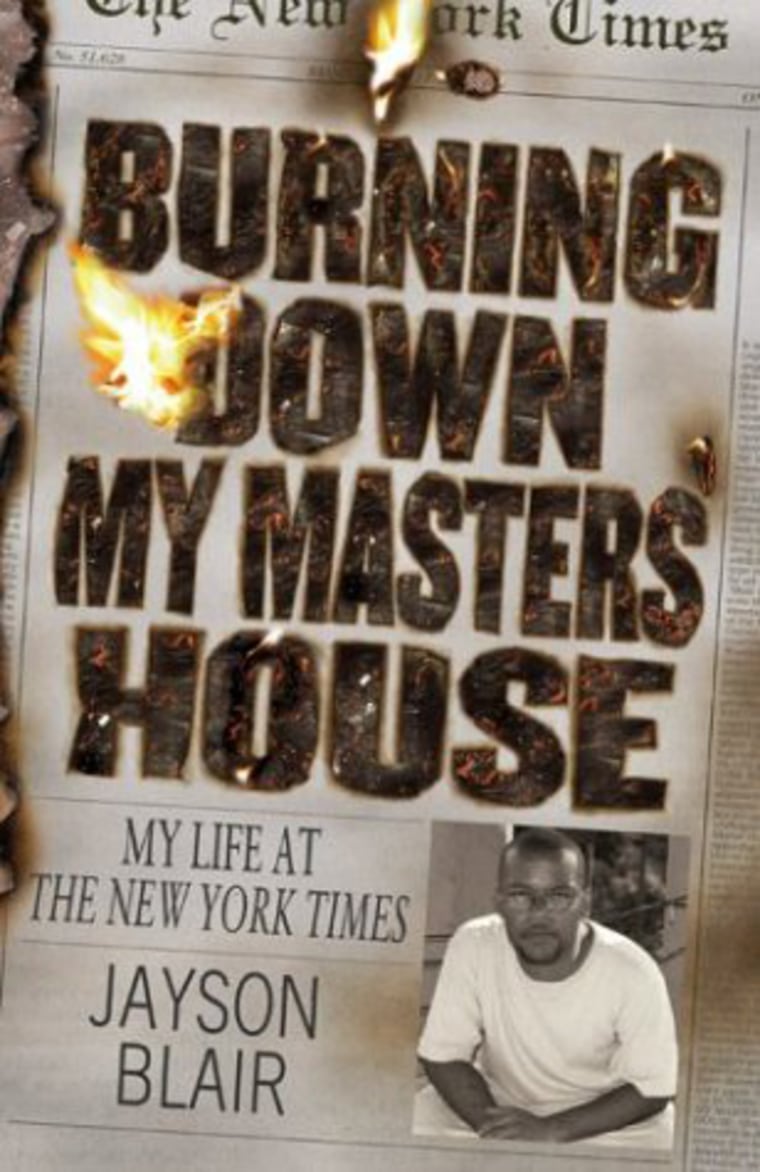 They'll be disappointed either way.
Lesson? Blair doesn't seem to have learned one, why should we? He spends much of the book prying around other journalism scandals at the Times and elsewhere, failing to realize that this doesn't make his lying go away.
Juicy tell-all? In almost 300 pages, Blair rarely offers the details of how he sat at his computer and decided to make up facts. Oh, we get plenty of random details — pages and pages about a Caribbean vacation Blair took, or details about Care Bears figurines he bought for his computer. But except for a short bit about how he used the computer photo database to help him describe places he's pretended to have seen in person, his crimes happen offstage.
Until he's caught, he doesn't seem to have a whit of remorse, even for lying that he had a relative killed on Sept. 11 or plagiarizing a story about a soldier missing in Iraq. He worries endlessly about the treatment of his girlfriend, yet doesn't seem to care about those he lied about in his stories.
Readers who want either a lesson or gossip should look elsewhere. After all, being caught reading the National Enquirer isn't as bad as being caught reading this book.    —G.F.C.
Tune in
In "40 Watts from Nowhere," (Scribner, $23) author Sue Carpenter launches a pirate radio station, squatting on the San Francisco dial and later moving the operation to LA.  She's motivated more by a vague dissatisfaction with commercial radio than a burning passion for music or the public interest (she owns only a dozen CDs and never reads the newspaper because it's "depressing.")
Carpenter has a bevy of assistants who assemble the transmitter, mount the antenna, and provide programming, although she seems unappreciative of them, dismissing a tech who donates his time and equipment as an overweight, sweaty geek, "clearly a square peg in my hipster circle." 
Her main contribution to KBLT, other than providing a room in her apartment and some capital (both of which she virulently resents sharing) seems to be thinking up cutesy sandwich-based call letters. 
"I was just so pleased with myself for coming up with that one," she says of her SF station, KPBJ.
KBLT's big claim to fame is a live, in-studio performance by the Red Hot Chili Peppers, but Carpenter neither arranged nor even attended this session.  When Beck's publicist sends her magazine a prerelease cassette of "Odelay" she swipes it and puts it into constant rotation, smugly referring to this appropriation as "my greatest triumph," although it seems more like an abuse of her position as a journalist.
From the book's opening, burdened with the dull, faux-breezy introduction "All right.  Where was I?  Ah, yes, typing," to its embarrassingly anticlimactic ending wherein Carpenter essentially hands herself over to the FCC, this is a story that seems like it ought to be exciting, but simply isn't.    —Kim Rollins
Joining in
With the advent and success of "social software sites" sites such as Friendster, Tribe, and Orkut, it's become evident that young people are thirsty to join anything, regardless how nebulous its purpose. Danny Wallace's "Join Me" (Plume, $13) is the story of an inadvertent cult born of such flailing for connections.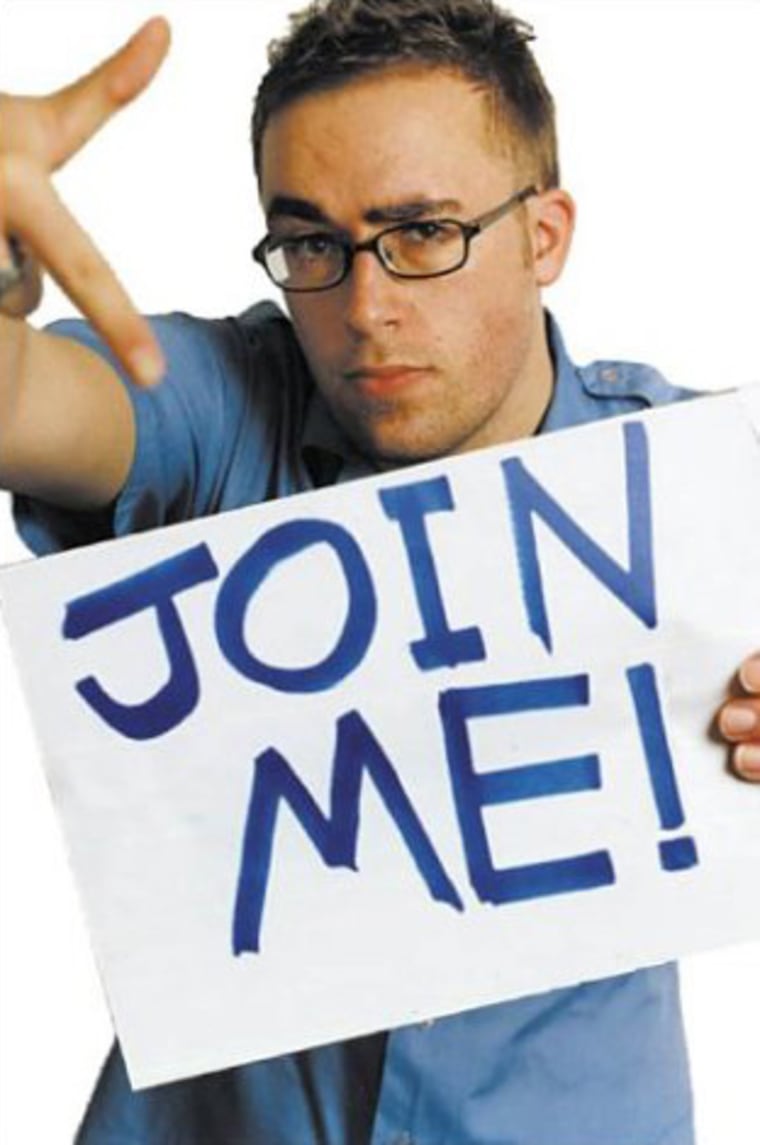 The book begins with the death of Wallace's great-uncle Gallus, who had fruitlessly attempted to start a commune of a hundred like-minded souls on his Swiss farm, in the end netting only three. As a sort of tribute (and, admittedly, out of excruciating boredom) Wallace begins to draw people to him using newspaper ads, leaflets, and a Web site, all emblazoned with the simple, cryptic message "JOIN ME". What began as a mere lark is escalated by a bar bet that he can't pull in a thousand souls. Bumps in the road to human unity include an occasional conspiracy-theorist wacko, Internet flame wars, an increasingly exasperated girlfriend, and, of course, the French.
The fearless leader only seriously undertakes the group's manifesto when a "joinee" begins a rival collective. Wallace settles on creating a "karma army" devoted to the performance of random good deeds (He vehemently denies to his girlfriend that this is derivative of the film "Play It Forward.")
The book is saturated with delightfully wry British wit. It's no mystery how Wallace attracts people: he is immediately likable and casually brilliant, his voice reminiscent of that of the late Douglas Adams.    —K.R.
Lost and found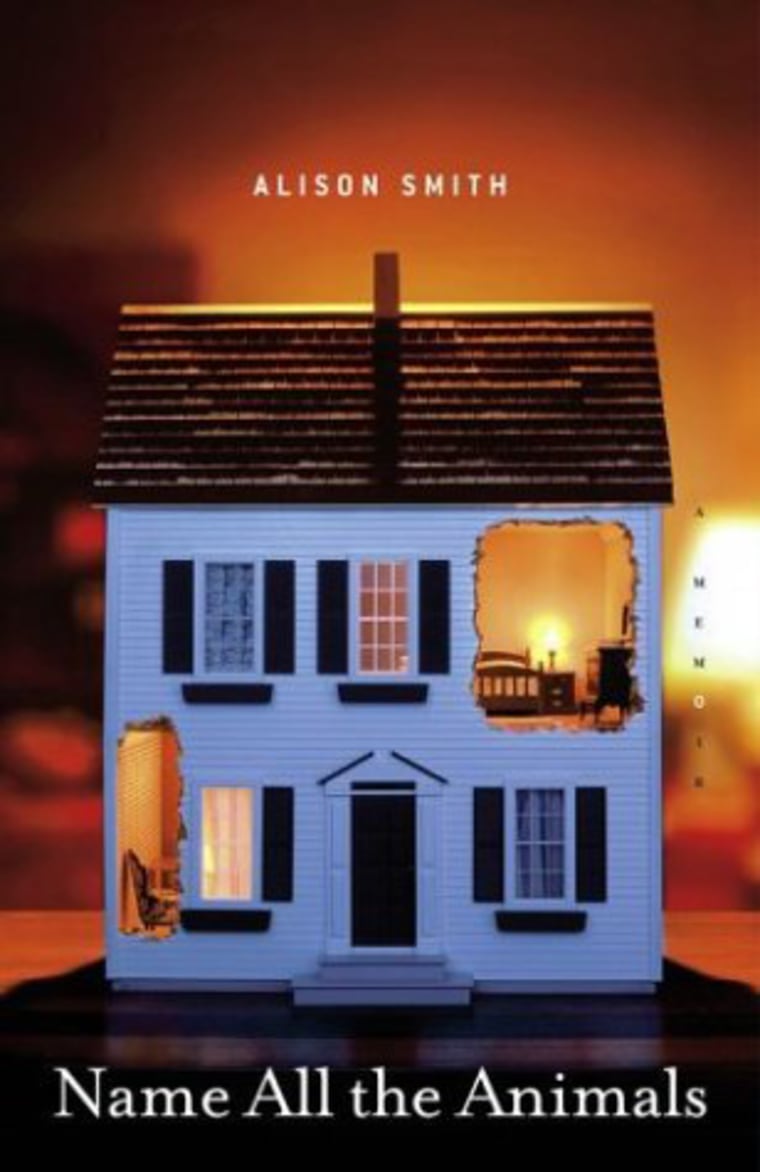 The first, and most overarching, image in Alison Smith's "Name All the Animals" (Scribner, $24) is that of an abandoned house she and her brother Roy discover as children while exploring a nearby woods. An inexplicable accident has sheared the edifice in half, and what was once a home is now gradually collapsing upon itself. Smith's memoir relates how her own nuclear family implodes following Roy's death in a traffic collision. On that day, she writes: "God was gone... I had never heard such silence."
Smith's iron-hearted mother steadfastly refuses to grieve, while her father's devastation is helpless and total. Both seem to be perpetually braced for what Smith calls "the next terrible thing," and it arrives presently. When Smith randomly draws the topic of gay and lesbian rights for a debate-club assignment, she throws herself into gay-rights advocacy with unbecoming fervor for a Catholic schoolgirl, the project awakening her to her own burgeoning sexuality; eventually, she and her girlfriend are caught unclothed together in the nuns' quarters. To her God-fearing parents, it seems they are losing their only surviving child.
Smith tells her story with a gorgeous sparsity that recalls Hemingway; with clear, simple prose, she informs the reader what happened without telling him how he ought to feel about it. She presents us with vignettes such as her adolescent self, seated in the fort she built with Roy, playing two hands of cards against herself. On another occasion, the girls at a Halloween party egg her to summon Roy on a Ouija board, driving home that Roy is gradually receding from the world, becoming a ghost. This, Smith's first book, is a gracefully-executed work of loss, denial, and suburban ostracism.    —K.R.
Out of Africa
The film version of Stefanie Zweig's autobiographical novel, "Nowhere in Africa," took home the Oscar for best foreign-language film last year, and Marlies Comjean's translation (Terrace Books, $24.95) should reap similar accolades for the book.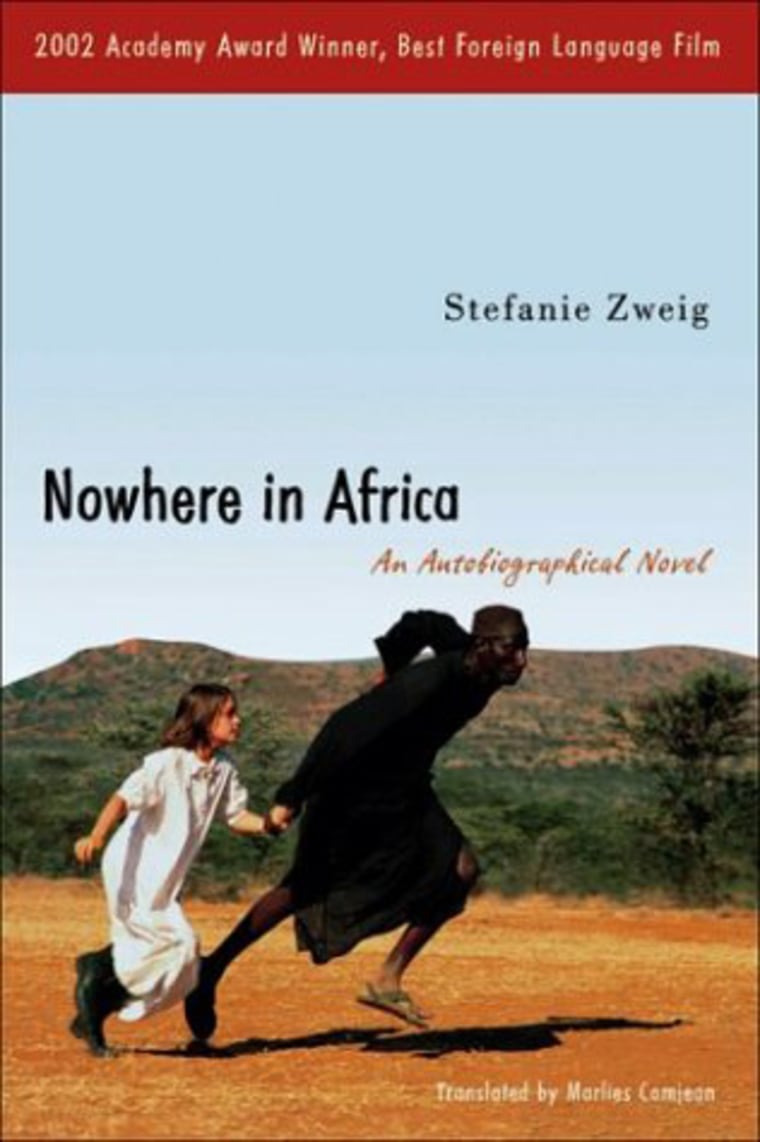 Forced to flee Germany on the eve of World War II, Walter Redlich, wife Jettel, and daughter Regina arrive in a remote area of Kenya and struggle to adjust.  Closely based on her own childhood, Zweig's story is one of isolation and grief, but also — as Regina embraces her new life in a way her parents cannot — of unexpected friends and comforts.
The language is initially a bit precious, particularly the portrayal of Owuor, the family's faithful manservant.  Owuor is described as a near saint: kind, strong, and adept at everything, even making dinner rolls.
But the book soon leaves that preciousness behind.  Zweig paints a rich sensory picture of the various farms, schools, and cities the Redlichs move through during their time in Africa, and subtly attunes her prose to the viewpoint of each character — Regina's myths and metaphors, headmaster Mr. Brindley's acidic musings, Jettel's mood swings.
The story features a number of meditations on loss and the nature of home and family, which could bog it down, but never do. The end result is a bittersweet and suspenseful journey, both physical and emotional, from Europe to Africa and back again. Readers will hope for a speedy translation of the sequel.    —S.D.B.
Love, love me doFather-son bonding and Beatles trivia might seem like strange bedfellows, but Peter Smith marries them smoothly in "Two of Us" (Houghton Mifflin, $23), a loving chronicle of his journey with son Sam into Fab Four fandom.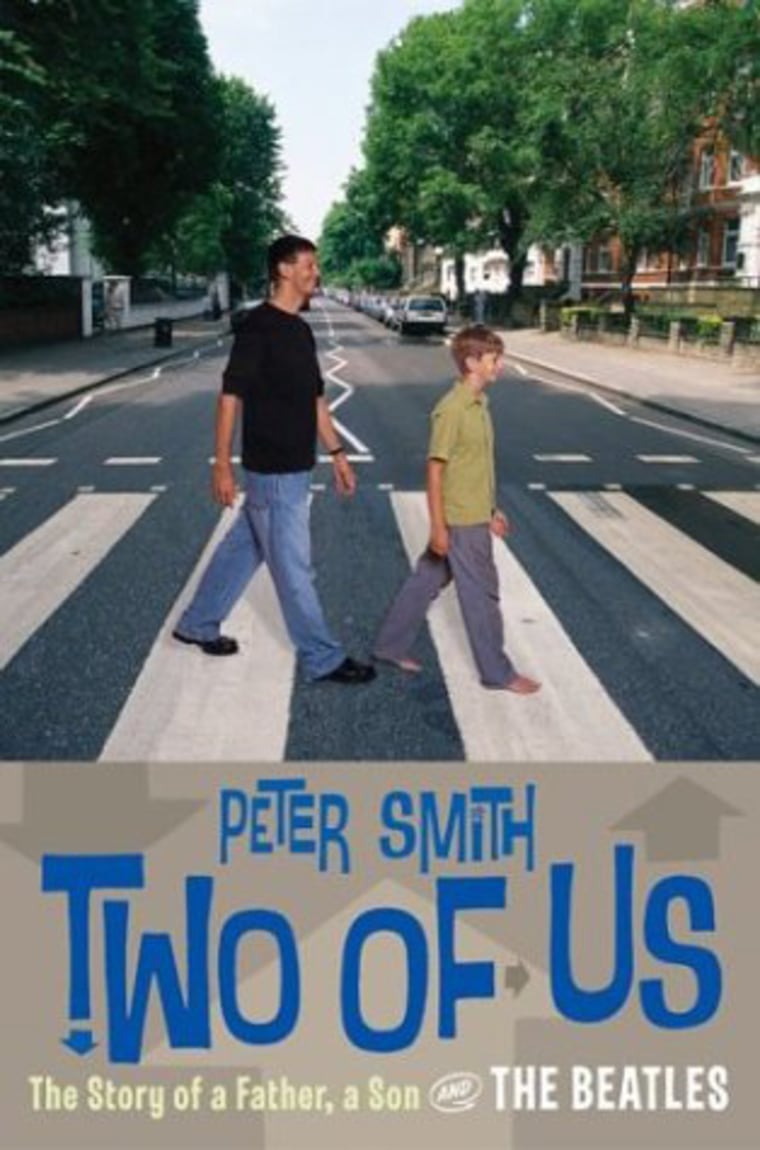 Tired of listening to Raffi, Smith puts "Abbey Road" on the car stereo during a family road trip.  Seven-year-old Sam is captivated, and is soon watching "Help!" over and over and falling asleep reading Beatles trivia books.  Smith is thrilled that he's got something to share with Sam,  a fascination that defined his own youth; Sam eventually outgrows his obsession, but not the closeness with his father that it inspired.
Smith's prose is nimble, and readers will pick up a handful of interesting factoids about the Beatles (Paul McCartney's original lyrics for "Yesterday" had a rather different feel: "Scrambled eggs / Oh, baby, how I love your legs"). 
But Sam, a second-grader, is insightful to a degree that isn't entirely believable, and while a father struggling to find common ground with his son has the seeds of a good story, it comes off as forced here; said son hasn't yet entered adolescence, after all.  It's as if Smith needed an excuse to address his own experiences, with the band and with his father. 
Still, it's a likable snapshot of likable people — of Smith and Sam, but of John, Paul, George, and Ringo, too — and Smith's ability to capture moods and moments cancels out a shaky premise.    —S.D.B.
The record executive who cried wolfWalter Yetnikoff was the president of CBS Records from 1975 to 1990, during which time he worked with people like Paul Simon, Bob Dylan, Barbra Streisand and Michael Jackson. His memoir "Howling at the Moon," written with David Ritz, ($24.95, Broadway Books), is both a mea culpa for bad behavior, a braggy look at his excesses with alcohol, drugs, woman and arrogance, and a candid glimpse into the lives of stars from that era.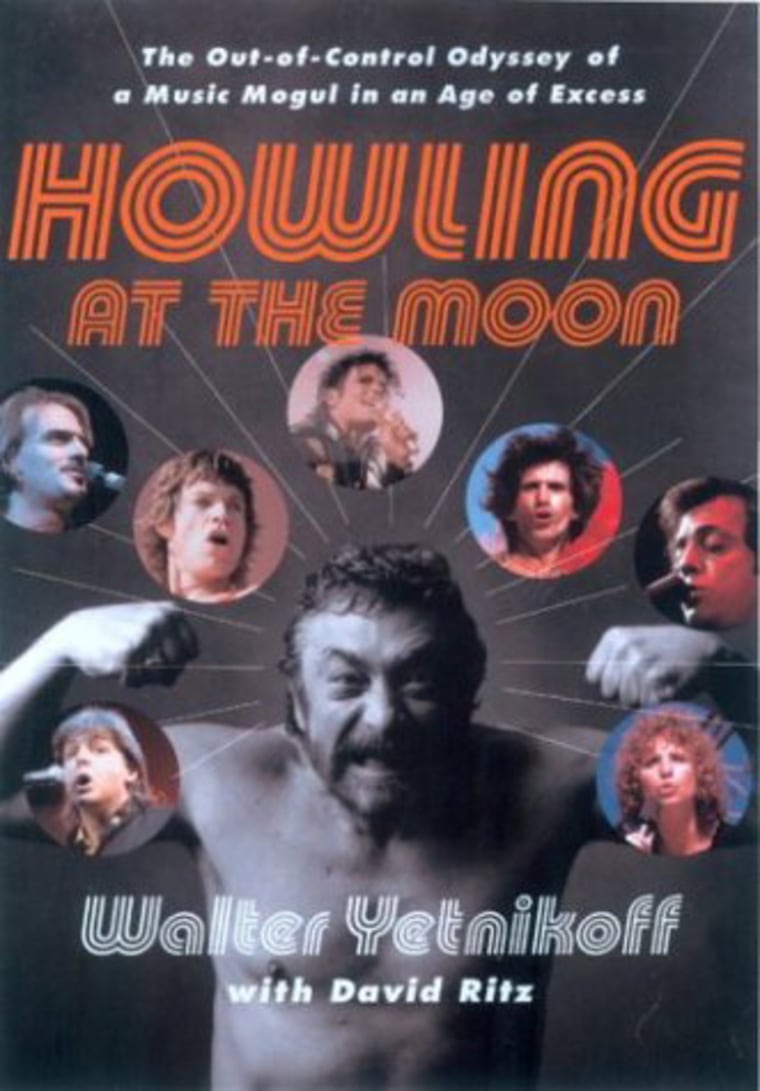 Believing in his own ego over all else, Yetnikoff writes "Vodka in the morning is good. Vodka in the afternoon is even better. Not to mention healthy snacks of coke and grass."
He signs James Taylor to CBS just to get under the skin of Warner Brothers' executives.  He dogs Paul Simon "pretentious and self-important." He portrays Michael Jackson as a man obsessed with success, saying, "Michael's drive bordered on the psychopathic."
Since this book is also a bit of an apology, we do see Yetnikoff spin out of control and seek redemption. Readers may wonder how anyone who drank and drugged as much as Yetnikoff did could remember so many conversations verbatim. Whether or not his stories are true, his larger-than-life personality makes for a compelling read.  —Paige Newman