/ Source: The Associated Press
Before dawn on a rainy Friday, John Richards totes a stack of CDs and a paper cup of coffee into the booth at KEXP. On the wall, yellow-headed pins stuck in a world map mark the origin of song requests:
Baltimore. Boston. Baghdad.
The clock hits 6 a.m., and the DJ's catchy, gentle theme song — written for him by local folk singer Damien Jurado — implies what listeners might hear: "I'll take hip-hop, with a side of punk rock, some country western to go ...." Next up, Stone Roses, followed by Clap Your Hands Say Yeah.
In the past few years, commercial-free KEXP has transcended its meager 4,700-watt signal, embracing and even creating Internet technology to emerge as a national indie music tastemaker. With a very few other like-minded stations, it's enjoying a word-of-mouth popularity boom even as Americans are listening to less conventional radio.
"They're proving, if people would really look, that listeners want compelling music, that they'll buy it, that they'll support it," said Steve Nice, who represents the band Idlewild, which recently played at KEXP. "It's not about some stupid Arbitron rating."
In spring 2004, about 26,000 people listened to KEXP online every week — more than any other Internet radio station in the country, according to Arbitron's now-defunct Internet broadcasting service. This year, that number has jumped to 50,000, with large clusters of listeners in New York, where KEXP broadcasts live twice a year; Chicago; San Francisco; and Washington, D.C. Listeners are giving the nonprofit station a projected $1.7 million this year, nearly $1 million more than they gave in 2003.
As Richards went on the air that rainy morning, Microsoft employee Peter Thompson was listening on the Internet in Redmond, just across Lake Washington from Seattle but beyond KEXP's weak signal. Two thousand miles east, in Columbus, Ohio, Pat Leonard was slipping on headphones at his cubicle. In Rhode Island, Cynthia Reed blasted the station all morning in her work room at the Providence Public Library.
For many listeners, buying music they've discovered on KEXP is like buying organic produce from local farmers. Others need help filling their iPods, but commercial stations play the same bands over and over.
"I listen because radio in D.C. is horrendous," says Timothy Anschutz, who heard about KEXP from a friend in Philadelphia, who heard about it from a friend in Boulder, Colo., who heard about it from a friend in Brooklyn.
In 2000, KEXP became the first station to offer uncompressed, CD-quality audio live over the Internet. In 2001, at the request of KEXP DJs, University of Washington engineers invented CD players that could connect to the Web to retrieve song and band information, which could then be transferred to a real-time playlist at www.kexp.org. The next year, the station began offering a streaming archive of all programs from the past two weeks, as well as all of KEXP's hundreds of in-studio performances.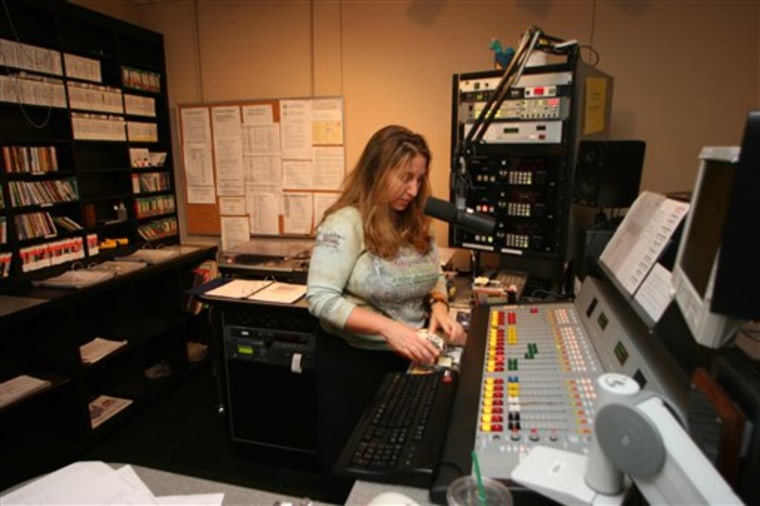 This summer, KEXP began offering hour-long podcasts featuring unsigned bands and became the nation's first terrestrial station to provide a low-bandwidth stream for cell phones and handheld devices. Richards heard recently from one fan who had plugged his phone into his car stereo and was driving around Gainesville, Fla., listening to KEXP.
But the technology is just a way to spread KEXP's music, and the station's format hasn't changed in the past two decades, says executive director Tom Mara.
Back then, KEXP was KCMU, a decidedly less professional UW station, founded in 1972 and closely linked to Nirvana, Mudhoney and Seattle's burgeoning rock scene. Richards got his DJ shifts in the mid-'90s by simply showing up when no one else would.
DJs in controlThings changed dramatically in 2001, when KCMU partnered with Paul Allen's Experience Music Project and became KEXP. Allen, Microsoft's co-founder, gave the station new equipment, off-campus digs and agreed to cover operating losses through 2005. In 2002, the music museum paid for 52 percent of the station's budget. This year, it covered 6 percent. By next year, KEXP should be in the black.
At most commercial stations, the music is chosen by programming directors, not DJs. At KEXP, the DJs choose what they play, with a few limitations: Certain bands are in rotation, and a local band must be played at least once an hour. The station's dozens of volunteers dedicate themselves to helping discover bands. The DJs consider themselves curators and aspire to juxtapose songs in a way that illuminates them.
"It's all about creating context for the music," says afternoon host Kevin Cole, who resembles an audio Iron Chef with his long hair pulled back as he flips through CDs trying to find the perfect next song. "Take Clap Your Hands Say Yeah — if you can mix that into some early Talking Heads, you can see, 'Oh yeah, that's what's going on here."'
Jeff Castalez, president of Cast Management and Dangerbird Records in Los Angeles, gushes over KEXP for playing his bands — most recently, the Silversun Pickups — when no other stations will.
"They're keeping this hopeful notion of what music is supposed to be about alive," Castalez says. "There's a greater connection between the listener, the artist and the station. Everyone is alive and doing well."